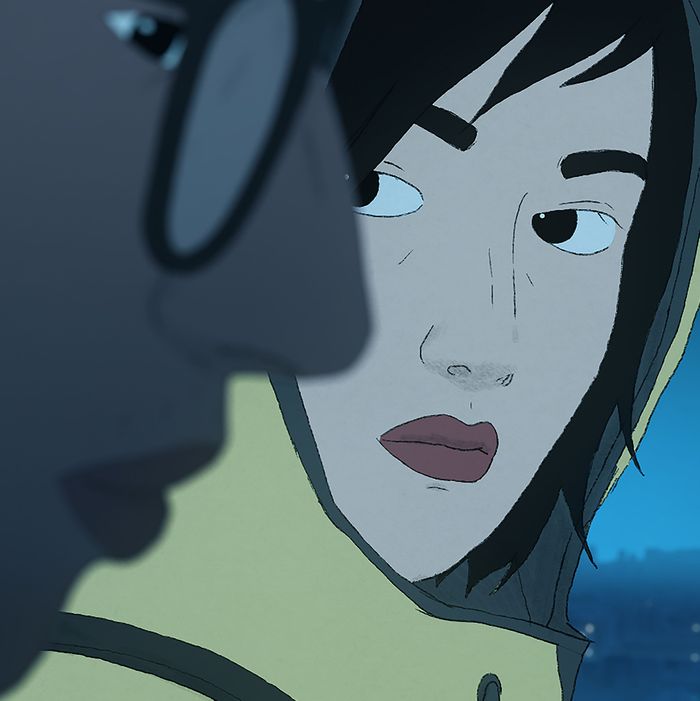 I Lost My Body
.
Photo: Courtesy of Netflix
If not for the pandemic, we'd be in the midst of Hollywood's epic summer season, enjoying the nearly weekly unveiling of major movies, whether it's the latest Wes Anderson comedy-drama (The French Dispatch) or the improbable return of Tom Cruise's 1980s hot shot (Top Gun: Maverick). Instead, you're cooped up trying to figure out what to watch while not going stir crazy.
This is where we come in. On a regular basis, we'll be presenting "The Replacements": a list of five alternative choices for every big tentpole you'd been excited to see before COVID-19 changed our lives. We'll select movies that are thematically or narratively similar to the postponed blockbuster, offering picks that range from certifiable classics to forgotten gems. For the time being, event movies are on hold. But hopefully our alternatives will scratch that cinematic itch.
This week: Soul, Pixar's 23rd full-length feature, and the first with a Black main character. The story centers on Joe (voiced by Jamie Foxx), a music teacher who dreams of having a jazz career — but after an accident, he finds himself in a strange purgatory where his body and his soul have been separated. Can he help another lost soul (voiced by Tina Fey) discover what makes life so great?
Soul definitely shares some metaphysical qualities with a few other Pixar films, especially Monsters, Inc. and Inside Out, which like Soul were directed by Pete Docter. And after Onward, which was fairly disappointing, it would be nice to see this usually reliable animation house rebound in a big way. Can Soul get Pixar's mojo back? We'll now have to wait until November to find out, but in the meantime, here are five streamable replacements — including a beloved Christmas staple and Pixar's tribute to the Day of the Dead.
It's a Wonderful Life (1946)
If you've never seen this Jimmy Stewart classic, you'd be forgiven for assuming it's a saccharine feel-good tale about a good guy who discovers, gosh darn it, he lived a pretty great life. But before It's a Wonderful Life gets to that ending — complete with George Bailey meeting his angel Clarence (Henry Travers) — director and co-writer Frank Capra delivers a portrait of a man who seems unremarkable, finding love and trying to do his best, but ultimately lamenting that his life hasn't been worthwhile. For Capra to achieve the heartwarming finale that's now been endlessly referenced and parodied, we first have to confront (as our hero does) the worst of humanity: Greed. Poisonous self-interest. Cynicism. This is actually a powerfully despairing film that stubbornly holds onto a sliver of hope that a few good George Baileys can make all the difference. It's a message we still need today.
Defending Your Life (1991)
When you're in the realm of telling stories of what happens after death, you cannot overlook one of the most inventive, clever, and, yeah, moving looks at the afterlife ever: Albert Brooks's Defending Your Life. After Daniel (Brooks) dies, he enters Judgment City, where he must, with the help of a "big-brained" lawyer (an incredible Rip Torn), justify the decisions he made on earth so he can advance to the next plane of existence. This gets complicated when he falls in love with essentially the perfect woman, played by Meryl Streep with a light, incredibly charming touch that's unlike anything she's done before or since. This may have been Brooks's last great movie, but nearly 30 years later, it remains what we sort of hope the afterlife is like.
It's Such a Beautiful Day (2012)
Don Hertzfeldt's searing, philosophical, utterly devastating animated film about a man dying from a neurological disorder and the visions that both haunt and comfort him is, uh, obviously a little bit more intense than your kids might have been ready for when they would have theoretically trotted into the theater for Soul. But the themes — of life and death, of regret and loss, of beauty and hope, of the infinite span of the universe and our tiny, lovely short time in it — have perhaps never been more gorgeously and emotionally rendered. It's Such a Beautiful Day is structurally as different from Pixar's animation as may be possible. But, at Pixar's best, they both remind us of what is possible.
Coco (2017)
C'mon, we had to pick one Pixar film, and as far as movies about mortality, about looking back on your life and wishing you could change something, Coco is the most appropriate. Whole sections of the plot still seem a little too of the "let's go on an adventure!" variety that sunk Onward, but the through line of regret, and the sense that generations are forever connected, is powerful and ties up, unexpectedly, in the loveliest possible way. (And makes the title hit that much harder.)
I Lost My Body (2019)
Animation is ideal for stories about characters going on fantastical journeys. (When you don't have to worry about adhering to the rules of the "real" world, the possibilities are limitless.) This Oscar nominee is an excellent example, following along as a hand wakes up to discover, to its confusion, that it's in a lab and not connected to the rest of its body — and then goes on a quest to find it. I Lost My Body is partly a silent film — the hand never speaks — and director Jérémy Clapin makes the appendage's odyssey both magical and terrifying. (Trains and ravenous rats are just some of the obstacles along the way.) Meanwhile, we see through flashbacks who the young man was who lost his hand — and how exactly it happened. Though maybe not ideal for little kids, this bittersweet charmer is one of the best animated movies of recent years — and, like Soul, offers a new way of thinking about our time on earth.
Grierson & Leitch write about the movies regularly and host a podcast on film. Follow them on Twitter or visit their site.