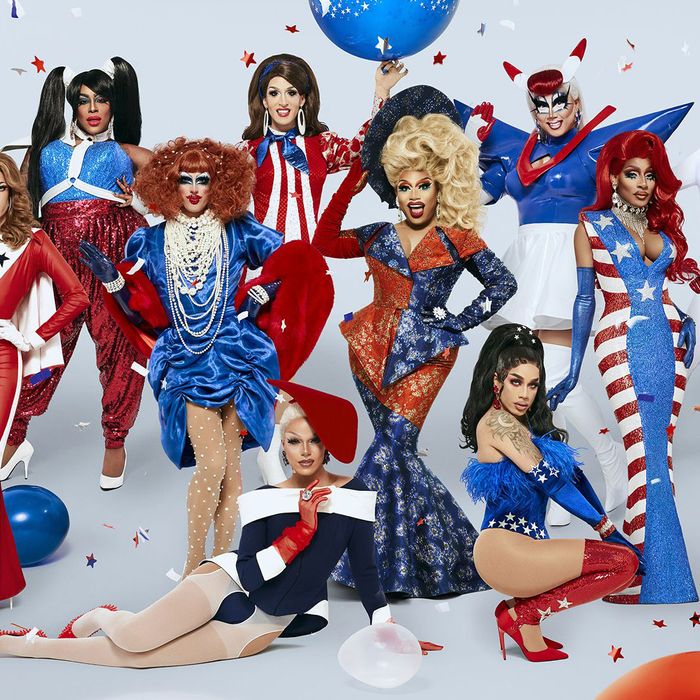 All Stars
6
? Make it happen, Ru!
Photo: VH1
While watching the season-12 finale of RuPaul's Drag Race, there was a moment where I thought, How can you choose? Crystal Methyd came out as a farting piñata and then regurgitated in her own mouth. Gigi Goode did an amazing homage to A-ha's "Take on Me" and then syncopated her eyelashes to the beat in a lip sync. Jaida Essence Hall was all of that everywhere, in all places, at all times, and on top of that her partner killed it with the camera angles. How do you narrow it down to two?
RuPaul didn't, and all three advanced to the final lip sync, a fitting capper to a tumultuous season that often didn't follow the rules set for itself. That's when I started to think about how unfair season 12 was for everyone involved, not least of all for the fans, who were left puzzling over RuPaul's unremarked-upon sexecutioner hoods as the series wound to a close.
The first indignity came courtesy of Sherry Pie, who was disqualified after accusations of predatory catfishing on the internet and subsequently airbrushed out of the season, sometimes quite sloppily. It wouldn't have been so bad if she wasn't a clear front-runner and a would-be finalist, but she was. That means each episode had to have a disclaimer about her, a shadow hanging over much of the action of the season. Even her complete absence at the reunion was disorienting, since it was the story of the season, though none of us saw it play out onscreen.
It seems fair to theorize that Sherry Pie was also damaging to the other contestants in her absence. As Drag Race scholar Kevin O'Keefe points out, the skirmish between Aiden Zhane and Brita probably got a lot more screen time because a possible story line of front-runners Gigi Goode and Sherry Pie vying for supremacy had to be scrapped. This left Brita as the villain of the season, a title she somewhat deserved for being mean to Aiden, but it might not have been the albatross that it is now if Sherry were around as a shock absorber.
The other problem with the season was no fault of the producers. As it kicked off, the novel coronavirus settled upon the nation, shuttering everyone in their houses and derailing the traditional "live" finale, which would have already been altered thanks to the Sherry Pie of it all. While this pandemic has been bad for the economy and the population in general, it's a disaster of a different sort for the season-12 queens.
Traditionally, the hottest drag queens on the market are those who are on a current season of Drag Race. They do live appearances and host watch parties while the season is airing, scoring sometimes thousands of dollars a gig. The show concludes in June, the lucrative Pride season, which traditionally lines the pockets of anyone willing to sweat in a wig under the summer sun. Most importantly, all of the queens go on a tour around the world, cashing in no matter how well they did on the show. For queens like Heidi N Closet, who says she only made $9,000 last year as a gas-station attendant, this is a life-changing opportunity. (And for all of the queens who took out loans to pay for their looks on the show, it's a way to pay back the initial investment they made in their careers.) Most of the contestants countered the missed opportunities by finding inventive new ways to cash in, but no Zoom show is ever going to take the place of an in-the-flesh Werq the World, in terms of both financial gain and self-promotion.
It's no doubt these queens would have been in high demand. The season-12 finale was Drag Race's highest-rated episode in two years. That is partly because everyone is closed inside their homes and looking for good TV, but it also speaks to the overall quality of the cast. While looking at all the things that went wrong with the season, we also have to look at what went right, and it started with casting. After a couple of seasons of lackluster lineups, season 12 delivered a crew that was more polished and refined as a whole than we have seen in quite some time. We were also initially introduced to the queens in two smaller batches, and none of them were eliminated until the third episode, really giving the audience a chance to grow fond of each individual queen.
Season 12 was all grain and no chaff, and that continued right up until the final six, when the competition was so fierce Ru couldn't send anyone home. There has never been a final three who all deserved the crown as equally as this one (apologies to Rebecca Glasscock). Now all of these good queens are going to go to waste because their window for being the hottest booking in the gay bars is forever shrinking.
Literally a week after season 12 wrapped up, there is a new batch of queens ready to take their place — or, rather, a renewed place — of interest in the Drag Race–Industrial Complex. RuPaul's Drag Race All Stars season five kicks off tonight on VH1 (after an announced shift to Showtime was abandoned). Then there is also added competition from the Canadian and U.K. versions of the show, and their queens joining the market. World of Wonder, the production company that makes our favorite Emmy-award-winning cultural juggernaut, is developing seven more international versions of the show. The pool of RuGirls grows ever deeper, and season 12's excellent queens are at risk of sinking before they even had a chance to really swim.
This brings us to All Stars, which is itself showing signs of bloat. A look at the cast for All Stars 5 shows some great old favorites, like Alexis Mateo, Jujubee, and Shea Couleé. However, those are the only queens who made it to the top three on their seasons, and two of them, Jujubee and Alexis, have already done a round of All Stars (thus more or less confirming All Stars' renunciation of its first season, which began last season with third-chance slots for Latrice Royale and Manila Luzon). The cast is filled out with the likes of Mayhem Miller (tenth place), Mariah Balenciaga (ninth place), and India Ferrah (tenth place), whom I didn't even know well enough to miss. Then there's Derrick Barry, the season-eight Britney Spears impersonator who is possibly the only queen I dislike more than Phi Phi O'Hara. With each new season it becomes more apparent that Drag Race is willing to stretch the definition of all-star in order to fill out the cast. (Seriously, was Ornacia booked?)
The trailer for All Stars 5 also revealed a revision of the already byzantine rules of All Stars. This season, the top queen will lip-sync against a different, secret "lip sync assassin" each week to compete for Ru's cash tip of 10,000 dooollllaaaahhhs. If they win, they get the cash and the ability to eliminate one of the bottom queens. If they don't win, the elimination will be made by a "secret panel" and the prize money will roll over to the next week. If this season had faith in the popularity of their queens, why do they have to bring back Alyssa Edwards and Detox (I can only assume, but who knows?) to keep the fandom hyped? And if they had faith in the format, why make an already complicated system even more labyrinthine?
There's a simple solution for the unfairness of season 12 and the increasingly humdrum casting of All Stars. When the Sherry Pie situation started, some fans called for season 12 to be refilmed. That would have been impossible for many different logistical and financial reasons — but what if all of the queens on season 12 got a do-over? What if they got a chance to compete without being ushered into a world that was shut down due to COVID-19? What if All Stars 6, whenever it happens, is just season 12 all over again?
Yes, that is the solution. The next season of All Stars should just be all of the season-12 queens, minus Sherry Pie, of course, and Jaida, who already won a crown. (Although the show did set the precedent for a winner to return to All Stars with BeBe Zahara Benet a couple seasons back, so I'm sure they could find some justification to bring Jaida back if she wanted to.) Let the girls compete without the specter of a fake casting director and a global pandemic looming over them. Think about the possible story lines. Of course there is Brita vs. Aiden 2: The Revenge. How will Gigi Goode act after being humbled by losing a crown she said on the finale she deserved? We might see Widow Von'Du reenergized and not beset by her demons, or Heidi empowered with even more confidence by the dedication of her fans, the Closet Cases. Crystal will no longer be the kooky underdog, but the artsy front-runner. Nicky Doll might have taken an acting class and will get a lot further than she did before. How powerful will Dahlia Sin be now that she has her iconic broccoli moment behind her? Jan could actually win something!
There is not one queen from season 12 I wouldn't want to see again, and this time they could all have a fair shot. Hell, Drag Race can even come up with another complicated way to keep or eliminate the queens each week and I wouldn't care. If the best All Stars is going to do is a handful of 10th-place finishers, why not throw the 11th- and 12th-place finishers in there as well and redo a whole season? #JusticeForSeason12. I think this format will not only be the best for them, I think it will be the best for us. Can I get an amen up in here?