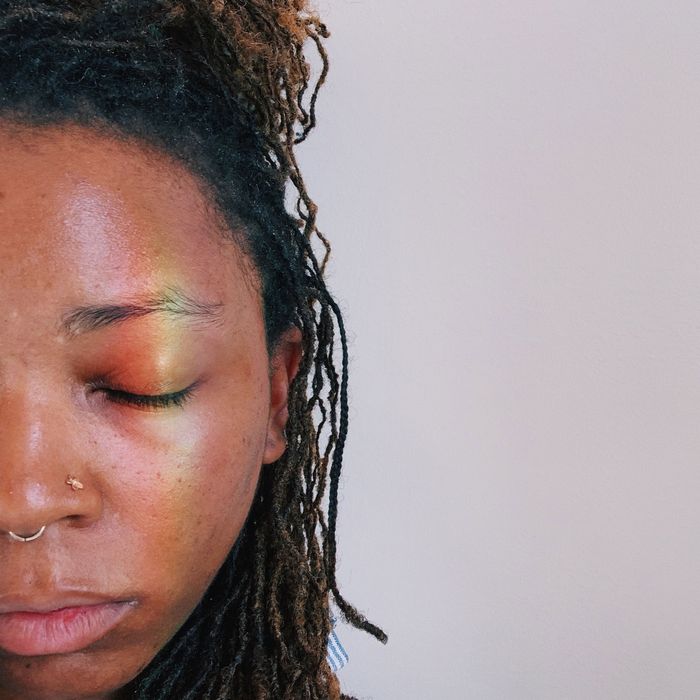 The
Selah and the Spades
director isn't expecting a "yes, the revolution has arrived" moment — but she is feeling a lot of hope.
Photo: Tayarisha Poe
I'm in Brooklyn, in Flatbush. I live with my husband and my dog in an apartment. I work from home, and my husband is also working from home. It's been fine. We have enough space, basically, to not lose ourselves. Every day, I turn to [my husband] George, and I'm like, "I really need to build myself a writing schedule and stick to it." I never do. I'm working on a movie about a woman in her late 20s. It's been fun to try to begin this process of casting her in my head before getting around to actually casting. I've been writing a lot. Going to protests actually helps a lot to get back into the groove of things.
I missed out on the experience of being able to get together in person with the cast and with the crew [of Selah and the Spades, which was released on Amazon on April 17, in the midst of lockdown] — to just hang out, shoot the shit, and talk about the feeling of it coming out, and share that together. That said, I have been thinking a lot about all the waste that we create in our press tours. I was supposed to be traveling throughout April. I think about how many times I would have gotten on an airplane, and what that means about what I would have been contributing to environmental problems. Also, from a personal standpoint, I'm grateful to be able to skip all the awkward moments that I definitely would have had all across the country.
The release itself felt really overwhelming because it felt as though everybody got bored at the same time, so they were like, Let me check out this movie. It felt like there were a lot of eyes on my work. There were so many times when stuff would come onto my timelines that was about Selah. I loved when memes would pop up, that was my favorite thing to ever happen to me. It got big on TikTok, which was so random. They'd take the audio of Selah's spirit squad monologue and lip-sync to it.
I've definitely felt more normal since the protests have started. The language of protesting and the world of activism … God, this is sad, but it feels like this is what existed before the coronavirus as well. The energy of other people — I had missed that in a huge way. I go out [to protest] sometimes. Other times I don't. I stay until I feel anxious. I hit that moment where I'm like, Whoa, there's a lot of people around and now I'm remembering the pandemic. At the beginning of the pandemic, there was so little certainty about what was happening that it felt like we were all just grasping at straws — if you breathe incorrectly, maybe you'll die, who knows? When that latent anxiety creeps in, I just go home. We're trying to stay alive on multiple fronts. It's a long fight. I'm not trying to burn out.
I get so frustrated when I'm listening to NPR and hosts are talking about "What is it about this particular moment? Why does the movement suddenly feel like it has legs that it hasn't had in a while?" without mentioning the fact that there's tons of unemployment, students have been out of school for months now, and people have been cooped up inside. There are no sports, there are no concerts to go to — all the typical bread and circuses that we usually have to distract us from the realities of life under a capitalist, racist system.
It's a moment of extreme communal focus. The first Sunday of protests that happened, I started to ask myself the question I feel like everybody asks themselves when there are protests on the weekend: What's going to happen on Monday when people have to go back to work and back to school? I realized, No, they don't. People will just go back and protest more, which is what happened and has been happening. What happened tomorrow is that we were out in the streets.
There hasn't been any "Ah, yes, the revolution has arrived" moment. It's more just every day I find myself being surprised by something. I'm surprised that people are speaking up about their viewpoints on prison abolition. There are people, everyday regular people, who are sounding like my Pan-Africanist revolutionary parents. That's shocking to me. It feels amazing. I'm surprised by somebody being called out who I never expected to be called out. I'm surprised by artists standing in their truth and speaking about how they're treated in the industry. I feel like right now, we're at a point where we're speaking more broadly about the general state of Hollywood. I think that, as time goes on, we get more specific and start to say, here are some specific instances where we can look to make some changes.
I've been watching I May Destroy You, by Michaela Coel, on HBO. She's so smart. Michaela Coel, I hope you know how smart I think you are. I've thought she's been brilliant since day one. Phoebe Waller-Bridge — she's hilarious, great. But I never watched Fleabag and thought, This is so me. I just really love it and enjoy the characters. Whenever I watch something from Michaela Coel, I'm just like, yes, this is how I feel, this is what it is like to be in my body. It feels great, too, during this time of having to nonstop talk about anti-Blackness, to have this show come out that centers this experience of being a Black woman. It feels really grounding and affirming. Also, it's just fun and beautiful. She's so funny. That's been carrying me.
I was talking to Jomo [Fray], the DP of Selah and the Spades, a couple days ago because I was watching the new Spike Lee movie on Netflix and thinking about how Spike Lee and Martin Scorsese have been in this business together for so long and how many films they've both created and produced. Then I started trying to name other Black writer-directors who are also in that same age group and that same level of … let's call it social prestige. I was having such a hard time. That was obviously to be expected, but as soon as I had that thought, it dawned on me how Black filmmakers right now, people in my peer group, we've been robbed of this cultural legacy because of all the times that Hollywood has restricted Black writers and directors. Something that we were talking about specifically was the career trajectory that Paul Thomas Anderson had as opposed to Kasi Lemmons, who debuted at the same time. Imagine if Kasi Lemmons had all of the opportunities to succeed that Paul Thomas Anderson had.
There's definitely plenty of room for Hollywood to reckon with its past. This isn't a coincidence. This is on purpose, a deliberate lack of support for certain people. Obviously, there have been initiatives — fellowships, programs, and diversity this and that. But the issue isn't hiring enough interns, hiring enough PAs. The issue is that there are tons of people who are more than qualified who are being kept out of unions. Think about how hard it is to get Black hair and makeup artists. That's by design, that's not an accident. There's so many things that need to change. These conversations had already started — that's why I say I feel as though it is happening and is going to continue to happen.
At least, I hope — because I love when things change for the better. I feel like hope is a word that feels empty now because it's basically its own brand. That said, I feel very genuinely hopeful. I really do. We're running out of time in ways I feel a lot more aware of than when I was younger, just as it relates to the planet and our place on the planet. I do feel as though there is a sense among a lot of us of just … impatience. When people are impatient, they're ready to shove you aside and say, Fine, I'll do it. I do feel hopeful.