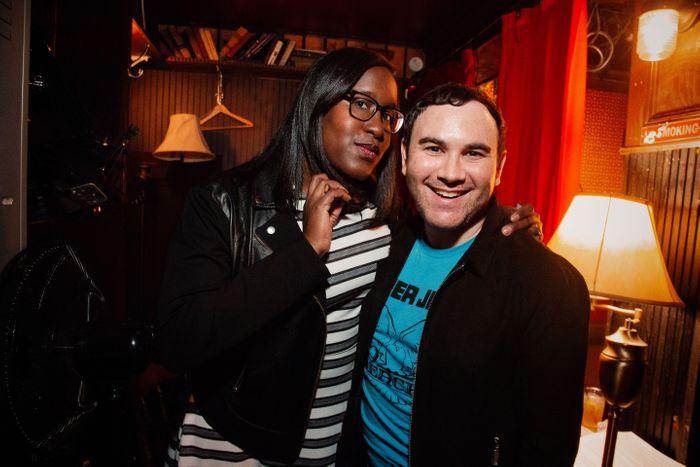 Naomi Ekperigin and Andy Beckerman.
Photo: Mindy Tucker
The comedy-podcast universe is ever-expanding, not unlike the universe universe. We're here to make it a bit smaller, a bit more manageable. There are a lot of great shows, and each one has a lot of great episodes, so we want to highlight the exceptional, the noteworthy. Each week, our crack team of podcast enthusiasts and specialists and especially enthusiastic people will pick their favorites. We hope to have your ears permanently plugged with the best in aural comedy.
Couples Therapy - The Whites You Can Trust
In their first episode as a newly independent podcast (WTF, iHeartRadio?), Couples Therapy hosts Andy Beckerman and Naomi Ekperigin share the story of one of their first experiences in Hollywood and what you're up against as a Black woman in the industry. And it's not just a cute little sneak peak behind the curtain; they're tearing the curtain down completely and telling everything, because as Ekperigin says, "The revolution will be recorded, and it will be several episodes." Without spoiling too much, the story is about the two creating a pilot for a show called Inside Caucasia, a phrase fans of Ekperigin's stand-up no doubt have already come to know and love, in which she went to and explored white spaces in the style of a comedic travelogue-type show. The story gets more infuriating at every turn, from a producer rewriting a monologue joke and totally missing the mark, to the network rushing the process along to have things in place in time to get Ekperigin onstage at the upfronts to give off the appearance of diversity, to an executive who pushed jokes about kale and NPR, to a squash player named Bob November. Though that last one isn't infuriating, just a delightful detail. The world has been robbed of this show, so don't deprive yourself of the story of its inception. —Leigh Cesiro 
Listen: Spotify | Apple | Website
Iconography - Ziwe Fumudoh w/ Ziwe Fumudoh
It truly screams "iconic" that writer-musician-comedian Ziwe Fumudoh (jokingly) chooses herself as the celebrity that she wants to talk about with hosts Ayo and Olivia, but something about it feels so right. As policy changes begin to build across the globe thanks to protests over the police killing of George Floyd, we're treated to a trio of young, funny, self-assured Black women bragging about themselves and their work, which is just as important as ever even though the episode was recorded a thousand years ago in the winter. Framing the Iconography games in the context of a peer gives them new life, too, including a fuck/marry/kill pitting Ziwe's music vs. her aesthetic vs. the charged moment in the podcast when they decided to be confident enough in the bit to going — and then, of course, there's the issue of her wikiFeet rating. —Noah Jacobs
The Male Gaze - Hate Can't Wait
There's nothing much happening this week so it's a pretty boring episode of The Male Gaze, with not a lot for hosts Steve Hernandez, Brodie Reed, Zed Cutsinger, and guest host Ashley Ray (the AV Club) to chat about. Other than the six new social movements, high crimes, and atrocities cropping up every day, of course. The four discuss white people "checking in" with black and POC friends at this time and who that's actually helping, and the hyperlocal shittiness of Illinois state senator Dave Syverson. The guys also take a masterclass in Shaun King scams from Shaun King expert Ashley Ray. Plus: Should Californians actually go to these businesses that are suddenly reopening? Who were the coolest of the Black Panthers? They also offer some shows you can watch that might make you feel better without being a dangerous distraction, like the latest Natasha Rothwell–penned episode of Insecure. —Kathryn Doyle
Listen: Spotify | Apple | Website
Alonzo Bodden: Who's Paying Attention? - Headlines
Comedian Alonzo Bodden, who normally can pick and choose which current events to turn his critical eye on — both analytically and humorously — is mind-boggled this week at the relentless news cycle going on. At the top of the show, he talks about some motorcycle protests he drove with in Southern California, and then he gets down to the news. In order to cover as much ground as possible, he starts flipping through the headlines of the past week but can only go back five days before he's overwhelmed. With a main focus on Black Lives Matter and so many of the incidents surrounding the issue both in the U.S. and abroad, his calming, deep voice does an admirable job breaking as much down as he can. He relishes in calling out those who have been issuing "bullshit apologies" for their witless, racist statements — people such as Greg Glassman, the founder of CrossFit, whose apology didn't wash and who has now retired from his own company. Bodden nails President Trump for his own B.S. and also tries to make sense of the varying states of openings, closings, and social-distance ignorance as COVID-19 continues its slow roll through 2020. —Marc Hershon
Listen: Spotify | Apple | Website
The AMPire Diaries - History Repeating | The Turning Point
The AMPire Diaries, a recap podcast devoted to rewatching Vampire Diaries, is energetic and entertaining. Hosted by longtime watchers LaToya Ferguson and Morgan Lutich and first-time Vampire viewer Jill Defiel, the podcast promises "in-depth critical discussion and completely unhinged horniness about the series." And the hosts deliver, bouncing from television criticism to television crushes in and back again in an instant. The latest episode focuses on episodes nine and ten of Vampire Diaries' first season, and even if you're unfamiliar, you can still laugh along at the irrational but attractive characters and all their shenanigans, as humorously recounted by the hosts. Recorded in April, the episode also offers bonus pop-culture banter about "the constant disappointment of J.K. Rowling," which is officially an evergreen topic, and Lea Michelle fandom, which is a thing that surely no longer exists. AMPire Diaries is a smart take on a mostly silly show. Get amped for this podcast, which has over 150 more episodes of Vampire Diaries to cover. —Becca James
Other Podcasts We're Listening To:
The New Day: Feel The Power - A Conversation About Racial Injustice
Listen: Spotify | Apple | Website
Yo, Is This Racist? - Challenging Comfort Levels w/ Black Violin
Listen: Spotify | Apple | Website
Live! From Tomorrow - It's Not The Right Climate For Us
Listen: Spotify | Apple | Website
Gunkhole State Park - Take The Path (with Jamison Webb)
Listen: Spotify | Apple | Website
Got a comedy podcast recommendation? Drop us a line at comedypodcasts@vulture.com.
If you like comedy and you like podcasts, we recommend you subscribe to Vulture's own Good One podcast, which releases new episodes every Tuesday on Apple Podcasts, Spotify, Stitcher, Overcast, or wherever you get your podcasts.