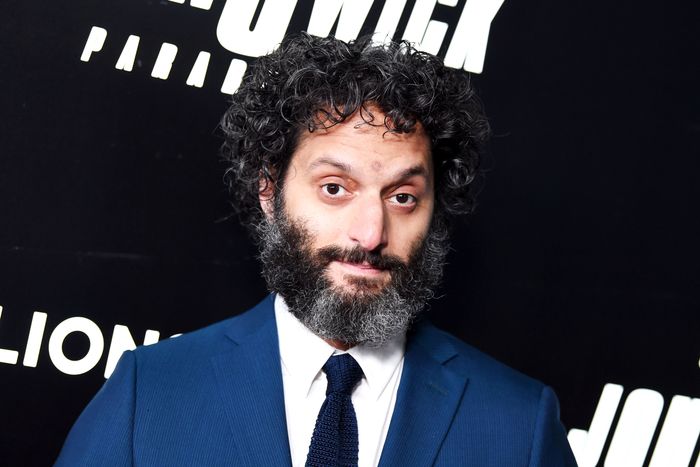 Jason Mantzoukas.
Photo: Stephen Lovekin/Shutterstock
The comedy-podcast universe is ever-expanding, not unlike the universe universe. We're here to make it a bit smaller, a bit more manageable. There are a lot of great shows, and each one has a lot of great episodes, so we want to highlight the exceptional, the noteworthy. Each week, our crack team of podcast enthusiasts and specialists and especially enthusiastic people will pick their favorites. We hope to have your ears permanently plugged with the best in aural comedy.
Thirst Aid Kit - A Dog Called Rex (with Jason Mantzoukas) 
Bim Adewunmi and Nichole Perkins have been exploring "the various ways women express their thirst" for years as the hosts of Thirst Aid Kit. So while these experts don't need any help doing their job, the hilarious podcast still benefits from the occasional guest. This week that's familiar thirst object Jason Mantzoukas. The hosts' affection for the actor is canon at this point, so it's a real treat to have this snack on the show. In addition to highlighting a healthy and natural lust for celebrities, Thirst Aid Kit also delves deeper into "questions about Hollywood inclusion and opportunity," which they tackle with Mantzoukas as he reminisces about romcoms Sleeping With Other People and How to Be Single. In both, Mantzoukas plays characters that exude an understood attractiveness, which the internet often struggles to accept. As Mantzoukas explains, the tenor of conversation surrounding his sexiness usually sounds like, "Hear me out, guys, I know this sounds crazy, but I think that Jason Mantzoukas might be hot??" He takes these compliments wrapped in insults in stride while Adewunmi and Perkins, on the other hand, assure listeners "there's none bangier than Mr. M." to bring Thirst Aid Kit back with a bang. —Becca James
Listen: Spotify | Apple | Website
Mike Birbiglia's Working It Out – J. Hope Stein, Matt from The National, and Carin at the Liquor Store
Super-prolific comic-writer-actor — ah, hell, let's face it, the guy's a full-on auteur — Mike Birbiglia leaps back into the podcast fray with a new show, Mike Birbiglia's Working It Out (he's had two previously: The Old Ones, and Do Listen Twice.) In this novel undertaking, he has comedians or other artistic creators on to trot out untested works-in-progress, and they try to iron out some kinks to push those projects forward. This week he has three guests, including his wife J. Hope Stein, as well as another married couple: Matt Berninger, lead singer of the band The National, and his wife, Carin Besser. Half the show is a compelling conversation about what it's like to have a sometimes unwitting or unwilling partner privy to your work before it's ready to share, and how that can help or hinder the process. The back half has Stein and Besser each sharing parts of some poetry they've been laboring over, while Berninger debuts a bit of some new music, and Birbiglia tells a story about his wife overriding some mansplaining male doctors' diagnoses of a persistent pain in her abdomen just in time to have a faulty gallbladder removed before it got deadly. —Marc Hershon
Listen: Spotify | Apple | Website
People's Party With Talib Kweli - Michael Che
This will go down in history as an important episode of People's Party, because this is the episode where Talib saw himself on the Zoom screen and discovered what AirPods look like. Also, he and co-host Jasmin Leigh talk candidly with guest Michael Che about being the black co-head writer of SNL in 2020. Kweli and Che both grew up in New York City so they have lots of common ground. It's easy for Talib and Jasmin to ask Che about difficult subjects, like writing for Kanye on SNL, or Jimmy Fallon apologizing for wearing blackface on the show in 2000. Should he have apologized? Should the whole show, and not just the performer, apologize? Sometimes these conversations feel stiff and pointless because everyone in entertainment has connections behind the scenes they're trying to protect, but this episode feels surprisingly honest. —Kathryn Doyle
Listen: Spotify | Apple | Website
Dunktown - Movie Review: Uncle Drew (w/ Carl Tart) 
What's more American than distracting ourselves with sporting events during difficult times? Nothing! That's what! Luckily for us, our friends over at Dunktown are here to guide us through the ongoing pandemic, despite the fact that actual basketball games are not being played at the current moment. In place of NBA playoff discussions, hosts Agata Monica and Anastasia Vigo welcome podcast extraordinaire Carl Tart to talk about something far more important: the 2018 sports comedy, Uncle Drew. As someone who saw this movie in theaters on opening night, I can confidently say an in-depth conversation about this film is far more entertaining than an actual basketball game. While a film analysis of Uncle Drew will not likely be done in the classroom setting, Monica, Vigo, and Tart certainly make a case for why it's a great watch. Considering Uncle Drew was a spinoff of a Pepsi Max commercial, I think we can all agree that it's a miracle this movie was coherent, let alone good. If sports comedies aren't your jam, tune in to hear about Tart's dunking abilities, a spoiler-heavy discussion about HBO's Insecure, and why the gang still stans Kyrie Irving despite his previous Flat Earth comments. —Tom Rainey
Listen: Spotify | Apple | Website
PANTS With Kate and Leisha - Kate Has a Thing Against Grass
Why is this podcast called PANTS? Host Kate Moenning and Leisha Hailey, better known as Shane McCutcheon and Alice Pieszecki from The L Word, aren't even sure. "We still don't know what [the podcast is] about technically," says Hailey in the opening, before Moenning finishes her sentence with "but that's the beauty of it." That conversational ease, a result of meeting almost 20 years ago and playing best friends on TV turned best friends in real life, is definitely a draw. Listening to them chat about their friendship will make you feel like part of their inner circle. As they reminisce, listeners learn about Moenning's aversion to wicker furniture and grass and Hailey's history as a people pleaser. Light laughs come as easily as the rhythm of their relationship, which is full of energy as they spill silly secrets like the time Moenning bought furniture socks to protect her floors. "I have black floors … so you see everything on [them], hence the Flashdance leggings on my furniture," says Moenning with a winking shoutout to The L Word castmate Jennifer Beals. PANTS is as engaging as it is aimless thanks to the warm friendship at the center of the show. —Becca James
Listen: Spotify | Apple | Website
Other Podcasts We're Listening To:
The Neighborhood Listen - Parrots, Whistlers and A Carrot-Haired Woman w/Maria Blasucci
Listen: Spotify | Apple | Website
Literally! - Yes/No (w/Chris Pratt)
Listen: Spotify | Apple | Website
Got a comedy podcast recommendation? Drop us a line at comedypodcasts@vulture.com.
If you like comedy and you like podcasts, we recommend you subscribe to Vulture's own Good One podcast, which releases new episodes every Tuesday on Apple Podcasts, Spotify, Stitcher, Overcast, or wherever you get your podcasts.