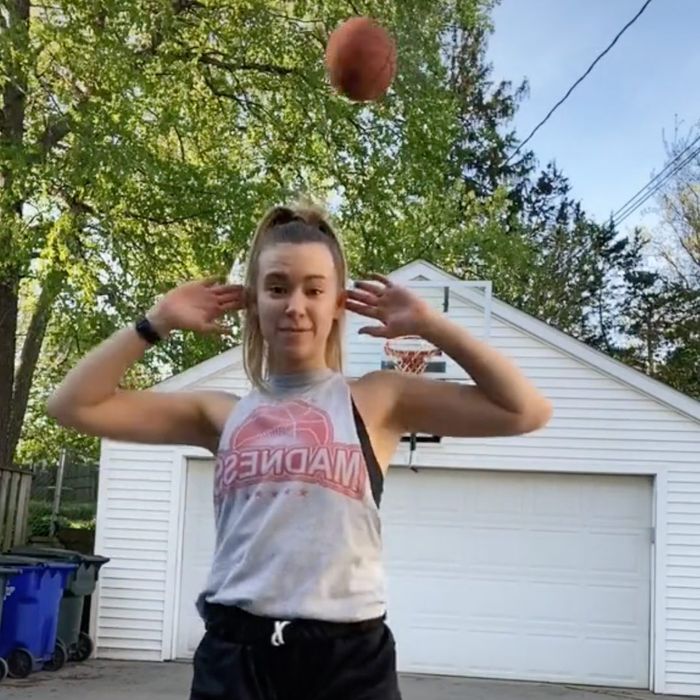 No, you were up until one in the morning learning the "Ice Me Out" dance from TikTok. Kash Doll's 2018 hit "Ice Me Out" has gotten a rightful second life recently with a brand new dance. Since the first week of May, the biggest names in TikTok have been bouncing to the song's second verse, where Kash Doll explains how she funds her lifestyle. "I ain't gotta get naked for no tennis bracelet," she raps over air before the beat comes back. "But I need 20 bands for a fucking anklet/ He gave me neck, now I got Patek/ These bitches only want that shit 'cause they heard Future say it." "Ice Me Out" has been used on TikTok over 1.1 million times, with its most popular video, Charli D'Amelio's version, at 38.6 million views. Kash Doll has already noticed the dance trend, laughing about it on Instagram. "This what y'all doing on TikTok to my records?" she reposted the second-highest viewed video, of a girl getting hit with a basketball while attempting the dance.
Unlike many, many, many TikTok challenges, we can easily point out the origin for this dance. 18-year-old Ellie Pascua uploaded the choreography on May 7 and on May 9, Charli D'Amelio recreated it for her then-54 million followers, with credit. (She now has 60.9 million followers, don't get it twisted.) In one of the top videos, a girl's little brother throws it back and knocks her back, too. In another, two girls do the dance while their phone is taped to an opening garage door. And another gained popularity after commenters and dueters came together to hype up a user struggling with her body image. "Girl, if I looked like you I wouldn't even know how to act," one commenter wrote. The surprisingly wholesome "Ice Me Out" TikToks grow in number (and popularity) everyday. This TikTok, where a trio of teens just sort of act out the lyrics, has nearly 800,000 views. It's so funny for no reason, even the commenters are shook by the power of this "school project production" apparently set in Bridge to Terabithia forest.
A modern "Diamonds Are a Girl's Best Friend," 2018's "Ice Me Out" was Kash Doll's debut single with Republic Records and, a year later, the lead single from her album Stacked. The music video, featuring Kash and some sexy ice sculptures, has over 22 million views on YouTube. Her straight-forward, often funny lyrics jump out against the slow beat and she slips into the third person when she talks her talk. "Ice Me Out" is a getting-ready-to-go-out song, like before perfume but after foundation. This isn't Kash Doll's first time with a viral TikTok song, either. Her song "Doin Too Much" has been a consistent hit on the app. With the "Ice Me Out" dance taking off, the rapper rightfully joins Doja Cat, Nicki Minaj, and Megan Thee Stallion as an artist TikTok can't get enough of.