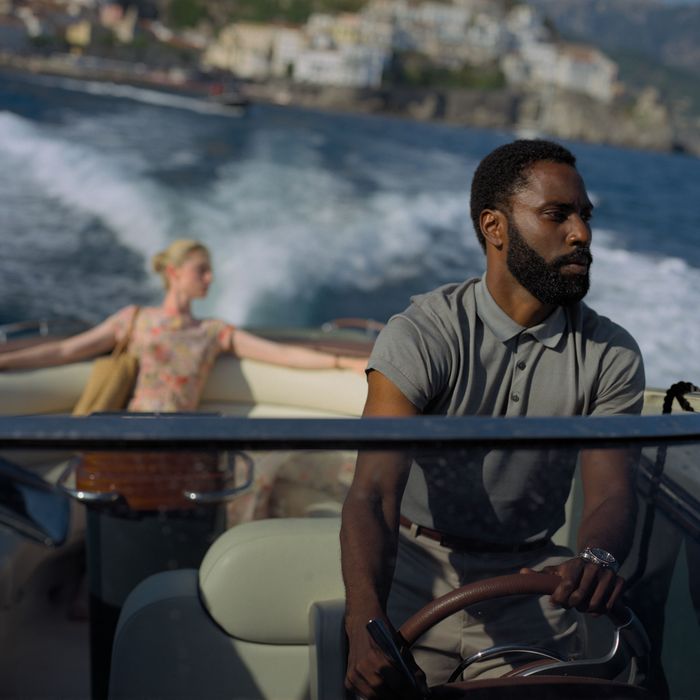 The box office is coming back, with or without
Tenet.
But the industry's measure of success is going to look a lot different.
Photo: Courtesy of Warner Bros. Pictures
Until a couple of weeks ago, director Christopher Nolan's mystery-wrapped-in-an-enigma thriller Tenet faced a daunting responsibility. Refusing to budge from its long set July 17 release date, the $200 million Warner Bros. title was scheduled to arrive as the first studio tentpole hitting multiplexes after a four-month theatrical shutdown caused by coronavirus anti-gathering restrictions. If any filmmaker could convince moviegoers to break quarantine and risk pandemic infection to take in a motion picture, the industry thought it would be Nolan: the critical and commercial rainmaker behind highbrow popcorn entertainment like Dunkirk and the Dark Knight trilogy. More than just being the first film to land in theaters just as turnstiles began to spin again, Tenet would be a barometer of theater patrons' collective desire to spend time with strangers in a darkened auditorium — a stress test of moviegoing's overall sustainability in the COVID-19 era.
On June 12, however, Warner Bros. announced that Tenet was being pushed back two weeks to open on July 31, triggering a cascade of subsequent date switcheroos across the movie release calendar. And on Thursday, the studio postponed Tenet's release an additional two weeks to August 12. "In this moment, what we need to be is flexible, and we are not treating this as a traditional movie release," a Warner Bros. spokesperson said in a statement. With AMC and Regal, respectively the country's largest and second-largest theater chains, both set to reopen by mid-July, Disney's $200 million live-action adaptation of Mulan will now charge into theaters on July 24 as the first post-shutdown would-be blockbuster (that is, if the rumors it's also considering delaying its release are untrue). At a time when moviedom's most lucrative season has been effectively mothballed, with studios shuffling almost all of their biggest money earners into the fall, next spring, and even next summer, the movie industry's continuing health will be diagnosed by what happens within the next few weeks — with or without Nolan's latest.
Of course, nobody expects a cumulative summer gross anywhere near last year's $2 billion July-August box-office haul. But if audiences show faith in theaters' revamped safety, social-distancing, and cleaning protocols, this July and August's remaining ticket returns could help reverse a death spiral that has so far yielded a barely consequential $3 million in ticket sales between April and June, and narrowed the usual field of 25 to 30 potential blockbusters to just 7 or 8 wide-release films. On the flip side, negative early buzz could torpedo theatrical moviegoing until a coronavirus vaccine can be widely implemented, likely resulting in the studios and movie exhibitors failing to earn untold billions of dollars worldwide and pushing any return to Hollywood profitability into Q4 2020 at the earliest.
"More important than even the movies themselves is the movie theater experience: getting people back, warming people up to the idea of going to the movie theaters," says Comscore senior media analyst Paul Dergarabedian. "The movie theater is transitioning from the pure hospitality business and concession business to a health- and safety-conscious environment. There are so many layers to this. It's going to be about the experiential part of the newly formed movie theater and how that is perceived by first adopters and transmitted to the world."
"What that will look and feel like, nobody knows until it actually happens," he says.
Hitting theaters two full weeks ahead of Mulan's scheduled release date is the PG-13 romantic-comedy The Broken Hearts Gallery. The Sony Pictures title arrives July 10 as Selena Gomez's maiden outing as an executive producer. It marks writer Natalie Krinsky's debut outing as a director, led by Geraldine Viswanathan, breakout co-star of the 2018 comedy Blockers. She play a romantically disillusioned New York gallerista who creates a pop-up art space (curated around relationship souvenirs) after being dumped by her latest boyfriend. Gallery now stands as Hollywood's first major studio wide release since the shutdown, the kind of micro-budget movie that might have otherwise wound up on video on demand.
"They're going for a young, female audience; anybody who's under the age of 25 to 30 is going to be among the first to go back to theaters," says Shawn Robbins, chief analyst at Box Office Pro. "So it makes sense to put out a movie like that right now to start that wave of getting people back in. It might not be a big opener. It didn't cost a lot to make. So they don't need to break the bank at the box office. They're out there to take advantage of the marketplace and potentially stay in theaters longer than they normally would have." (Distributed by the upstart indie Solstice Studios, the Russell Crowe road-rage drama Unhinged also arrives in more than 2,000 cinemas on July 10.)
With Disney having already yanked Mulan's global release off its original March 27 release date (largely due to COVID-19-related theater closures across China where the movie is expected to perform strongly), the House of Mouse has a lot riding on the action epic. Coming off record-breaking profitability year last year, Disney watched its profits sink a reported 92 percent last quarter. And after having already poured at least $200 million into marketing Mulan for its aborted spring rollout, the studio is assuming considerable risk by doubling down on an expensive new advertising spend and releasing the Niki Caro–directed remake of the 1998 animated musical into an untested theatrical marketplace — where China has still not yet reopened its theaters — as opposed to dumping it onto Disney+ as the studio did recently with its $125 million YA novel adaptation Artemis Fowl.
But even if Mulan flops upon arrival, according to Dergarabedian, meager opening-weekend grosses shouldn't be considered a death knell for either the film or the industry. "It could be the reverse of what we've known for 30 or more years, where everything's keyed off of opening weekend performance," he says. "We have to disabuse ourselves of the notion of the importance of the opening weekend. Now we're going to have to look at it as the start of something, that it's the beginning of a long-distance run. It's not a sprint for the first three days to see how much money they can grab from the audience."
"So let's say Mulan does X, Y, Z dollars on its opening," he continues. "People will say, 'That's so much less than the last Disney movie.' Well, that was a completely different environment with no constraints on theater capacity, no COVID fears. You might see Mulan build over time, as people become more positive about the experience to be had in a movie theater and they express that sentiment on social media."
Other presumptive 2020 hits such as Minions: The Rise of Gru, Ghostbusters: Afterlife, Jungle Cruise, Malignant, and Morbius were evicted from their summer release dates and pushed either into next year or the even more dreaded "TBD." Over recent weeks, Warner Bros. delayed the release of Wonder Woman 1984 from August to October 2, and moved the tenth anniversary reissue of Nolan's 2010 sci-fi smash Inception first onto Tenet's old July 17 spot, then onto its second July 31 corridor — a theatrical marketing "event" that will present audiences heretofore unseen footage from the time-warp thriller as well as a sneak peak at footage from the studio's upcoming slate of films. And adhering to a coronavirus-era animated family film playbook established in April by Trolls World Tour, (and followed up a month later by Scoob!), Paramount canceled the August 7 theatrical rollout of The SpongeBob Movie: Sponge on the Run and will instead release that movie to premium video on demand in 2021. Conversely, Disney moved the theatrical drop date for Lin-Manuel Miranda's Hamilton from October 15, 2021 up to a July 3 Disney+ bow — presumably to give curve-flattening audiences something of quality to watch at home.
Although fevered speculation about Tenet's plot has ricocheted across social media since the movie's trailer landed online in December, little is known about the film outside of its setting within the world of international espionage, its cast (which includes John David Washington, Robert Pattinson, Kenneth Branagh, and Elizabeth Debicki), and that it was shot in seven countries using a mixture of 70 mm and IMAX film. Nolan, for his part, is known as a tireless proselytizer for the theatrical moviegoing experience, having penned a passionate op-ed essay in the Washington Post in March intended to rally audiences back to the multiplex to consume Goobers and bask in surround sound as a "vital part of social life."
"Christopher Nolan, he's Mr. Movie Theater," says Dergarabedian. "Directors like Nolan can be the draw. Look at Dunkirk. On its surface, it doesn't look like a particularly commercial film. But having Christopher Nolan's name on it made it commercial. Jordan Peele, Quentin Tarantino, and Christopher Nolan are directors who, by their sheer presence and reputations as filmmakers, make people want to go see their movies."
Adds Robbins: "It's very clear that Christopher Nolan wants to be the guy — and a lot of movie fans want him to be the guy — that brings the first big movie out. But it doesn't have to be the first. There's a very real scenario where it comes out, opens pretty well, and then just sticks around for months and months."
Of the summer's remaining wide-release titles, A24's Saint Maud is set to become the first nationwide horror film on July 17. The third installment of Keanu Reeves's breakthrough franchise, Bill & Ted Face the Music, moved up a week to August 14 (from August 21) to occupy Wonder Woman 1984's previous date, where it will face off against the Gerard Butler disaster thriller Greenland. And after a confounding roundelay of date switches and release delays spanning more than two years, the X-Men spinoff The New Mutants is finally scheduled to hit theaters August 28.
"Bill & Ted will be interesting because it's one of the few comedies out there and because of Keanu's renaissance over the last few years — that could have an interesting demographic breakdown," Robbins says. "The New Mutants — I'll believe it when I see it. I want to root for them as the first superhero movie [to come out during the pandemic]. But is it enough to overcome the delays and negative buzz? That's anybody's guess right now."
In post-coronavirus Hollywood, it's fair to say that uncertainty remains the only certainty. "Everything's changing," Dergarabedian says. "How we perceive success, how we report the numbers, all of that is going to be different."