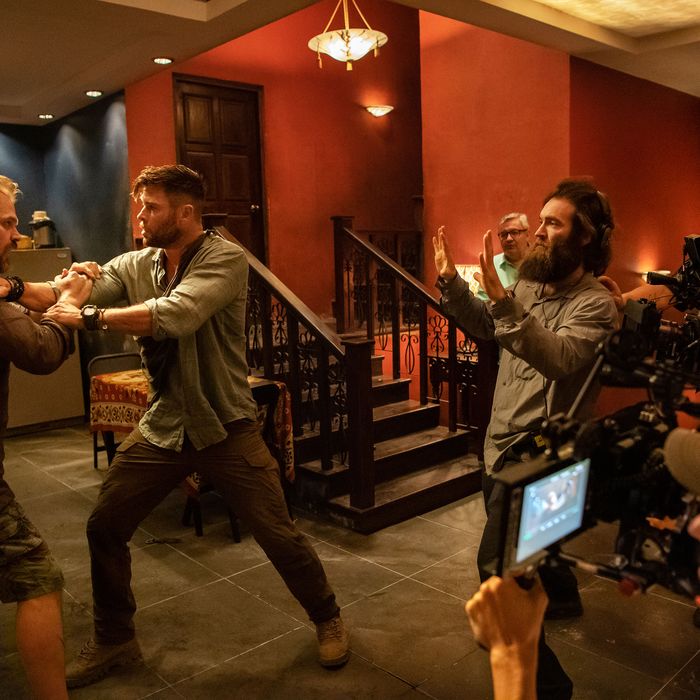 According to
Sam Hargrave
, an experienced stunt coordinator for Marvel and the director of Netflix's
Extraction
, fight scenes will likely cede the screen to other types of movie combat until a vaccine can be developed — just one example of how the movie-making business is about to change.
Photo: Jasin Boland/Netflix
"Everybody 'biodomes,'" American film producer and financier Doug Belgrad explains, using what's only recently become an industry-accepted term in Hollywood for a kind of yet-to-be-tried self-isolated movie set. "You take over a hotel. Keep everyone separated. You work six-day weeks. Get in and out as quickly as possible. It could work!"
In keeping with a raft of new COVID-19 safety protocols going into effect this month across the recently reopened film and TV business, the 2.0 Entertainment founder behind the blockbusters Bad Boys for Life and Peter Rabbit tells Vulture that movie productions are about to look a lot different than anything he's seen in his 27-year tenure as a studio executive and former co-president of production at Sony Pictures. His latest feature project — already equipped with a director, script, and budget — is set to roll cameras soon in Hollywood North, with the outskirts of Vancouver doubling for the Colorado Rockies. To shoot in Canada, Belgrad's cast and crew will endure two weeks of government-mandated quarantine. They will also self-isolate for the duration of filming; staying at a single hotel, shuttling between the lodgings and a limited number of outdoor sets and sound stages. Outside visitors will be barred from setting foot anywhere near the production lest they submit to a two-week sequestration of their own.
And the entire operation will be unusually rushed. The crew will accomplish "prep" in eight weeks (two to four weeks faster than usual) before plowing through principal photography in six-and-a-half weeks of six-day work cycles (rather than over two months, as would have been the case under non-novel coronavirus circumstances). In that time period, the film's primary players — its director, writers, top-line talent, even the producer himself — will be effectively prohibited from jetting in and out of Canada. Which means no going home for the weekend, and no off-campus wheeling and dealing. Those kinds of perks, typically reserved for the top of a call sheet, have been wiped out by the pandemic.
In movie-making's spiritual homeland, things are looking similarly prohibitive. On the heels of three months of state-decreed set closures that resulted in tens of thousands of craftspeople, stagehands and technicians (not to mention untold legions of actors) losing their livelihoods, the state of California has finally lifted anti-gathering measures to allow movie and TV productions to resume shooting. The grand reopening of Hollywood, which officially began on June 12, is subject to a detailed set of protocols titled "The Way Forward" that was ironed out between major studios and labor unions earlier this month and will be enforced by public health officers going forward. The protocols include mandatory and frequent testing, limited mobility on sets, protective face masks for off-camera workers, and the creation of new positions to monitor health and safety.
Similar reopenings have already taken place in Georgia, Illinois, and Ohio, while Louisiana is expected to reopen in July. Across North America, the long road back to the backlot is being greeted with equal measures of joy and apprehension. At issue: Few in the entertainment industry seem entirely sure how these protocols will play out, or how safe they will keep the various departments on set. For example, sources in the industry tell Vulture that trade associations, including the International Alliance of Theatrical Stage Employees (IATSE) and the Screen Actors Guild, are still negotiating a key "magic number" — the precise number of people that will be allowed on a set for a production of a certain scale at a given time.
In the meantime, filmmakers, division heads, below-the-line workers, and executives up and down the Hollywood food chain agree that major disruptions to the way movies have been made for the better part of the last century are inevitable. Everything from the way sex acts and fist fights are simulated to the use of extras to the distribution of beef jerky at the craft-services table will all be subject to profound revision. What is also certain: Making movies is going to get way more expensive — at least $1 million will be tacked on to a typical production, per current calculations, but it will take an additional $5 million to resume shooting Universal's Jurassic World: Dominion — with production companies and studios now obligated to hire not only medical professionals and safety experts, but also sanitation crews, on top of shelling out for hand-sanitizing stations, personal protection equipment, thermometers, and other enhanced set-cleaning equipment.
Further compounding all those expenditures, industry insiders contacted by Vulture say studios and streaming services will face greater financial risks, self-insuring a growing number of their own movies (essentially because coronavirus insurance doesn't and won't exist), all at a time when North America's largest theater chain, AMC, is hovering near bankruptcy and filmmaking's return on investment has never seemed like a shakier bet. Even while additional line items pile up on the balance sheets, sets will grow less populated than at any other time in the modern production era, giving greater emphasis to video-conferencing technology and a kind of compartmentalization of labor that flies in the face of filmmaking's reputation as the most collaborative creative medium.
According to Russell Bobbitt, a veteran prop master most famous for creating such Marvel Cinematic Universe objets de film as Thor's hammer and Iron Man's Arc Reactor chest-piece, the adoption of these new work habits won't come easy. "People are going to say, 'How am I supposed to do my job?' We're anticipating that people will be blindsided by the change and will react accordingly," says Bobbitt, who is also an IATSE union steward. "We have to reconfigure what our jobs are on set. We know what the end goal is, but we have to reinvent from Point A to Point B to get what we need to get done. And so it will be very different and it will be very scary for some people."
VFX to the Rescue
In an era when "background artists" (as extras are now known) have come to be regarded with growing suspicion as potential vectors for illness, and the prospect of shuttling to distant lands in pursuit of generous tax incentives is being met with growing resistance — "It's going to be tough to get actors to want to go to far flung locations with the virus still out there," confirms David Klawans, producer of Argo — the visual-effects industry has come to offer a number of quick fixes for Hollywood's current woes. Among them: "crowd simulations" (computer-generated images of groups of people that appear realistic so long as the individuals are never depicted in close up) and digital sets with programmable LED walls (à la the equipment used on the Disney+ series The Mandalorian) that can generate photo-real landscapes and eliminate the need for location shooting altogether.
"A lot of our clients are asking us to help mitigate filming restrictions and other issues that require a lot of cast and crew with all-CG options," says Matthew Butler, an Academy Award-nominated senior VFX supervisor for Digital Domain whose work has appeared in such films as Ready Player One and Transformers: Dark Side of the Moon. "Making productions more digital has been the trend for a long time. COVID-19 will only accelerate that." Especially as studio overseers show a growing openness to effects technicians doing their work from home. The speed of VFX processes such as pre-visualization, concept design, research and development and post-production have accelerated by as much as 30 percent, says Butler.
As for the sex scenes, CGI simulations are also reportedly being explored as stand-ins. According to a recent article in the U.K. Sun, a 22-page file from an unspecified film-editors trade association lays out guidelines regarding how "close-contact moments" should be "either rewritten, abandoned" or replaced with computer-generated imagery to minimize the spread of infection. "I'm sure there will be more split-screen work too," adds Butler who is currently working remotely on the upcoming Spider-Man spinoff Morbius. "For example, if both your leads can't be in the same place at the same time, you could shoot one lead and a body double and have us do a face replacement. While studios are trying to deal with this initial round of COVID-19-era productions, you will likely see more workarounds like that to keep productions on track."
What Special Effects Can't Fix
However, VFX won't solve everything. Prior to "The Way Forward," studio executives and union officials agreed to a set of what could fairly be classified as no-brainer production guidelines: the elimination of self-serve buffet-table catering, staggered call times to limit the overall headcount, and the use of COVID-19 compliance officers on every set (all of which was laid out in a report delivered to the governors of New York and California). A move toward airplane meal–style catering has also been widely discussed.
"We're thinking of doing a buffet-type of craft services where crew members can see the item; they can't touch it; they can ask the attendant behind the counter, 'I want one of those, and one of those,' they put it in the bag and we give it to them," says Nick Umbenhower, co-owner of Kit and Kaboodle Craft Services. "We could just keep giving them bags and bags every time they're a little bit hungry. But what if they don't want the peanut butter sandwich? They've already thrown away the apple and the juice box but they want another beef jerky. That'll be a total waste. So we liked the idea of giving them an option."
But within a creative medium that can often require waves of laborers — Avengers: Endgame lists 3,470 filmmakers, cast and crew on its IMDb Pro page — numerous day-to-day realities still remain unresolved. Arguably, the division most immediately ripe for a re-do will be hair and makeup. The fields' practitioners necessarily work in dentist-close proximity to onscreen talent, providing services impossible to replicate via Zoom conference. To hear it from Kazuhiro Tsuji, the special-effects prosthetics and makeup ace who won Best Makeup and Hairstyling Academy Awards for the biographical dramas Bombshell and Darkest Hour, nothing short of systemic change can turn the makeup trailer into a safe space. Its historically cramped environs will have to give way to more spacious, hospital-sterile rooms with improved ventilation systems and new hygiene and disinfecting protocols. The more makeup artists a production can employ, he explains, the less chance of cross-contamination that will halt filming.
"So many people working at the same time in a really tiny space," Tsuji says. "We have to think about getting individual makeup artists on each actor. We don't want to mix up a tool or equipment in that space, we don't want to bring in an extra [into] the same trailer as our main actor. It costs so much more once something bad happens. So much more than getting an extra trailer."
Enter: the Biodome
On July 8, Tyler Perry announced he will resume production at his Atlanta-based, 330-acre Tyler Perry Studios, a former U.S. Army base that includes 12 sound stages, 141 barracks, 40 historic homes, and 30 newly built residences intended for use by casts and crews shooting at the facility. The film and television mogul is poised to become entertainment's foremost practitioner of the "biodome" business model, and will reportedly use his private jet to fly in cast members for his BET series The Oval and Sistas. The actors will be tested for COVID-19 before boarding the plane and then once again when they reach the set, after which they'll be quarantined for four hours pending the results clearing them for work.
Outside of North America, Iceland, South Korea, and Australia reopened their borders to movie shoots (joining "soft lockdown" nations like Sweden and Denmark that allowed cameras to roll again in April). And on June 16, producer Jon Landau took to Instagram to reveal that James Cameron had resumed work in New Zealand on the Avatar sequels, becoming the first major Hollywood production to start shooting under pandemic conditions.
The indie studio Millennium Media also announced it was reopening Nu Boyana Studios last month, the backlot facility it operates in Bulgaria where such titles as Rambo: Last Blood, The Hitman's Bodyguard, and Angel Has Fallen were filmed. On June 14, the Eastern European nation lifted travel restrictions, officially allowing the return of international movie and commercial productions. Beyond following Bulgarian edicts regarding hygiene and distancing, Millennium's president, Jeffrey Greenstein, says productions going forward at Nu Boyana will implement video-conferencing technology and employ aspects of the "biodome" model, limiting interpersonal contact whenever possible.
"Anything that doesn't have to be done in person will be done digitally," Greenstein says. "The script supervisor that's supposed to be sitting next to the director? That person will be sitting remotely. If there are presentations of costumes, it won't require everyone to be in the same room. We can be minimizing interactions across the board. Whether that's people congregating around changing lights and cameras on set, we're going to use discretion to have people stepping on and off in the most economical way."
Toward that end, 2.0's Belgrad also foresees significant shifts in the ways a film's director will interface with crew. "His physical proximity to department heads — in prep, on set, and in post — with the editor, the DP, when you have production meetings, for the foreseeable future, they're going to keep the number of people meetings smaller in larger spaces," the executive says. "You're going to try to limit the number of direct exposures. Video villages — there'll be a director's video village and a DP's video village, a talent video village and they won't be within a close proximity to one another. Wherever possible, I'm sure they'll be outside rather than inside a soundstage. That will depend on putting up tents."
Scheduled to resume production in the U.K. on July 6, Jurassic World: Dominion will reportedly spend $5 million of its reported $200 million budget on safety procedures such as custom-built temperature-testing stations at dual entrances to its Pinewood Studios production facility, hiring the private firm Your Doctor to implement medical safety measures and conduct "thousands" of COVID and antibody tests, nightly antiviral fogging, and protected "Greenzones" for shooting cast and crew — "enhanced testing" environments that will be heavily policed by security to further limit infections.
"Can I tell you it's going to be a seamless integration of these protocols? No," Greenstein continues. "It's going to take time. Will it possibly take longer to shoot a day than it normally would have? At the beginning, yes. But as soon as the crews are trained and accustomed to these new practices, it will become second nature — until hopefully there's an immunization and we can move forward with business as usual."
Bringing 'the Big, Big Stars' Back
But even as new safety protocols and stop-gap measures proliferate across the production diaspora, the coronavirus could still at least temporarily endanger one of Hollywood's most important species: A-list stars. With most big-budget event films punting principal photography into 2021 and beyond, many big-name actors and actresses are taking the rest of the year off while the industry regroups. "I don't know if I personally will go back to work anytime soon," Charlize Theron recently told Vanity Fair. "I have two small kids. I've had these recurring dreams — or terrors, I should say — that I somehow stupidly got it and brought it back to my kids. I don't want to mess with this stuff."
Such stars' absence from scheduled shoots has the potential to cause major disruptions in the studio pipeline. "There's a handful of actors in film and television that drive production," says an industry insider. "They don't necessarily need to work, or at least work with the same urgency. So, say, Nicole Kidman decides to take off a year until there's a vaccine. All of a sudden, all those seven movies that star Nicole Kidman are stuck in limbo. You either recast that role or you wait for her." ("The rank and file want to go back to work," says a studio executive who requested anonymity. "The big, big stars, it's a case-by-case basis.")
Also unlikely to factor prominently — if at all — into films made during the early months of post-coronavirus return: sequences plotted around hand-to-hand combat. According to Sam Hargrave, the stunt coordinator and action choreographer of such titles as Atomic Blonde, Avengers: Infinity War, Deadpool 2, and Netflix's Extraction (his feature film directing debut), fight scenes will likely cede the screen to other types of movie combat until a vaccine can be developed. "There might be a lean towards action at a distance," says Hargrave. "Car chases where there's a single person in the car. There's a barrier between you physically and metaphorically. Long-distance things. Gun fights. Throwing knives."
Moreover, even if a famous actor winds up in a filmic fist fight in the near future, thanks to advances in movie magic he or she might not actually be the one to throw a single punch. "Technology has become so good these days," Hargrave adds, "you could have someone else who is not germaphobic — a stunt performer or someone willing to take that kind of risk for that kind of money — and do face replacement. There are ways around it. People might get a little tired of bow-and-arrow fights, shootouts, and spear-throwing."
'It Could Work!' But Will It?
In the 1996 raunch-comedy Bio-Dome, Pauly Shore and Stephen Baldwin portray a pair of doltish dudes who find themselves locked into a science experiment for a year after mistaking the hermetically sealed eco-enclosure for a shopping mall. The narrative frisson (to the extent the PG-13 flop can be argued to have any) comes from the unlikely cohabitation of brilliant scientists and brain-challenged boys in a bubble. MCU prop master Russell Bobbitt — who has filed a patent for a cutting-edge disinfection tool expressly designed to meet new COVID-19 safety protocols on movie sets — feels that Hollywood's current efforts toward biodoming are similarly fated for disaster.
"You can put everybody in a hotel, and you can pay everybody a per diem for housing, and say not to leave the premises," says Bobbitt, who, by his own estimate, has worked in the movie industry for 39 years and spent around 25 years on location. "But you'd have to put guards outside the hotel because you can't control people who want to go out and have a beer at night. I mean, that's what people do."
"I can't see that concept [working] unless you're actually, literally, in a bubble," he continues. "We work 15, 16 hours a day and you need a little release. A little freedom. Even if it means going to the 7-Eleven to get a Slurpee. It's something."
Of course, the primary obstacle to any industry-wide post-COVID-19 production reawakening will be a certain insurance Catch-22: the slippery slope of securing financing without completion bonds or policies specifically structured to cover weeks of quarantine. "You can't get a bank loan if you don't have a bonded production. And you can't get a bond if you don't have that bank loan," notes one insider. Furthermore, absent the type of liability insurance carriers are unlikely to extend to movie productions for the foreseeable future, an onset viral outbreak, or even a lead actor downed with infection, could result in weeks of shutdown, during which a studio or streamer would remain obligated to pay the full cost of keeping cast and crew employed and sound stages occupied, even while cameras cease to roll.
Film executives contacted by Vulture say some production companies and streamers — in particular Netflix — will be willing to take the relatively unusual step of self-insuring their low- to mid-budget shoots, gambling that the potential of paying out of pocket for coronavirus-related delays outweighs the risk of running out of new content. "If you're a major movie studio, or a major streamer, you better put stuff in the theaters or on the screen or you're going to run out of that stickiness you need to keep your business afloat," says a former studio executive. "And they have a lot of money."
Another return-to-production strategy that recently gained some traction within the industry would have cast and crew members sign liability waivers that release productions from any responsibility surrounding the on-set spread of COVID-19. But such measures have been widely decried by trade organizations such as the DGA, which is urging members not to sign any waivers without first checking with guild representatives. Ultimately, even with a full complement of self-insurance, a growing embrace of biodoming, a battery of new safety protocols, and shifts toward virtual filmmaking, the CDC recently warned of a second coronavirus wave that has real potential to take Hollywood back offline just as it's finally reopening. Another spike would risk pushing any return to movie business as usual into 2021, further disrupting the production of mega-budget event films in particular, and impacting the studio release calendar for years to come as a result.
But within an industry that regards William Goldman's famous utterance "nobody knows anything" as foundational wisdom, uncertainty has long been normalized as part of the filmmaking process. "Hollywood people are nothing if not creative and inventive. We're in the business of solving problems," says Belgrad. "This is one giant problem that will have to be unpacked in many different ways."