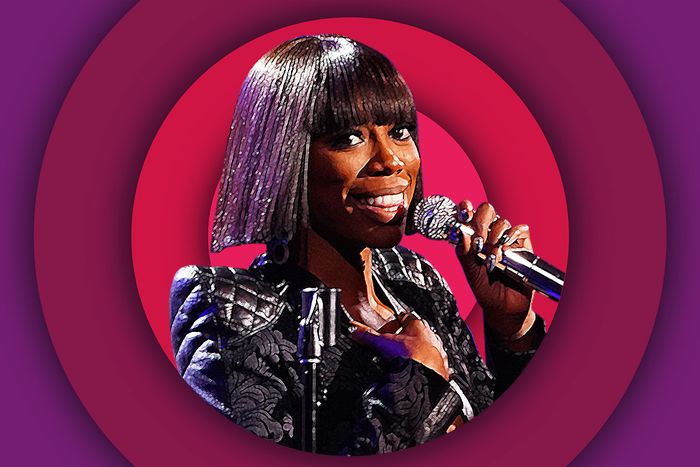 Yvonne Orji.
Photo-Illustration: Vulture and HBO
As a result of the iconic nature of her performance and the fact that she was fairly unknown before being cast on Insecure, people tend to assume Yvonne Orji just is Molly. Instead of asking "Why did your character do that?" a lot of interviewers end up asking, "Why did you do that?" It's funny! With her new HBO special, Momma, I Made It, which came out this month, Orji is ready to tell people who she is — by way of her fantastic, character-driven stand-up — and show people where she came from — via documentary footage of her returning to Nigeria, the country where she lived until moving to Maryland at age 6. In her review, Vulture's Kathryn VanArendonk wrote that the special "is appealing and beguiling, a warm and personal tour through Orji's family, the weight of parental expectations, the challenges of dating, and her double vision as a Nigerian-American."
On Vulture's Good One podcast, Orji discussed her special, on being chosen by God to perform, and Vulture's Insecure man-ranking. You can read some excerpts from the transcript or listen to the full episode below. Tune in to Good One every Tuesday on Apple Podcasts, Spotify, Stitcher, Overcast, or wherever you get your podcasts.
On Stand-up Being God's Plan for Her
I became a born-again Christian in college freshman year when I was 17. So I had been developing this relationship with God. And this [Miss Nigeria in America pageant] was probably one of the first times that he was making a demand on me in a way that I was like, Oh, I can't just pray and, like, let go. He wants me to do something that's uncomfortable. Wait, I didn't realize that's how this relationship was gonna work. I prayed and I heard a whisper saying, "Do comedy." I was like, What are you talking to me about? Like, No! How? That's not even a thing I know to do. There were so many question marks that came up with that one comment that immediately I knew this has to be God, because I wouldn't be fighting it so much. This is definitely not me. I heard the Holy Spirit say, "Well, what else do you have?" And it was at that moment where I'm like, I hate my back being up against the wall. I hate not having any option. 
As a Nigerian woman, I'm so resourceful. All those people are entrepreneurs. They are creative. So in that moment, I was like, I don't have an answer. I don't have anything to battle God with. And I knew, like, Girl, if you say you go to Bible study and church like you say you do, what's the point if you're not gonna listen to him?
On the Importance of Black Joy
My name means "archer of happiness." I know that my purpose is to literally shoot and inject joy into the airwaves, whatever that is. So my framing is, I want, when you leave here, that you had a good time. It's not that we won't talk about different things. But the framing will be positive, because I'm optimistic. Even when I talk about dating, it's like, "I'm single! I'm so happy!" Even if it's a struggle, here's what I'm happy about: I'm happy about my growth. I'm happy that I now know what I want. I'm happy that my vision board is updated. And I won't settle for less. You can look at the same situation one or two ways. I just choose to look at it through a lens of joy and lens of hope. The audacity of hope.
I think that God puts purposes on people before they know it. It's like the story of Gideon: The angel comes to Gideon and calls him a mighty warrior, and Gideon goes, "Mighty warrior? What are you talking about? I am the lowest in the league. We have been getting beat up. It's not me. You've got the wrong one." In that moment, Gideon is like, "What is happening? Me?" Gideon had been praying for who God called him to be. He was the answer to the prayer that he was praying, and he didn't know that. He was just like, "Please don't do this to me. Please don't make me the answer. Like, can you send somebody else?" It's so funny.
I was born holding my mom's IUD in my hand. So technically, I wasn't even supposed to be here. And then it's like, I come out, I'm holding the IUD, and they named me Archer of Happiness. And then for 20 years of my life, they believe I will be a doctor. But then God is like, I'm going to make you a healer — not through a scalpel but through humor. And it's so crazy, 'cause I'm like, Me? You thought this much about my life that you literally made me the answer? Even for the special to be coming out in such a time as this, where there's so much upheaval, there's a need for a moment of Black joy because Black bodies have been so oppressed. There's so much in the history of this country and just the upheaval that's happening. And God's like, "Yeah, so in this moment, where you think this might be the worst time for your special to come out, I'm actually going to make it the best time." And it's like, I apologize for ever thinking I know more than you. 
On Taping a Special While in Pain
I did two tapes for the comedy special. What people don't know [is], I had those boots on, I had sprained my leg. I sprained my leg during my tour. And so after the seven o'clock show, I'm hurting. But I'm like, Never let 'em see you sweat, Yvonne. So I'm trying to be focused, and I'm nervous because there are so many lights and there's like 13 cameras. I'm just like, Oh my God, there's so much going on. The seven o'clock show, I was like, This can't be the special, no. And then I remembered, Yo, you got one more shot. This is what you sold everybody on this dream. You got one more shot to get it right. My ankle was getting swollen. They wrapped me up in tape. I put the Biofreeze on. I put those boots back on. And I was like, For the next 60 minutes, you are not in pain. You are not going to mess up. You're going to give them a show. And I got offstage after the second show, and I was like, Oh yeah, that's my special! I was so pumped because it was like the same feeling of being at Barclays and feeling like something came over me. It was confident, but I also knew my fate was kicking in. Like, We didn't come this far just to get this far, boo. We got work to do.
On Hunter Harris's Insecure Man-Ranking
I thought that list was comic gold. I was just like, Who is this magical human that had gone to the trouble of ranking all of them? And I love that she had the criteria and then was like, Let me go back to that, because also, we had this one guy in the scene. Thug Yoda as No. 1 is perfect because he's even been consistent throughout all four seasons. He is like, "I think this of Issa. I am not afraid to be myself. I will never use a C word." Dro should be in last place. He was trash. Dro should definitely be in last place, I agree. She gets the award for getting it right. Absolutely.