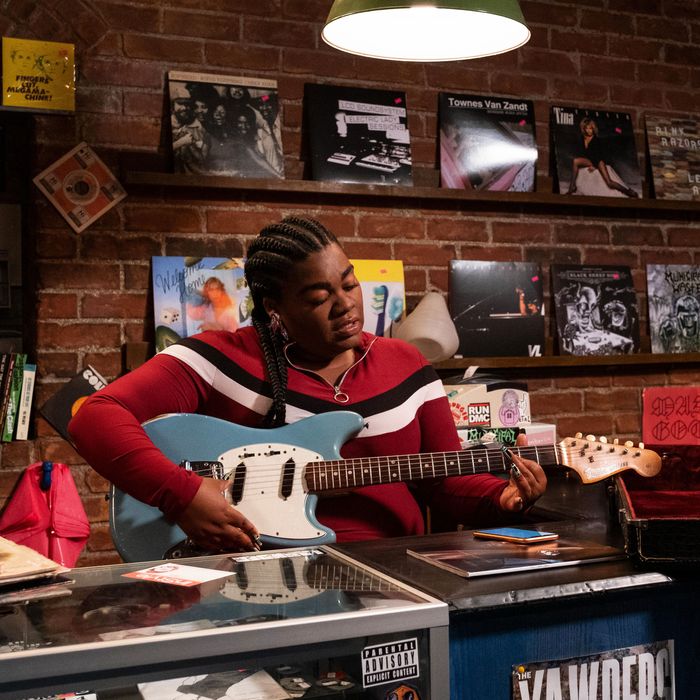 Da'Vine Joy Randolph in
High Fidelity
.
Photo: Phillip Caruso/Hulu
Do you find yourself Shazaming your way through your favorite TV shows lately? We've found ourselves doing that more than ever. High Fidelity forced us to stop and pause more times than we could count. On Vida, we were moved by the perfect use of the Latin American lesbian national anthem "Macorina." Insecure reconciled Issa and Lawrence with the romance of Baby Rose's "Show You" as their backdrop. Gentefied introduced many viewers to the nostalgic "Ojos del Sol" in its stunning bottle episode about a homeless mariachi and then playfully used SWV's "Weak" in a sweet scene between estranged lovers in the following episode. The list goes on and on.
We asked music supervisors of the shows with some of TV's best soundtracks — Betty, Better Things, Dickinson, Gentefied, High Fidelity, Insecure, Little Fires Everywhere, Mr. Robot, Mrs. America, Normal People, Pose, Shrill, The Handmaid's Tale, Vida, and Watchmen — to tell us about their 12 favorite TV needle drops from the past year. Feel free to make your own playlist from their selections.
High Fidelity (Season 1, Episode 10): Da'Vine Joy Randolph and Stevie Wonder, "I Believe (When I Fall in Love It Will Be Forever)"
There were tons to choose from this season. But I think my favorite music moment is in episode ten when Cherise finally sings — we've been dying to hear what she sounds like — and when she finally does, she's all alone in the shop … and it's the song that's been a theme for the episode … a song that rips my heart out anyway. Da'Vine Joy Randolph just kills it so perfectly and then it segues into Stevie's version. It's such a powerful music moment!
— Mary Ramos, Little Fires Everywhere and Mrs. America music supervisor
The Handmaid's Tale (Season 3, Episode 9): Belinda Carlisle, "Heaven Is a Place on Earth"
In this episode, the viewer observes June's sanity beginning to unravel from being confined to a hospital room, amid the maddening pump sounds and machine bleeps. To me, the song's repetitious use through the episode demonstrates how a lyric can take on varied and even deeper meanings as events start to unfold.
At first, I interpreted June singing the song as a feeble attempt to almost make light of a situation that's looking pretty grim, as she heads into a seemingly downward mental spiral. Toward the end of the story, for me, it demonstrated metaphorically there is still hope on Earth, and that our heroine will continue to fight even through the darkest moments.
— Nora Felder, Better Things, What We Do in the Shadows, and Stranger Things music supervisor
Gentefied (Season 1, Episode 6): Y La Bamba, "Ojos del Sol"
There's a heartbreaking moment at the end of this episode, when we see one of our characters, Javier, having to face the hard truth that he must give up his passion in order to provide for his family. He and his young son, Danny, are currently homeless and living in a van, as Javier is unable to make ends meet as a mariachi musician. He makes the tough decision to take his son out of school and move from Los Angeles to the Bakersfield home of a relative who has offered to take them in. The song plays as Javier and Danny wake up on their last day in Los Angeles, eating Pop-Tarts out of the back of the van. Javier packs his things away, Danny says good-bye to his friends at school — including his crush, who would have been his girlfriend if he'd stayed. The song is simply perfect. It's a beautifully gentle love song that underscores our story perfectly. Heartbreaking and sweet all at once.
— Michelle Johnson, Vida music supervisor
Ramy (Season 2, Episode 10): Issam Hajali, "Ada"
Scene: Ramy and Zainab get married. This moment in the season is incredibly bittersweet, which is my favorite place to be musically in a show. We want so desperately to believe that Ramy is finally on his right path, and we're in love with new characters Zainab and her father, Sheikh Ali Malik, but we know that it's probably doomed to fail based on recent events. How could you do this, Ramy!?
As we watch this beautiful katb kitab, "Ada," by Issam Hajali, a '70s Lebanese musician, wonderfully scores the scene to allow the audience to both smile and embrace the sadness to come. It provides a romantic bed to the ceremony, support to the familial bond, lightheartedness for the comedy sprinkled in (his cousin vaping throughout cracks me up), and finally the hesitation on Ramy's face. Music supervisor Rob Lowry described the scene to me as echoing The Graduate. Ramy thought this is what he would want but now is left feeling uncertain, and "Ada" nails the moment.
— Garrett McElver, Gentefied music supervisor
Big Little Lies (Season 2, Episode 3): Cowboy Junkies, "Dreaming My Dreams With You"
This spot has it all. It's dreamy, moody, impressionistic — a montage of the characters' lives and thoughts at the end of this episode. The lyrics are on point and underscore the scene's content. It's a song about being wrong about love, making mistakes, trying to get over someone but still missing the dreams you shared. You hear devastating hurt, care, sadness, obsession. That Nicole Kidman's character both hates and misses her abusive dead husband twists this beautiful, sincere song into a deeper, more disturbing darkness. The mood and lyrics match the scene perfectly but in a loose, dizzy way. I just love it — great song, great cover of it, cool scene, great show. The scene gives the song a more dangerous, shadowy feeling, and vice versa. Well done!
— Liza Richardson, Watchmen music supervisor
Devs (Episode 7): Steve Reich, "Come Out"
This is not a typical sync song in any sense. It's strange, repetitive, and somewhat abrasive; in many ways, it's more of an art piece than a song. Not only does "Come Out" open the episode, but it plays for over two minutes of onscreen silence. These opening visuals are enigmatic, disorienting, and beautiful. Unlike most syncs, the music is not being used to support what's happening onscreen — the visuals are vague and actionless, mainly comprised of slow-moving views of open nature. Instead, this is a rare instance in television in which the visuals act as support for the audio, rather than the other way around. This song is the opening scene. "Come Out" is a visceral piece you can't help but notice, both because of its strangeness and because of the lack of action onscreen while it plays. I believe it's used here to induce a feeling of anxiety and discomfort in the viewers, setting us up for what turns out to be a tense episode.
Devs is about looking into the past and reflecting it into the present, and it questions whether we can change our fate by seeing into the future. In making this piece, Steve Reich uses a short sample of human speech and doubles and loops it with increasing speed and intensity. Its cyclical nature, the way the sample is repeated against itself, aurally reflects the concept of concurrent timelines with slight alterations. The show questions if seeing reflections of the past is the same as seeing into the past, and something about "Come Out" playing here suggests that concept.
While there have been a number of near-perfect TV syncs I love from the past year (looking at you, I Know This Much Is True), I'm always looking for bold uses of music that are unexpected and take risks. There is nothing "safe" about the use of this song, and I applaud the music supervisor and showrunners who took a chance on a challenging piece.
— Alison Rosenfeld, High Fidelity music supervisor
Wu-Tang: An American Saga (Episode 8): The Arc Choir, "Walk With Me"
This entire episode is very stylized with a lot of amazing, long one-take scenes and performances. This particular song plays as Bobby (RZA) is preparing for a radio interview and walks into a bathroom alone. As soon as the song starts, the viewer's instant reaction is "This is 'Jesus Walks'" … however, what's used in this moment is the original song ("Walk With Me") that is sampled in the famous Kanye West song. I really enjoyed this because the song choice fit perfectly with the overall theme of the series, which is about the originations of selected hip-hop history and songs.
— Manish Raval, High Fidelity music supervisor
Watchmen (Episode 1): "Oklahoma!" "People Will Say We're in Love," and "Pore Jud Is Daid," from Oklahoma!
I'm a big fan of all the song placements in HBO's excellent Watchmen series, but up there with my favorite usages of the past year was the inclusion of three tracks from Oklahoma! in the first episode of the season. When we first meet Don Johnson's character, chief of Tulsa police Judd Crawford, he's attending an all-Black production of Oklahoma! where the titular track is being performed. Later, when he's having dinner at Detective Angela Abar's house, he treats her family to an a cappella rendition of "People Will Say We're in Love," a song he performed some time ago as Curly in a high-school production of Oklahoma! Then, at the end of the episode, when Judd's body is mysteriously found hanging from a tree, "Pore Jud Is Daid" plays and takes us into credits.
I really love the through line of Oklahoma! for Judd's character and also how these songs further the storytelling. The first usage helps differentiate modern-day Tulsa from the horrific events seen in the Tulsa Race Massacre flashback at the top of the episode, the dinnertime crooning creates a heartfelt moment between good friends, and there probably isn't a more clever way to score Judd's death than with the latter track. I think the thing that really got me is how these moments of song take on new layers of meaning later in the season when we learn more about Judd's evil ways; these sunny Broadway tunes have been deconstructed to help tell the tale of a bleak modern world where racism is far from vanquished. Lyrics from "Pore Jud Is Daid" also give a fitting title for this episode: "It's Summer and We're Running Out of Ice."
— DeVoe Yates, Dickinson music supervisor
Ramy (Season 2, Episode 5): Abdel Halim Hafez, "Ana Lak Ala Toul"
I love how Rob Lowry used "Ana Lak Ala Toul" in the fifth episode, "Frank," when Ramy's father, Farouk, goes out and plays soccer during a sleepless night. I really felt like I was with Farouk at that moment, in his head, and it felt sweet and sad and wistful all at the same time.
— Maggie Phillips, Normal People, The Handmaid's Tale, Shrill, and Mr. Robot music supervisor
Watchmen (Episode 6): Trent Reznor and Atticus Ross, "The Way It Used to Be"
Love the reimagined feeling of a vintage song mixed with industrial tones of the score in this chilling yet dreamy scene where some tough questions on the show are revealed. Succinct and chilling, the lyric "the way it used to be" juxtaposes the lightness of a nostalgic feeling with the stark reality of the violence of the past and violence to come. "Holding you in my embrace" takes on an entirely different feeling as the delay swirls and distorts the senses.
— Aska Matsumiya, Betty composer
The Last Dance (Episode 3): Prince, "Partyman"
I had so much fun watching The Last Dance, with all the '90s nostalgia that comes along with it. There are a lot of great moments in the season, but my favorite song moment — aside from all the memes that came out of the clip of MJ jamming out with headphones on while listening to unreleased Kenny Lattimore — is this montage of Jordan's amazing skills set to the music of another master of his craft, Prince. When Jordan plays, he makes it look easy, like he's just having a good time. In all of these moments, he is the Party Man. The way the horn-stabs throughout the song accent Jordan's dunks, blocks, and steals brings greater joy with each successive blast. And of course, the "Everybody hail the new king in town" lyric just seals the deal as a perfect song placement.
— Kier Lehman, Insecure music supervisor
The End of the F***ing World (Season 2, Episode 1): Nancy Wilson, "(You Don't Know) How Glad I Am"
Let's take a moment to discuss the genius song catalog from The End of the F***ing World: Both seasons are pitch-perfect early-1960s optimism amidst a modern world full of pessimistic themes, but season two especially shines. Perhaps it's the fact that the needle drops all feel cohesive, parts of a bigger narrative rather than episodically individual. Perhaps it's the sweet and soothing vintage love songs. Either way, I find the show to be so singular in its choice of musical themes.
Using Nancy Wilson's "You Don't Know How Glad I Am" to introduce a new season as well as the new and deliciously demented character of Bonnie is a bold and warm choice, despite Bonnie's chilling, off-putting smile. Dichotomy is always important in song selection, but for me, it needs to travel beyond ironic lyrics or a great hook. With Nancy Wilson, you're getting charm, innocence, and just the right amount of lilt, while with Bonnie … well, you may not know exactly what you're getting, but her enigmatic performance in the gas station while Nancy sings in the background had me hooked from the outset. The dreamy happiness of days gone by feels somehow appropriate against the hilariously bleak and existential crises of our heroes. And in case you're wondering? I was rooting for Bonnie all along.
— Alexis Martin Woodall, Pose music supervisor