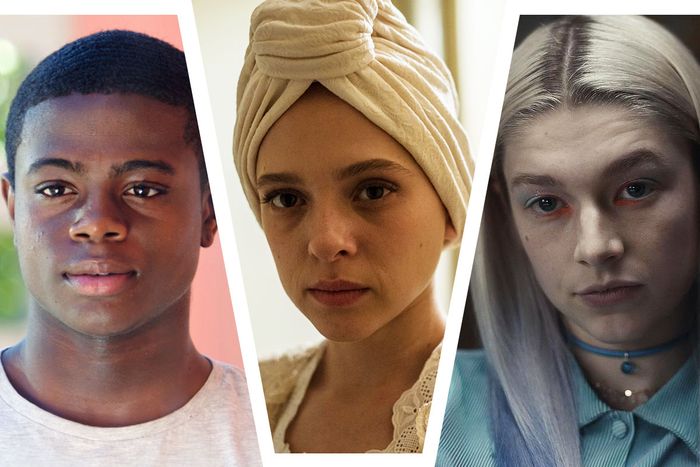 Akili McDowell for
David Makes Man
, Shira Haas in
Unorthodox
, and Hunter Schafer in
Euphoria.
Photo: OWN/Anika Molnar/Netflix/HBO
Listen up, Emmy voters! We know that it's been one of the weirdest television years in history. Even if the TV calendar hadn't been derailed by a worldwide pandemic, there were going to be difficult choices to make with this year's ballot. But the 2020 Emmys represent an important moment within the TV industry: Voters have a chance this year to send a statement, making clear that they're not going to keep nominating the same front-running shows and actors over and over again, and instead spread out their choices in a way that reflects the growing diversity of the medium.
With that in mind, we dug deep to find 13 performances by actors who have never been nominated for an Emmy, aren't being predicted by award pundits as Emmy favorites, and in many cases, didn't get remotely enough acclaim while their shows aired. We love Meryl Streep and Olivia Colman as much as the next person, but if there was ever a year to shine a spotlight on under-recognized performances, this one is it.
Yahya Abdul-Mateen II for Watchmen
The Golden Globes snub of this HBO masterpiece (it didn't get a single nomination!) means that the TV Academy had better make up for that shameful dismissal. Emmy nominations for the overall series, Regina King, and Jeremy Irons feel likely, but don't forget the complex work of Yahya Abdul-Mateen II and how much he brings the show home in its final stretch. When his character is revealed to be Dr. Manhattan in disguise late in the season, he carries with him the weight of the world, but Abdul-Mateen finds a way to ground the role with a performance that's as quietly charming as it is larger than life. His performance in "A God Walks Into Abar" makes something incredibly difficult look effortless, reflecting the power of the character himself.
Shira Haas for Unorthodox
Few performances this year felt as genuine as Shira Haas in this Netflix miniseries about a Hasidic Jewish woman who flees her Orthodox life in New York to start a new one in Berlin. Having been sheltered most of her life, Haas's Esty is startled by the world around her, but the actress avoids the cliché of the fish-out-of-water narrative, conveying her character's blend of confusion, awe, and paralyzing fear in equal measure. Every note she hits doesn't just feel genuine, it feels like the product of years of life experience. The Actress in a Miniseries category is going to be very crowded, with legends like Regina King and Cate Blanchett competing for the Emmy. Don't forget the performances by rising stars, though, especially the unforgettable work that Shira Haas does in Unorthodox.
Matt Berry for What We Do in the Shadows
The second season of FX's vampire mockumentary was perfect. While Shadows deserves consideration across the board, the talent of its amazing ensemble should at the very least get recognized with a nomination. You couldn't really go wrong with any of the main cast members, but Berry wins out for his incredible work as Laszlo in "On the Run," the sixth episode that's better known by fans as the Jackie Daytona episode. With a surprise guest appearance by Mark Hamill (who should be nominated too, by the way), Berry turns Laszlo's hysterical attempt at starting a new life into a study in macho stupidity. The entire cast's comic timing elevated to a special place in season two, taking a good show and making it great, and Berry delivered an instant classic.
Akili McDowell for David Makes Man
The TV Academy has long ignored performances from younger actors. It's simply a group that, year after year, favors established veterans over newcomers. That should change because of Akili McDowell's lead performance in David Makes Man as a young man figuring out where he's been, who he is, and where he's going in Miami. Series creator Tarell Alvin McCraney needed an amazing talent to pull of this breathtaking coming-of-age drama, and not only does David anchor almost the entire narrative, but the writing often goes into his head, forcing McDowell to play various aspects of the character's personality as if they are a devil and angel on his shoulders. McDowell's performance is so strong, you'll forget he's even acting.
Logan Browning for Dear White People
The most underrated show on Netflix, Justin Simien's Dear White People expanded on themes that he first began exploring in his 2014 indie-comedy hit, and it's become one of the best modern explorations of race, college life, social media, and identity. Anchoring a great ensemble is the magnetic Logan Browning, who plays Sam White, the host of the college radio show that also gives Dear White People its name. In the third season, Sam gave her radio show away and investigated the complex history of her campus, which allowed the series to evolve into new themes and character arcs. It's an ensemble piece in every way, but it simply wouldn't work without Browning. Her performance has been the standout every season, so this would be a fantastic way to recognize a groundbreaking program and talented actor.
Hunter Schafer for Euphoria
Last summer feels so long ago that you'd be forgiven if you didn't know that Euphoria is eligible for the 2020 Emmys, but it's the kind of show that is absolutely worthy of awards acclaim. While Zendaya would make a great choice for an acting nod, the beating heart of this HBO show came courtesy of Hunter Schafer as Jules, a transgender girl who befriends Zendaya's Rue shortly after moving to town. Jules is one of the most complex, nuanced portrayals of young trans life that has ever been presented in pop culture, and Schafer hits every emotional beat of the character's arc magnificently. Every choice feels truthful in a way that makes her process look effortless.
Cynthia Erivo for The Outsider
Richard Price's HBO adaptation of the blockbuster Stephen King novel The Outsider started promisingly enough. The King atmosphere of consuming evil fit well with the crime writer's dialogue and character work. But the show really found its footing when it shifted focus to Cynthia Erivo's Holly Gibney, a gifted investigator who puts together the pieces of a supernatural mystery. Erivo, who landed an Oscar nomination for Harriet earlier this year and who won a Daytime Emmy in 2017 for The Color Purple, took a part that could have been little more than tics and personality quirks, grounding Holly in a relatable performance while never losing sight of her unique viewpoint. She also found warmth in a character that could have been ice cold. Erivo is a major talent with a long career of nominations, awards, and acclaimed roles ahead of her. Get on this bandwagon early.
Delroy Lindo for The Good Fight
The star of Spike Lee's Da 5 Bloods is having the kind of career year that he has long deserved. After doing consistently strong work for decades, film lovers are talking about him finally getting his first Oscar nomination. He deserves an Emmy nomination to match. Yes, the truncated fourth season of the CBS All Access critical darling didn't give Lindo as many chances to shine as he's had in past years, but let's be honest for a second: These awards are often cumulative appreciations. Matthew Rhys finally won for The Americans in its final season, in part because he had been ignored for so long. Let's bestow the same treatment on Lindo, who has been great in just about every episode of The Good Fight and is now leaving it behind. This is your last chance to get it right, Emmy voters!
Jane Levy for Zoey's Extraordinary Playlist
Comedy performances rarely get the attention they deserve. Musical performances rarely get the attention they deserve. Musical comedy performances? Forget about it. NBC's comedy musical about a woman who can hear people's emotional inner monologues — but expressed as lively musical numbers — is a candy-colored confection that sometimes pushes into melodrama and cliché, but in its first season, star Jane Levy was always there to pull it back. She really holds this show together, conveying the ridiculousness of the premise in a way that's charming but never corny. (Think about how overdone this show could have been with an actor who didn't know how to walk that fine line.) Levy is able to pull off the role with a wink and a dance step that tells us she knows it is silly, but she never loses the emotion that drives the story forward. It's a delicate balancing act.
Theodore Pellerin for On Becoming a God in Central Florida
Remember On Becoming a God from last fall? Some Emmy pundits are predicting that Kirsten Dunst will land a much-deserved Lead Actress nomination for this sharp Showtime comedy, but few are considering her sparring partner, Theodore Pellerin as the tragically named Cody Bonar. After a shocking series premiere, Pellerin becomes the male co-lead, someone who battles and enables Dunst's Krystal Stubbs in equal measure. As the loudest cheerleader for a pyramid scheme called Founders American Merchandise, Pellerin finds a way to make Cody both incredibly annoying and yet somehow likable at the same time. He's dangerous in his blind belief, but he also becomes hard to root against, the kind of naïve young man who just thinks that if he says something loud enough that it will come true. It's a performance that's much more layered and complex than most critics gave it credit for being.
Katja Herbers for Evil
One of network TV's best shows is this sharp, scary examination of well, evil. It's comparable to The X-Files in the manner in which it blends monster-of-the-week storytelling with a season-long arc: Long a skeptic, forensic psychologist Kristen Bouchard is the Scully to priest-in-training David Acosta's Mulder. Both Katja Herbers as Kristen and Mike Colter as David are phenomenal, making often extreme plotlines feel urgent and believable. Kristen may not believe half of the stories she hears about the forces of evil, but they still intrude into her life, and Herbers brilliantly balances the tension of a non-believer who can still be scared by the bumps she hears in the middle of the night.
Paul Rudd for Living With Yourself
All right, we're fudging the rules here because Paul Rudd is obviously a movie star. It's tough to overlook a Marvel superhero. But the Best Comedy Actor category has been a bit stale for years, with the same faces appearing over and over again. Why not shake it up by recognizing Rudd's surprise turn in Living With Yourself? Awards-giving bodies have long loved nominating actors who play multiple roles, so it seems odd that few expect the Emmys to consider this Charlie Kaufman–esque Netflix comedy in which Paul Rudd plays two versions of the same guy. Rudd plays Miles, a man dissatisfied enough with his life to undergo a treatment that promises a better one, not knowing that it literally means a clone will be created and take his place. After Miles accidentally survives the procedure, it leads to a mirror image come to life, and Rudd does subtle work to distinguish the original protagonist and his more optimistic doppelgänger. He turns Living With Yourself into more than a high-concept gimmick, especially in the final stretch of episodes, when the original Miles remembers what he had to be satisfied about in the first place.
Rhea Seehorn for Better Call Saul
There always has to be one. There just has to be someone who is ignored by the Television Academy year after year in a way that just doesn't make sense. Carrie Coon never got a nomination for The Leftovers. The Americans was ignored in its early years, even as it was dominating best-of lists. But the weird thing about Rhea Seehorn's Emmy drought is that Better Call Saul has been nominated 32 times in multiple categories. As Kim Wexler, Seehorn has given nothing short of one of the most remarkable, three-dimensional performances on TV in the last decade. And yet, still nothing. With The Americans, Emmy voters finally realized the errors of their ways and nominated it more often in its final seasons. Do the same here, people! If Seehorn misses out again — and some pundits are predicting that she will — the error of this snub will only grow more embarrassing.