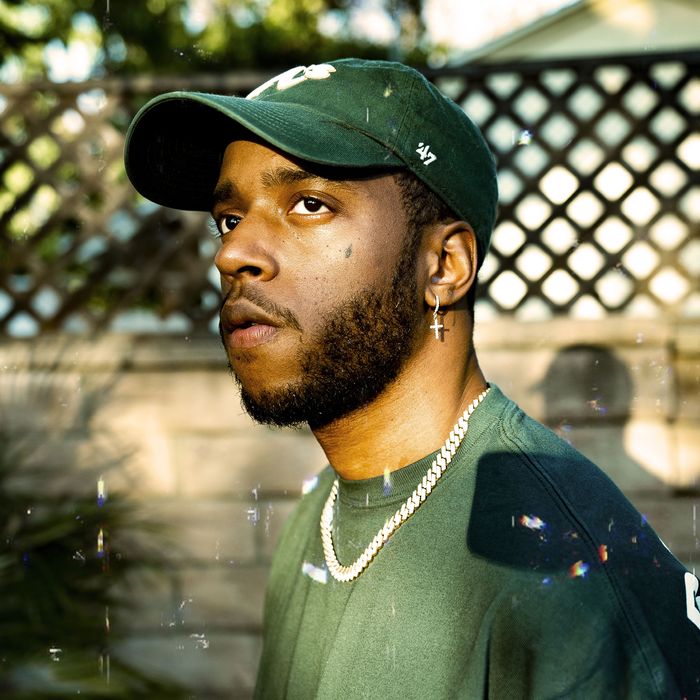 I can't see his face, but I can feel 6LACK's smile radiating through the screen. The three-time Grammy-nominated singer is telling me about his love for chicken, specifically when he can get it in his home city, as we discuss his new EP, 6pc Hot, over an audio-only Zoom call last Friday. "I'm pretty sure I have wings when I'm in Atlanta at least three times out of the week," he says, proudly, before sprinkling on two words that let me know he's not exaggerating: "That's moderate." It's the day of the EP's release, and there's a lot to be excited about, both for the singer himself — he'd also just celebrated a birthday — and for 6LACK's loyal and growing following, whom he'll often interact with in a group DM on Twitter named the "The Bear Chat" after the grizzly on his debut album cover. (They were the lucky few to hear the first EP's first single, "Float," before everyone else.)
At 28, 6LACK — pronounced "Black" and definitely not "six-lack," contrary to all the memes clowning the stylizing, a tribute to Atlanta's Zone 6 —might be the least understood but nonetheless consistently intriguing of his R&B generation's elder statesmen, among Bryson Tiller, Tory Lanez, and August Alsina. The wistful, emotive, and sensual singer grew up battle rapping, at one point facing fellow future Atlanta star Young Thug, and got into singing at 17. Two years later, he would leave Valdosta University in Georgia to sign a record deal with Flo Rida's independent label International Music Group, believing that he was well on his way to success. But that train slowly derailed when success failed to materialize. He never got paid for performances during the five years that he was with the label, had to self-promote songs that he'd also self-released on SoundCloud (growing his own buzz in the process), and slept in studios in Miami while he struggled financially. "For so long, I kind of felt tied down while knowing I still had the power, ability, and the creativity to get out of the situation," he told Billboard of the time, in 2017. The tables turned when he got out of the contract in 2016 with a renewed hunger.
Soon after leaving, he bounced in the right direction by joining the musical collective Spillage Village with Dreamville-signed Atlanta rappers EarthGang and JID. After signing a deal with LoveRenaissance and Interscope Records in 2016, he dropped his debut album, Free 6lack, that would go gold, largely off the strength of "Prblms," his dark breakout single dedicated to not giving a flying fuck about a partner's feelings. Since then, 6LACK has widened his pool of emotions; his music has begun to look at love from all angles, not just resentment, sliding him firmly into the toxic R&B/rap spectrum between Future and the Weeknd. But unlike either of those peers, he's measured the poison with equal parts vulnerability. His sophomore album, fall 2018's East Atlanta Love Letter, explored love's decay and what comes next when reconciliation doesn't work.
6pc Hot examines decisions considered under the fog of toxic love, the desire for inconsequential, casual encounters, and overcoming the lows that come with both situations — all inspired by the singer's own experiences over the years.
You call yourself a "love doctor" and "hood therapist" on this EP. What expectations, as a musician, do you think comes with those titles?
It's honestly the same thing that I've been doing since I started out, which is talking about what I go through in real time. My content and my subject matter is, 90% of the time, dealing with things that I'm going through or things that I'm trying to help other people go through.
"ATL Freestyle" pays homage to where I'm from and reminds me of how I grew up and where I am now. "Outside" talks about being locked in quarantine and wanting to go back out while furthering a relationship. But I feel like every song covered a small piece of what I was going through. Even if it's something as simple as wanting to be out late night in the city, having fun again, like in "Long Nights." It's just little things and pieces that I felt everybody was thinking that I tried to place there.
Do you remember what you were going through when you made "Float"?
I was indifferent. I think since lockdown and since [protests against police brutality] have been happening socially, too, I've been up and down a lot. I'm pretty sure that a lot of people have also been up and down and not knowing what to feel. Some days you feel really creative and productive, and then other days you kind of hit a standstill because we have been stationary for so long. I was just in a back-and-forth place, not really knowing what to feel; I wanted to put it in song format, but optimistic.
How have you been spending your quarantine time, creatively?
In the beginning, it started off with a lot of music, a lot of studio, a lot of creating. But it slowed down, and I think there was a dry spell. Then after [the coronavirus spread] slowed up [at the time], I was able to go back to Atlanta and spend time with my daughter. I spent the rest of the month with her.
I can imagine how the pandemic impacted being able to see your daughter.
Well, in the beginning it was a lot, because I didn't feel safe going to the airport. I didn't feel safe being around other people, and she's a baby, so obviously I'm not trying to get her sick. It's easier for her to get it and harder for her to get rid of it. The first month and a half, I just had to stay in Los Angeles and check in on her. And then after that time passed and I felt like it was good enough to go, I just bit the bullet and took the private-jet route.
Would you consider "Float" a protest song?
It's a reaction more than anything. And I think that songs like that fall into place, as far as what they need to be, as time goes on. If I heard songs like "Float" or "Know My Rights" in regards to protest or what's going on, then it would be fitting. I just made them as an actual reaction and as a representation of what I was feeling. I think sometimes I do a better job of communicating how I feel through my songs. With the pandemic and so much social shit going on, that song just covers it all for me.
Do you believe it's important to use your platform to promote this environment for needed change and accountability?
I think people who listen to me know exactly what the mission is and what they're in for. It just wouldn't line up with who I am if I wasn't talking about things happening to our people, specifically, in the news. I couldn't really make an album without covering how I feel currently, and how I feel currently is tied to what I see every time I get on Twitter, what I see when I look at the news, what I see when I'm in Atlanta and the multiple stories and cases that are popping up.
"Float" reminds me in some ways of Lil Baby's "The Bigger Picture." And, very fittingly, you collaborated with him on "Know My Rights." How'd that come about?
I had made the song on my own in Atlanta. This is one of a couple of songs that I made after I didn't really know if I still had a stride or rhythm in the city, because I had just been gone for so long, but I came back and made that song super late at night. I drove around to it for a few weeks before, with it only having my one verse. I decided that it didn't need anything else from me on it. I was trying to figure out who to put on it, and by the bounce of the beat and what I was talking about, I felt that Lil Baby would be the perfect person to send it to. He killed it, obviously.
He definitely did. And on "Long Nights," that's Ari Lennox who appears uncredited, right?
Yep, absolutely. It was honestly the same thing. A lot of what I do, or at least did for this EP, was just halfway finish a song or do it until I was comfortable stopping, even if that meant I just had one verse and a hook. Once I was comfortable stopping, I would drive around to it and see if it even needs anything else. I drove around to "Long Nights," too, and I just felt like it needed something else that wasn't me, again. We had already added a couple of saxophone takes to it and then I just realized that Ari's voice would fit perfectly into it. I sent it to her and she sent it back.
So "Long Nights" is about lust, and "Elephants in the Room" is about love — toxic love. Choosing between a partner and pursuing a dream?
Right. It's the oldest song on the project. I've had it longer than any of the other ones.
That's a really tough situation to deal with.
That was more of a mood that I had in the beginning of my career. It's when you're starting something and there isn't really much room for other people to understand what it takes to get there — how much time you have to put into it and how much effort and energy it needs. During that time in my life, it was just like if you're asking me to choose between what I'm trying to make happen versus one single relationship, then I'm always going to pick music, because music is my relationship with the world.
Your decision has definitely paid off tenfold.
Yeah, exactly. I was right. I would say that [feeling has] changed over time. I'm not solid or concrete on that very thing right now. I think that was like a timestamp more than anything.
How did you celebrate your 28th birthday?
I literally got on the road, drove a couple hours away from Los Angeles, went up to Big Bear, and just been chilling away from everything. Away from the noise, away from the internet, just basking in silence.
It seems like driving is very therapeutic for you.
Absolutely. I do most of my listening to music, thinking, talking, whatever in my car, for sure.
I read in a couple of older interviews that you were part of a Twitter group message with fans.
Yep. I still talk to them. I sent them "Float" the day before it dropped through a private link. But those were like the first group of, I guess you could call it, stans that I had, where I just saw a group of people who cared enough to review my content and talk about me like every day. And so I finally just popped in and was like, "What's up?" And since then, I know them all; I've met them all in real life.
Is 6pc Hot a preview of a forthcoming album? 
I'm figuring it out in real time. As I'm scrolling down Twitter and seeing the reactions, I'm following what's going on and putting together different plans in my head now. There's nothing concrete and nothing planned, but then again, this wasn't planned either. This was spur of the moment. This was a response to what was going on. Anything that comes after this is just a reaction, too.
For the longest time, the pronunciation of your name has been a topic of discussion, and you made light of it with the Druski2Funny video. How do you really feel about it all now?
It's always going to be a thing. It's just interesting to see people pick at something, and then be actually married to the idea of doing something the opposite way. It's always been funny to me. I knew the name and I knew the mispronunciation [that would come with it] and everything way before anybody else came into the picture. This was like Myspace days, and it's always been a talking point. I don't care what people call me as long as you listen to the music and get the message, get something from it.
This interview has been edited and condensed for clarity.