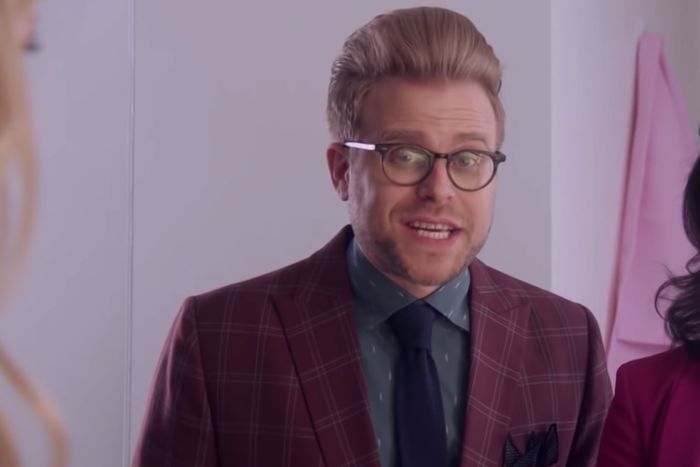 Adam Conover on
Adam Ruins Everything.
Photo: Courtesy of TruTV/YouTube
For 65 episodes, Adam Ruins Everything has thoughtfully, hilariously debunked everything that's held dear and/or assumed to be true in American society, from marriage to "America" itself. Throughout its run on truTV, the show was always critically well regarded, but it never received an Emmy nomination. So after airing its season three finale in 2019, Adam Conover has taken it upon himself to run a DIY "For Your Consideration" campaign, designing and erecting billboards in Hollywood that point out how ridiculous these FYC awards campaigns are in general. We spoke to Conover about trying to get his crew recognized, the trials of campaigning, and how Netflix has made the game near-impossible for the little guys.
Why did you decide to run your own FYC campaign?
This is Adam Ruins Everything's last year of eligibility for a Television Academy Award, and we did what I believe is our best work. But unfortunately, talking to the network, we found out that we don't have an FYC budget this year, and that extends to the submission for the awards themselves. In our last year of eligibility, it was really important to me that our show be in consideration, even though it's a really unfair system that privileges the amount of money that you spend on it. It's actually a topic that we covered on the show, in [the season one episode] "Adam Ruins Hollywood." We did a whole segment on how talent doesn't buy awards, money does. I'm very aware of how the system works, and since we're not getting any investment behind the show being submitted this year, it was still important to me that our cast and crew and staff's work be up for consideration. I felt that that was the least that I could do for the show.
So I said, "All right, let me just do it. Let me self-fund it." So I've self-submitted for all of the awards this year. I brought on a publicist to handle the submissions process, and asked, "What's the cheapest and most effective FYC campaign I can do?" I hit up my friend Zach Broussard, because two or three years ago, he did a version of his "1000 Comedians" list where he took out billboards around L.A. So I reached out to the billboard company and I said, "Give me ten of the cheapest billboards you have." And I think I ended up with 11 or 12. I wrote the taglines and hired a graphic designer to make the designs. You can really only see them when you're driving directly past them, and they tend to cluster in Hollywood. Because my budget was so small, I really prioritized my own commute. I would want to personally be able to see them.
On one of the billboards, you wrote that it shouldn't be this hard for Adam Ruins Everything to get a nomination in the Hosted Nonfiction category. Especially when last year there were Informational Series nominated like Comedians in Cars Getting Coffee. Is this a case of category fraud?
They keep changing the categories, so this year it's Hosted Nonfiction. Last year, it was Informational Series. Last year, the shows up against us were: Anthony Bourdain, yes, obviously. But then, David Letterman's talk show, My Next Guest Needs No Introduction, Jerry Seinfeld's Comedians in Cars Getting Coffee, and then I think Leah Remini's Scientology show. [Surviving R. Kelly was also nominated, and Bourdain's show took home the Emmy.] Which is informational. But those other shows, those are Netflix comedies.
I don't want to call it fraud, because it appears to be allowable by the academy's rules. I don't think they're breaking the rules. Because, to be clear, this is a Creative Arts Emmy. This is not television's biggest night. This is the Wednesday before television's biggest night. That's why we have so many categories, so we can spread the awards around. Right?
We talked about this in our "Adam Ruins Awards Shows" segment: The very first year that House of Cards came out, people were making jokes like, "You think House of Cards is gonna get a Webby nomination this year?" because people thought of Netflix as a website. The reason they went to the Emmys was because they were trying to prove, "No, we're television. We're a television network; we should be eligible for this." And so they sunk massive amounts of money into the system and really completely changed the game in terms of these massive marketing budgets, because it served the business and caused a lot of people to sign up for Netflix. I don't frankly have a problem with Netflix doing that. This is the game: put money into marketing. But the effect has been that small shows like ours on basic cable get sweeped. We can't really compete with the massive amounts of money that are being spent.
The other thing that we don't have is just straight-up name recognition. Like David Letterman's show: You've got that track record, you've got that celebrity. But we don't have any of those advantages, so it's really hard to get a nomination of any kind. Occasionally there's a breakthrough, like PEN15. But again, Hulu spent massive amounts of money on that nomination. So me doing this was a little bit like, "Hey, I want to be considered, and I want to put a little bit of a finger in the eye of the system."
Your "Adam Ruins Awards Shows" segment focused mostly on the Oscars and Golden Globes. Do you think there are any challenges unique to breaking into the Emmys, because shows can build up familiarity and prestige over time?
The thing with the Emmys is, you can't really effectively campaign. There's the big billboards, and you can take out ads in Emmy Magazine or whatever. As opposed to the Golden Globes, where this small group of people get really intensely campaigned to. With the Television Academy, basically anyone who works in television can join it. It's just like $200. So they just have so many members that there's no event to go to. You can have them, but you're only going to get such a tiny percentage of the electorate [at a screening] that it's much harder for a sleeper hit to impress than it is for the Golden Globes or the Academy Awards. It's tens of thousands [of members] total. And all those people, they're not watching every single show. There's way too many shows. So if people are voting, they're just going, "Oh hell yeah, I love David Letterman. I've loved him for 20 years. I haven't even seen the show, but let me give him a vote." I have been to the Creative Arts Emmys with the BoJack Horseman team because my partner, Lisa Hanawalt, works on that show. And I had heard tell of frustration in the animation community because The Simpsons wins every year. And yeah, we love The Simpsons, but there's so many shows that could use a boost. The Simpsons doesn't need another trophy.
BoJack at least receives nominations. Adam Ruins Everything, all I want for the show is to get a nomination. I want a nomination for a Creative Arts Emmy for Outstanding Nonfiction Hosted Series. It's so specific. I did this whole segment about how the whole system is bullshit. It's not based on talent or how good the work is, and I know that, but that doesn't mean I get to not care about it. Because if any of my crew received a nomination, it would change our careers. My cinematographer — Matt Garrett, who's incredible — we submitted for Best Cinematography in a Nonfiction Show. I think it's some of the best cinematography in a nonfiction hosted show. Our costume team, they do elaborate period costumes that we put onscreen for like two minutes to make a silly point about Queen Victoria or whatever, and they do that on a day when they're dressing 20 other people. Our hair team's doing period hair. Our makeup team does prosthetics. We try to make it really beautiful for our fans. All those people on our staff, if any one of those people could say "Emmy-nominated" before their name the next time they're applying for a job, that means a lot to them, to their careers, to how much money they make, and their longevity in the industry. So for both myself and for them, we gotta try! But we have to try in the context of this completely fucked-up system where we have almost no power.
Do creators and writers like yourself have a least-favorite part of Emmys campaigning?
There are so many situations when you're trying to engage with this sort of awards machine where you feel like you're at an audition again. You're one of a million shows trying to get a little bit of attention. You feel like you have to prove yourself to a system that is fundamentally irrational and does not reward things for their value. So you're sitting there going, I made a really good show. Isn't that enough? And it's actually not. Because that's not what the system runs on. And you sort of have to accept that.
We're a show that people love. Teachers show the show in their classrooms. People watch it on Netflix. But because we don't have a huge amount of money behind us, because I haven't been a celebrity for the past 20 years and because we're on truTV as opposed to HBO or another network like that, all those things put together, our show is actually more popular among the public than it is in the industry.
Do you think there's something about the aesthetics or tone of your show versus other comedy explainer shows that voters have a harder time recognizing as Emmy-worthy?
I think a lot of the awards voters are used to the format that Jon Stewart pioneered being the prestige comedy format. The shows that receive those nominations are so often the descendants of Jon Stewart's show and his style. And I count myself as being a post-Jon Stewart comedian in many ways. Jon Stewart was like my Johnny Carson figure, who really showed me what comedy could be. But that format is what prestige comedy looks like in the voters' minds. And that is one of the biggest dynamics in awards voting: "This is the kind of show we give awards to." Just like in Oscars season, the conversation around Black Panther getting a nomination. It's like, "That's not the kind of movie we give awards to. We give an award to the sad period drama that Meryl Streep is in that comes out on December 1." We're not working in that direct prestige format. It's one of the weirdest shows on television. Our show is informational, it's comedy, we debunk common misconceptions and tell you the truth about things from all across human knowledge: history, science, government, politics, technology, capitalism. We're very skeptical and very truth-telling, and it's a narrative show where every episode also has a character arc that expresses the issue at play. It's amazing the show's even on television. I still give immense credit to truTV for taking a chance on our show at all.
I want to be very clear: I don't want to win. I do not expect to win. But it would mean so much to everyone who works on our show to be nominated, to have our name be somewhere in the mix. It really does matter to the crew. It matters that folks have the chance for their work to be recognized, even if the nomination doesn't happen. To have it be submitted, and an effort be made to draw attention to it, really matters a lot. And it's incumbent upon me as the showrunner and host that that work is recognized in any way that it can be. And that's why I embarked on this campaign … And also for my own ego and career. [Laughs.]