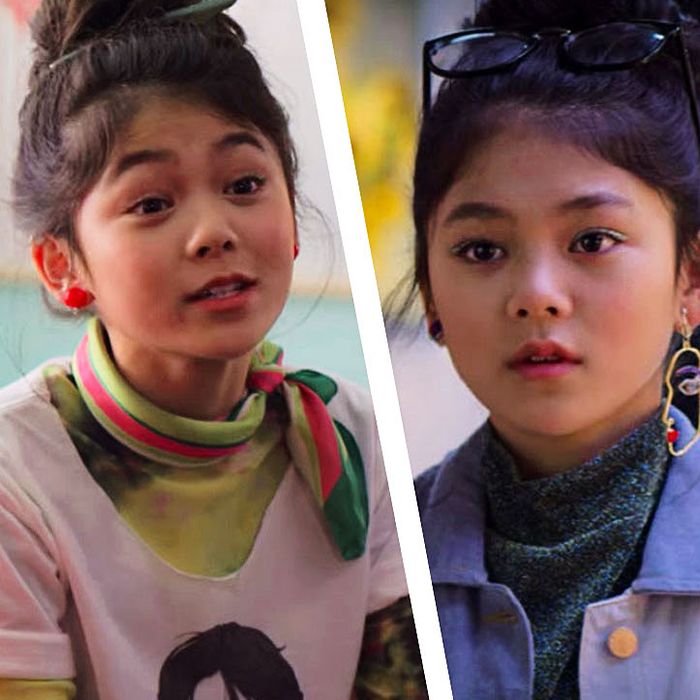 Bold colors and patterns, vintage pieces, and not a matching earring set to be seen? That's our Claudia.
Photo-Illustration: Vulture and Netflix
Claudia Kishi is a style icon. You know it. I know it. Anyone who's read even just a handful of Ann M. Martin's Baby-Sitters Club books knows it. In the delightful new Netflix TV adaptation of the middle-grade novels, Mary Anne Spier even says those exact words. And Mary Anne Spier wouldn't lie. BSC vice-president Claudia Kishi is the artist in our intrepid group of 12-year-old babysitters, and that artsy vibe is very much reflected in the clothes she chooses to wear. In the show, Claud mixes vintage pieces (yep, '90s clothes are vintage now, friends) with more trendy ones in bold, whimsical ways — ways that seem a little wild but somehow end up looking like they were made to go together. Claudia has a ton of wardrobe changes throughout the ten episodes of The Baby-Sitters Club, and, not surprisingly, all of them are good. But some are truly great. Let's find out which outfits top the list. Say hello to your clothes, Claudia, ranked from least to most fabulous.
Listen, I'm all for Claudia experimenting and expressing herself with clothes, and mismatching is certainly her thing, but this combo just doesn't work for me, sitters. The fuzzy mustard-yellow coat is great on its own, but I can't get past the coral pants. Forgive me, Claudia. Forgive me!
Obviously the sentiment of this "go love yourself" T-shirt is great, but this outfit feels a little tame for Claudia Kishi.
It was only a matter of time before Claudia experimented with silk-based neckwear. That time comes in episode seven as she's dragging the state of Vermont, a place where she 100 percent does not want to spend spring break.
Cropped denim overalls AND a tie-dyed shirt under another T-shirt is giving off a very '90s vibe, which feels fitting. But really it's Claudia's fuzzy red slippers that sell this look. It's all about comfort.
Cute-pajamas-and-drawing-your-feelings alert!
We only get a glimpse of this red sheer striped shirt as Claudia tries to find the perfect jacket from her well-stocked closet to go with it (every option is good — where does she buy her clothes?), which is a shame because this has true potential.
Red and yellow is a tough color combination to pull off without looking like a spokesperson for McDonald's, plus Claudia's sporting an oversize cable-knit sweater on top of baggy (and shiny!) pants. Nothing about this outfit should work, but somehow it does. No wonder BSC president Kristy Thomas considers Claudia the coolest person she knows.
A watermelon theme! Knowing Claudia, it's really a watermelon-gummy theme because let's be real: The girl is all candy all the time. We see Claudia wearing this outfit both while babysitting and during art class, so the comfort level of baggy pants and a green sweater topped with a pink T-shirt makes a lot of sense. The clothes alone are low-key, but those glittery watermelon earrings are the highest of high-key.
Claudia Kishi even makes a sandwich board look fashionable. Okay, well, tolerable. Marketing ploys aside, this is a great example of Claudia rewearing clothes in a new way, which is always appreciated since it is much more true to life. Here, she pairs her great printed satin jacket — which you'll see multiple times on this list — with some red skinny jeans and her white combat boots. Even under Kristy's ridiculous sign, you can tell Claudia has earned her fashion-icon status.
The scrunchie is perfect, but the turtleneck paired with the long graphic print skirt feels a little old for Claud. Then again, in this moment, she's telling Dawn that she needs to get some sleep (Dawn has some difficult babysitting clients), which is a very mature thing to do.
Again, it's great to see Claudia using the same pieces from her wardrobe in new ways. The girl can build an outfit out of what she's got, including those baggy red pants. These aren't my favorite, but they look even cuter with the knit rainbow sweater paired with matching gold lace-up boots and a scrunchie. TV characters should be rewearing clothes, and that's something I feel very strongly about.
This outfit is so '90s it hurts (in a good way).
Let's group all of Claudia's Camp Moosehead attire into one, since it's basically just the camp T-shirt and different pants. Even when everyone has to dress alike, counselor-in-training Claudia knows how to stand out: Tying the shirt at the waist, putting on some cute yet impractical boots (she learns her lesson), wearing great sunnies (even in the rain), and obviously bringing her entire collection of earrings help Claud be true to herself, no matter where she's spending her summer.
The mustard cord jacket! The printed pants! THE CHUNKY BEADED NECKLACE. The perfect outfit for a drama-filled BSC meeting in which you learn your best friend has been diagnosed with type 1 diabetes, and you have to reassure her there is absolutely nothing to be ashamed about.
Has Claudia Kishi met a pair of overalls she doesn't like? These patchwork ones are among her best, but paired with a light-purple wool sweater and scrunchies for bracelets makes this one of Claudia's most toned-down looks of the series.
I love that Claudia's wearing soft, feminine pastel colors to deliver that most devastating line in regard to the BSC's high-school-age rivals, the Baby-Sitters Agency: "Why can't they just loiter at the mall like normal teenagers?" This outfit also offers up one of the best headband-statement-earring combos of the series.
Honestly, more people should be wearing iridescent maxi skirts on a regular basis. Thank you, Claudia Kishi, for reminding us. Thank you for so many things.
We could honestly sit and do an entire post about Claudia's outerwear alone, and this plush pink coat with a navy and red stripe would be toward the top. Claudia pairs it with red pants, which is a great call. It's wild but put together.
This is the outfit Claudia wears to her big art show. Please note the artsy mismatched earrings, a Claudia Kishi staple from the books. She also wears a glitter turtleneck with matching eyeliner and a patchwork denim jacket to pull it all together. That pretentious art judge who makes Claud feel bad for not having a point of view can go eat acrylic paint or something. Does she not see what she's wearing?
We don't get a great look at this outfit, but I'm immediately won over by a sweater-collared-shirt combo and that neon-green color.
Claudia loves these red pants, and although I think she has better ones, they do feel festive as the new year begins, paired here with yet another oversize knit (that's not a knock — I want to live in oversize knits, too). The real standout, though, is the floral headband and the two gigantic sparkly hair clips holding it in. Stacey may be the chic one, but Claudia is the real trendsetter here.
Okay, but seriously: This easy striped dress and oversize jacket might already be in my closet. Who is that more embarrassing for — me or Claudia? Still, she makes it cooler than I ever could with her white lace-up boots.
I don't even know what that shirt underneath the white overalls is, but I don't care. Claudia's wardrobe is an artsy dream. I mean, the headwear alone.
WAIT. YOU GUYS. Claudia's wearing a yellow plaid blazer and yellow plaid pants. It's no yellow plaid skirt, but is this an homage to Clueless? [Editor's note: It is!] Did someone tell Liz Thomas — erm, Alicia Silverstone?
Okay, "sheer neon cropped hoodie" seems like fashion Mad Libs, but also I want one. Plus, Claudia wears snap bracelets with this outfit, and that should make anyone who grew up in the '90s want to break out their Pog set and celebrate.
The yellow utility jumpsuit paired with the pattern satin jacket is great, but I can't stop looking at Claud's oversize ring. Yes, please, and thank you.
Of course Claudia Kishi wears a big animal-print coat, a truly gigantic T-shirt over a yellow satin skirt, and white combat boots when redesigning Mary Anne's bedroom. If she's leading the interior-design makeover charge, she must look the part.
You know Claudia is back to room renovations when she dons her animal-print winter coat and once again pairs it with pops of yellow. She and Stacey call themselves the Terrific Two instead of the Fab Five as they attempt to Queer Eye the Spiers, and, based on this outfit, she isn't wrong.
Great, now I guess I have to go out and buy a white romper and pair it with some leopard print because this outfit is effortless. Is this the reason Mary Anne's dad called the girls "such great influences?" It has to be at least part of the reason. Oh, also, for the '90s kids: We've got a choker. I repeat: WE'VE GOT A CHOKER.
Bless this child and her ability to wear jumpsuits of any color.
This outfit has a lot of Claudia Kishi staples: oversize knit, denim overalls (this time they're shorts), fuzzy red slippers, and killer sunnies (cherries!). An instant Kishi classic.
Is this the perfect lounging outfit or what? I'll take one of everything.
So the rug that Claudia chooses for Mary Anne's room makeover might be Stacey's "husband," but Claudia's outfit here is mine. A sheer balloon-sleeve shirt (with daisies!) paired with candy-cane striped pants and, of all things, a yellow headband. Yes, I will marry this outfit, lemon earrings and all.
Claudia has a lot of work to do in Mary Anne's bedroom, and the only thing you wear in that situation is a denim jumpsuit, okay? Damn it, I'm going to be buying so many jumpsuits after this, aren't I?
It's hard to imagine many 12-year-olds could pull off a homemade "Tippi Hedren from The Birds" costume, but Claudia is artistically skilled so we'll suspend our disbelief. Leave it to Claudia to find something a little bit spooky but still fashionable to wear for Halloween.
A collared white shirt with sheer polka-dot balloon sleeves paired with yellow plaid pants, pearl earrings, and that giant ring I've already made clear I'm obsessed with? It all feels like a glimpse into future Claudia's work attire: It's put together yet still has some whimsy to it.
I mean, come on. This outfit is described as "Ruth Bader Ginsburg chic." Claudia wears it to pump herself up for a daunting math test she needs to pass. It's fashionable and inspiring, just like Claudia.
Hello, it is me, a woman well into her 30s, and I am buying this outfit. The periwinkle apron dress paired with the rainbow sweatshirt, topped off with a great yellow headband, is exactly what I want to be wearing all day every day. This outfit is so good that she wears it in episode three and again in episode eight. When you find a good one, don't ever let it go. That applies to a whole smattering of things: friends, clubs that are also businesses, and outfits.
This dress — complete with yellow tights and matching eyeliner — is perfect, and so is Claudia Kishi.