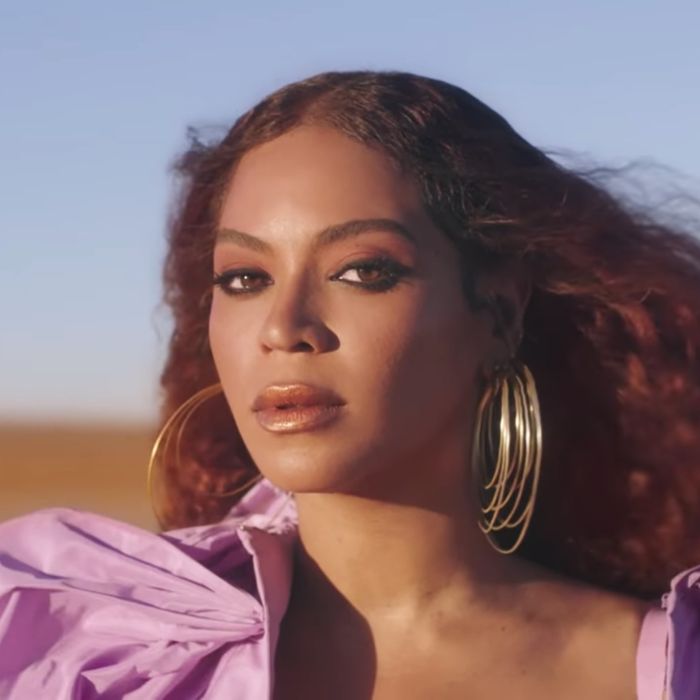 These songs represent mainstream American music's most concerted push into the intercontinental sounds of blackness since Drake's
More Life
.
Photo: YouTube
This review was originally published in July 2019 for the release of the Lion King reboot starring Beyoncé and Donald Glover. We are republishing it today in honor of Beyoncé's companion film for it, Black Is King, out now, a year later, on Disney+.
The Lion King is an interesting curio, a dream of the Kenyan plains relayed through words and drawings from an American film and animation studio, the songs of a British singer-songwriter, and the score of a German composer. The story takes cues from Hamlet (and the Bible, and Bambi). The big love song has more in common with the music of Tin Pan Alley than Tanzania. The wide-ranging talents of the group of creatives who brought the story of Simba to life awarded the saga broad international appeal, but what makes the film work for everyone also detracts from a sense of specificity of place. Outside of "The Circle of Life," the cinematic opener where composer Hans Zimmer gets the bright idea to call up Soweto-born producer Lebo M. (whose catalogue included arrangements and supervision on the South African apartheid dramas Cry Freedom and The Power of One), and "Hakuna Matata," a song that came to life after the animation team returned from a field trip to Hell's Gate National Park in Kenya with a Swahili catchphrase, the music of The Lion King failed to evoke Africa as acutely as the animators' sketches of Hell's Gate did.
One wonders whether the choice to lead Disney's big African power play with anthropomorphic animals and stately English ballads was an exercise in getting in without getting too political, or if the story couldn't help but relay its creators' distance from its setting. (In producer Don Hahn's making-of featurette, original director George Scribner suggests that he was released from the project not long after pitching a fit about what he saw as an inappropriate choice of songwriter. It is fascinating also to note that a chunk of the Lion King team ditched the project to work on Pocahontas, a story more acutely rooted in the human ambition, division, and cruelty the other film pins on its dandy lion, Scar.) It wasn't until 1995, when Lebo M.'s side project turned official sequel soundtrack Rhythm of the Pride Lands was released, that The Lion King began to visit its roots in music. Rich choral exercises like "He Lives in You," "One by One," and "Lea Halalela" (which would later be reworked into the fan favorite, "Shadowland") were strong enough to grace the official straight-to-video sequel The Lion King II: Simba's Pride and the successful Broadway musical adaptation of the first film. The enterprise found its proper course in time.
Beyoncé — being a sharp performer, a savvy businessperson, and above all things, a showbiz lifer — is eager to achieve in her first Disney gig, so in addition to playing the role of Nala, our lion queen, she has given us The Gift, a tie-in soundtrack that mixes new original songs with collaborations between popular African artists. The album affords each artist the opportunity to visit a theme in the Lion King saga worth expounding upon further, recentering a story about Africa in the music of producers, rappers, and singers who live on the continent. Tracing the lines of connection between different quadrants of the African diaspora allows Beyoncé to expand on the themes of family and justice present in her music and her activism as of late; it also introduces her fandom to great music they should know about if they don't already. The Gift's coalition includes Nigerian stars Burna Boy, Mr Eazi, Tekno, Wizkid, and Tiwa Savage; South African singers Moonchild Sanelly and Busiswa; Cameroonian singer Salatiel and Ghanian star Shatta Wale; and Stateside hip-hop stars like Tierra Whack, Pharrell, Jay-Z, and Kendrick Lamar.
Afrobeats luminary Burna Boy shines in "Ja Ara E," a cautionary solo tune where, like Mufasa, he warns a child to be distrustful of people who seek to lead him astray, using the Pride Lands' hyenas as exemplars of all the users and usurpers the child stands to meet in life. "Brown Skin Girl" sees Blue Ivy, Brooklyn rapper-singer Saint Jhn, and Lagos-born singer Wizkid build a gorgeous hook celebrating black women's beauty as Beyoncé sends messages of love and solidarity to her daughter, her friends, and noteworthy women she admires: "Pose like a trophy when Naomis walk in / She need an Oscar for that pretty dark skin / Pretty like Lupita when the cameras close in / Drip broke the levee when my Kellys roll in." "Already" uses the moment where a lost and dethroned Simba is forced to come to terms with his legacy for a Bey and Shatta Wale tune about remembering your roots in all your pursuits; in "My Power," Bey and Tierra trade prideful verses that call back to the climactic power struggle that turns the tide at the end of the film.
In solo songs like "Otherside," "Bigger," and "Find Your Way Back," Beyoncé bridges the themes of her film to her real-life journey as a wife, mother, and entrepreneur. "Bigger" and "Find Your Way Back" lead the way into the album's sound and scope with sweeping, cinematic poise. The former revisits gems of past albums (see Beyoncé's "Haunted" and Lemonade's "Pray You Catch Me") in easing the unassuming listener into the world of the new project, while the latter's skipping rhythms and choir vocals are the earliest indication that we're working with a different tool set this time around. "Mood 4 Eva" teams the singer up with her husband, Jay-Z, and her co-star Childish Gambino in expounding on the generational mogul talk of Everything Is Love. Beyoncé is a light inside her comfort zone and out of it. She grasps the variety of melodies and rhythms at play in this album because the cornerstone of her kingdom is practice. These songs represent mainstream American music's most concerted push into the intercontinental sounds of blackness since Drake zipped through trap, grime, house, dancehall, and Afrobeats on More Life. The Gift matches his eagerness while subverting his urge to remake world music in his own image.
"Spirit" is a melodramatic closer and the only time an album that miraculously evades the kids'-movie schmaltz involved in remaking a 25-year-old Disney classic appears to willfully give in to it. A lesser artist might pad the whole album with songs as cloyingly direct as "Spirit," falling prey to the drippy Hollywood sentimentality of a "Can You Feel the Love Tonight." Beyoncé knows better. But in calling together a coalition of artists from West and South Africa under a banner of Pan-Africanism, this album repeats the original soundtrack's crucial error. The heart of The Lion King lies in Kenya, but The Gift gives most of its time and attention to the music of America and Nigeria. In "Nile," Beyoncé and Kendrick Lamar celebrate the waters that run from tributaries in Kenya, Tanzania, Uganda, and Ethiopia up through Sudan and Egypt and out into the Mediterranean Sea. But these songs don't feature guests from any of those countries. The Gift is a great album and a wise, cross-cultural movie tie-in bound to be a force at next year's Grammy and Oscar ceremonies (can she Bey-GOT?), but it also passes up a chance to celebrate the music of the East African lands our photo-realistic talking lions call home. A queen has her limits.