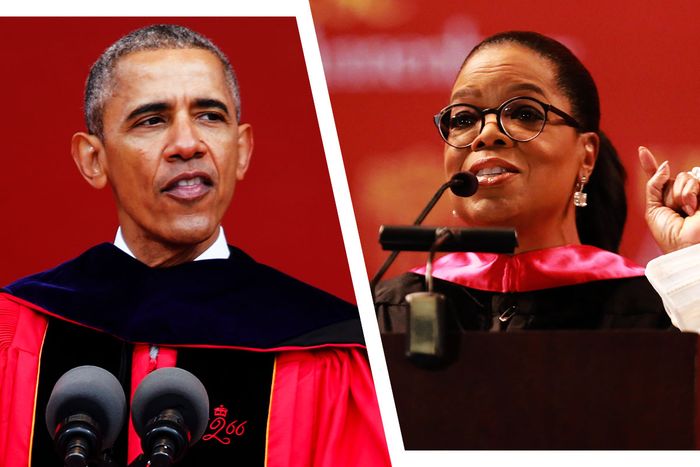 Photo-Illustration: Vulture and Getty Images
Pour one out for the class of 2020, which will not only take its final classes over Zoom — and, in the case of college students, likely spend its final days of school away from campus — but will miss the celebration of an in-person commencement. While many schools will hold virtual ceremonies, and some have planned in-person festivities for the fall or spring, it's still a pretty anticlimactic ending. That's where our nation's biggest celebrities — the Obamas, Oprahs, Hankses, and Gagas — come in. Spurred by one senior's popular request for a virtual speech by Barack Obama, celebrities have come together to give some much-needed words of encouragement to the graduates. And, yes, that includes three (three!) Obama speeches. Choose your own virtual 2020 graduation adventure from the celebrity commencement events below.
June 30: Jennifer Lopez and Alex Rodriguez
Remote-graduation season finished out with commencement speeches from New York power couple Jennifer Lopez and Alex Rodriguez for the New York Public Schools graduation ceremony. "Jen and I are both New Yorkers, first-generation Americans whose immigrant parents worked hard to give us the opportunity to live the American Dream," A-Rod opened. J.Lo later addressed ongoing protests against systemic racism, telling graduates, "The only answer to systemic racism, inequality, and hate is systemic love and acceptance," while urging them to vote. "Let 2020 be remembered not as the year that your senior year was cut short but the moment when your view of what is possible expanded. Let 2020 be remembered not as the year that we had to isolate ourselves but the moment that we came together as a people," Lopez concluded. "Most of all, years from now, remember 2020 as the year when everything started to change and the year that you started on your journey to making sure that it did."
June 7: Barack Obama with Michelle Obama, Beyoncé, Lady Gaga, BTS, and others
YouTube's "Dear Class of 2020" was the only event during which you could catch both Barack and Michelle Obama. Addressing the protests against police brutality and the COVID-19 pandemic, Barack said, "These shocks to the system we're seeing right now, just as you prepare to go out into the world, they remind us that we can't take things for granted — we have to work to make things better." In a separate speech, Michelle also addressed those national events, adding, "But that doesn't mean we should feel hopeless. Just the opposite. Because what we finally do have is focus." Beyoncé also spoke during the event, telling students, "Whatever the world looks like in 10 years and 20 years, part of that is up to you. I urge you to let this current moment push you to improve yourself in all areas of your life." And in her speech, Lady Gaga told the class of 2020, "You are the seeds that will grow into a new and different forest that is far more beautiful and loving than the one we live in today." Other speakers included BTS, Bill and Melinda Gates, Condoleezza Rice, Malala Yousafzai, and Alicia Keys.
June 4: Meghan Markle
Meghan Markle returned to her alma mater, Immaculate Heart High School in Los Angeles, to give a commencement speech amid national protests against police brutality and racism. The duchess of Sussex and former Suits actor compared the current moment to growing up in L.A. during 1992 protests after Rodney King's police beating, telling students, "I am sorry that, in a way, we have not gotten the world to a place that you deserve it to be." She later called on students to fight racism. "I know that this is not the graduation that you envisioned, and this is not the celebration that you imagined," she said. "But I also know that there is a way for us to reframe this for you, and to not see this as the end of something, but instead to see this as the beginning of you harnessing all of the work, all the values, all the skills that you have embodied over the last four years, and now you channel that. Now all of that work gets activated."
May 31: Stacey Abrams, Anna Wintour, Jameela Jamil, Tracee Ellis Ross, Aly Raisman, and others
Teen Vogue brought together a lineup of inspiring actors, fashion icons and politicians for its high-school and college commencement event, on May 31. Stacey Abrams, Tracee Ellis Ross, Jonathan Van Ness, Jameela Jamil, Christian Siriano, Aly Raisman, and Noor Tagouri spoke, along with Anna Wintour, the Vogue editor who oversees Teen Vogue as Condé Nast's artistic director. "Your life is yours," Ross told graduates. "So live it that way." Abrams, former candidate for governor of Georgia, told students, "Class of 2020, this moment will challenge you, enrage you, and hurt you. You have the right to the pain. But you also have a capacity for change that will last even longer." Queer Eye's Van Ness told graduates, "You will be one day giving these commencement speeches — hopefully in person — but you will share stories of how you came together and how you learned and how you all grew through this time of uncertainty." Swarthmore College graduate Cassandra Stone and San Diego Met High School graduate Endiya Griffin also spoke.
May 30: Alicia Keys
Alicia Keys gave (and sang) the commencement address to the Savannah College of Art and Design on May 30 by her home piano. "Be unafraid to be completely you, and accept all those other individuals that you meet as they are, you know what I mean? And join together, because nothing can get in the way, nothing's ever going to get in the way of your greatness," she told graduates before performing part of her hit "No One."
May 29: Carl Brutananadilewski
Carl Brutananadilewski, the animated Dave Willis–voiced character from the canceled Adult Swim series Aqua Teen Hunger Force, talked about why he wanted sports to return during his Adult Swim commencement. "You want to know how to succeed in the real world kids? I'm going to clue you in on Carl's many, many secrets of success. Numero uno, always wash your feet," Brutananadilewski said. "You never know when you meet the person who could change your life, and then they look down and you're wearing shower shoes, and they see that you got toe fungus. And maybe they say, 'I'm afraid you're not a good fit for the priesthood.' And that saved my ass … That is my one secret for success."
May 28: Conan O'Brien
The Harvard grad gave his alma mater's commencement speech from his backyard, complete with robe and lectern, on May 28. "Do not think of me as someone who graduated Harvard 35 years ago," he told the class of 2020. "Think of me as a fellow classmate — a fellow classmate who looks like shit." Later in the speech, he commended students for being "resilient in a scary world." "You've been challenged your entire lives, and you've demonstrated one of the most precious qualities one can have: resilience," he says. "Now, cynics like to mock the supposedly spoiled or callow youth of the new millennia, but you have seen and survived so much, and you've responded with wit, creativity, righteous anger, activism, and a gritty determination to take the reality you've been handed and make it better."
May 27: Killer Mike
One half of Run the Jewels, rapper Killer Mike gave four simple pieces of advice to the Class of 2020 (including one of his own children) for his Adult Swim commencement speech: Know who you are, don't rush, stand for something, and try again. "In discovering who you are, and in taking the time to really, really become who you are," Mike said, "there comes a point where you're gonna see, like Neo in the Matrix. You're gonna know what's wrong. You're gonna see it happen before. And you're gonna be the only thing that can change the course of the BS." He continued, "It is incredibly lonely being that person sometimes, but there are other people in the room who want to be as brave as you. They just need a leader to do it." In conclusion, Mike wished the graduates a good celebration. "I hope you enjoy smoking a joint with mom and drinking a beer with dad," he said.
May 27: John Waters
John Waters, the outspoken director and icon of queer culture, gave a … comforting … commencement speech to New York's School of Visual Arts on May 27. "I'm an optimist, and you should be too. If you do die tomorrow, at least you got your college degree, right?" he told students. "And suppose the end of the world is happening right now. Well, you won't miss a thing, will you? Because there will be no more things. You will be the last graduating class in the world. Now that's what I call unique." He later added, "Besides, you're artists, and there were never any real jobs for you in the workplace anyway, were there?"
May 25: Jena Friedman
Jena Friedman's Adult Swim commencement speech contained a myriad of life advice, including learning to grow your food, banding together to sue your university for Zoom classes, investing in cruise stocks, having a baby now, and voting "against fascism." "You all entered college with the election of Donald Trump. I entered college with a similar man-made disaster, 9/11," Friedman told students. "9/11 was a defining moment for my generation in the same way that this pandemic will be a defining moment for yours. Watching the towers fall on live TV made me not want to die in a business suit. I know that's really fucking dark, but it's why I became a comedian. I'm not joking; I'm just being honest."
May 25: Jennifer Coolidge
Legally Blonde actress and Emerson University grad Jennifer Coolidge gave her alma mater's commencement speech with the help of a candelabra, some dolls, and a wig change. "Life is a storm, my young graduates. You will bask in the sunlight in one moment, and be shattered on the rocks in the next. What defines you is what you do when that storm comes. You must look into that storm's eye and shout, as you did in Rome, 'Do your worst, as I will do mine!'" she told students (quoting The Count of Monte Cristo almost verbatim). "Then the fates will know you as we know you, as Emerson Class of 2020!"
May 22: J.B. Smoove
J.B. Smoove centered his Adult Swim commencement speech around the first time he drank his grandfather's Mad Dog 20/20 fortified wine. "Consuming that and living through that pandemic of a wine gave me the clarity to set my goals high and to focus on my life," he said. "Mad Dog 20/20 is courage in a bottle, it allowed you to forget the horrible things you'd been through in the past, and it gives you the courage to believe you can achieve whatever ridiculous dreams you have for the future. There it is: Forget about 20/20 vision, you are the Mad Dog Class of 2020!"
May 20: Maria Bamford
Maria Bamford gave her Adult Swim commencement speech to Brittany, who the speech was "probably not for" but who woke up watching it anyway. "Brittany, I know you're fine, but just in case everything goes tits up, just know there's one shaky white comedian lady with 40,000 Instagram followers who thinks you're amazeballs," Bamford said on May 20. "Lower the bar. Are you drunk … yet? Did you shoot anyone … today? Our gun laws make it almost impossible not to shoot loved ones. Did you not really graduate but you haven't told anyone yet? Oh my God, I love you."
May 18: Eric Andre
Eric Andre kicked off Adult Swim's commencement speeches series on May 18, telling students, "God and Satan are now one. Rewrite the Bible and the Constitution. Sublimate the sublime. Join a Sublime cover band."
May 16: Barack Obama and LeBron James with Pharrell Williams, Timothée Chalamet, Jonas Brothers, Megan Rapinoe, Bad Bunny, and others
LeBron James's commencement event, for high schoolers only (college students, if you watched, we won't tell), featured Obama giving his second commencement speech of the day, after appearing at an earlier event for HBCU graduates. After cracking some Tiger King jokes, Obama told students, "All of those adults who you used to think were in charge and knew what they were doing? Turns out, they don't have all the answers. A lot of them aren't even asking the right questions. So, if the world is going to get better, it's going to be up to you. That realization may be kind of intimidating, but I hope it's also inspiring." He added, "You're going to have to grow up faster than some generations. This is your generation's world to shape." Support came from a stacked cast that included Pharrell Williams, the Jonas Brothers, Malala Yousafzai, Megan Rapinoe, Lena Waithe, Bad Bunny, Ben Platt, Yara Shahidi, Chika, YBN Cordae, Loren Gray, H.E.R., Brandan Bmike Odums, and Charli D'Amelio. Timothée Chalamet even pointed viewers toward a treasure from his own high-school days. The LeBron James Family Foundation and its I PROMISE School spearheaded the event.
May 16: Barack Obama with Debbie Allen, Steve Harvey, Chris Paul, Wyclef Jean, and others
The former president delivered his first of three virtual commencement speeches specifically for graduates of historically black colleges and universities earlier on May 16. "Even if half this semester was spent at Zoom University, you've earned this moment," Obama told students on May 16. He later added, "More than anything, this pandemic has fully, finally torn back the curtain on the idea that so many of the folks in charge know what they're doing. A lot of them aren't even pretending to be in charge. If the world's going to get better, it's going to be up to you." The two-hour event also featured appearances by Debbie Allen, Steve Harvey, Chris Paul, Vince Carter, Vivica Fox, and Thasunda Brown Duckett, and performances by Wyclef Jean, Anthony Hamilton, and Omari Hardwick, among others.
May 15: Oprah Winfrey with Kristen Bell, Cardi B, Matthew McConaughey, Hugh Jackman, Awkwafina, Simone Biles, Miley Cyrus, and others
Who could inspire us more in these trying times? Oprah was the main speaker for Facebook and Instagram's #Graduation2020 event on May 15, joined by guests Kristen Bell, Cardi B, Matthew McConaughey, Hugh Jackman, Awkwafina, Simone Biles, Malala Yousafzai, and others. "Even though there may not be pomp because of our circumstances, never has a graduating class been called to step into the future with more purpose, vision, passion, and energy, and hope," Oprah told the class of 2020 in her speech. She later asked, "What will your essential service be? What really matters to you? The fact that you're alive means you've been given a reprieve to think deeply about that question. How will you use what matters in service to yourself, your community, and the world?" Miley Cyrus also performed her song "The Climb," an emotional throwback for the high-school and college classes of 2020 alike.
May 15: Mike Birbiglia
Twenty years after he graduated from Georgetown University, Mike Birbiglia was supposed to come back to the College of Arts and Sciences to give the commencement speech. "I was not meant to be giving [this speech] to you through my iPhone in New York, and you were not meant to be at your parents' house, who you were trying to avoid by going to college in the first place. This wasn't plan A," Birbiglia said on May 15. "So often, the things that you love the most were not your plan A." Later, he added, "The challenge of this moment will be what defines you for the better. You've been robbed of this moment, and that might be the best-case scenario because you'll be forced to create this moment for yourself, which is what you are meant to do."
May 14: Adam DeVine, Jane Lynch, Ludacris, Dashboard Confessional, Machine Gun Kelly, Mark Cuban, Amanda Cerny, and others
A hero on college campuses across America, Natural Light hosted a celebrity commencement event on social media on May 14. Actress Amanda Cerny hosted, while speakers included Adam DeVine, Jane Lynch, Ludacris, Mark Cuban, Stephen A. Smith, and Erika Nardini. "I understand that there's crazy pressure to figure things out, to have a game plan and to know what you're going to do next, but I'm here to tell you, you just don't have to, man," DeVine said in his speech. "When life throws you a curveball and instead of hitting it with the bat you just bat it down with your hand and run the bases: That's a home run!" Dashboard Confessional and Machine Gun Kelly also performed for the event.
May 2: Tom Hanks
Now fully recovered from COVID-19 and ready to give the world his blood in the name of science, America's dad, Tom Hanks, gave a virtual commencement for Wright State University's department of theatre, dance, and motion pictures. "Congratulations to you, chosen ones," Hanks said for the school's May 2 ceremony. "I am calling you 'chosen ones' because you have been chosen in many ways. First, by the temperament and discipline you've lived by, by the creative fires that are inside of you, and the instinctive lunges of your desires." He added, "The future is always uncertain, but we who celebrate what you have done, who celebrate all of your achievements, we are certain of one thing on this day: You will not let us down."