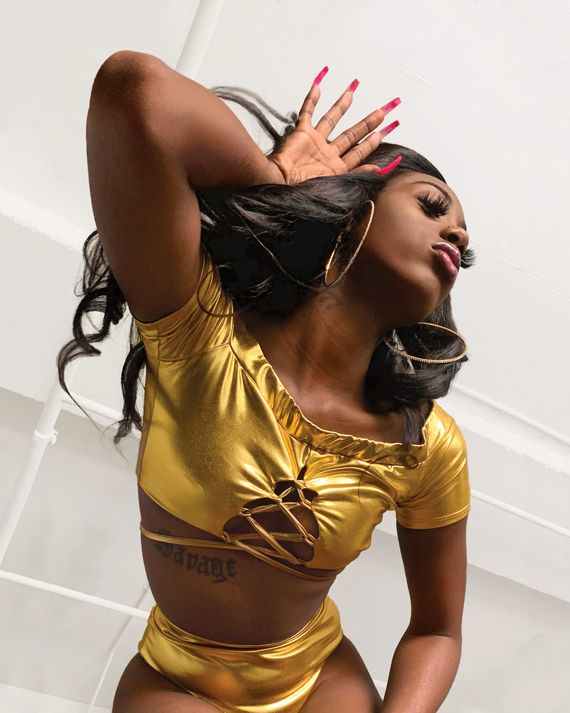 Flo Milli.
Photo: Arielle Bobb-Willis
The rapper Flo Milli had given herself a deadline: She was going to be famous by 18. Not rapping by 18 — ­famous by then. "It was like an obsession for me," Milli, now all of 20 years old, tells me one July afternoon, dressed in full glam in her Atlanta apartment. As a tween, she'd seen Nicki Minaj rapping on BET's 106 & Park. She'd grown up around music — the women in her family singing in church choirs, her mom playing Jill Scott tracks on the way to school — but Flo (real name Tamia Monique Carter) didn't trust her own singing voice. She decided to get a pen and paper and be a rapper instead. College was a backup plan she didn't want to explore: "I was praying to God, like, 'God, please don't make me a doctor or anything. I want to be a rapper!' "
She missed her deadline by a year. Her viral song, "Beef FloMix," got her signed to RCA Records, a division of Sony Music Entertainment. On July 24, she released her first mixtape, a 12-song project titled Ho, Why Is You Here? At least three of the tracks are already internet popular: "Beef," the raunchy "In the Party," and "Weak," which takes a classic lovelorn SWV song and turns it love-annoyed: Instead of singing about a man's dizzying effect on a woman, Flo Milli raps about being bored of easily manipulated men. "I feel like, as young women, you deal with haters, you deal with insecure men. Sometimes you just have people trying to bring you down. So it's like, 'Ho, why is you here?' " she says. "Are you contributing to my success, or are you, like, taking from it?"
Nothing has contributed more to Flo Milli's success than the opening rhyme scheme on "Beef FloMix." She raps with the disarming, cutesy facetiousness that has become her trademark. It's playfully schoolyard, a cool girl's "na-na na-na boo-boo"–style taunt; it's a mantra and a meme all in one. "I like caaaash and my hair to my ass! / Do the dash, can you make it go fast?" she asks. "Fuck the fame, all I want is them bands / If she keep on muggin', I'ma steal her man!" The lines are punctuated with single-word ad-libs, like audible notebook-paper scribblings passed during class. In its music video, her lean frame twerks in a convertible, lounges with girlfriends in a Crayola-colorful backyard, flips hair long enough to dust the top of her booty shorts' belt loops. She smiles to reveal a mouthful of braces. The song is a remix of a years-old Playboi Carti tune; Flo's version gained nearly 9 million views on YouTube — twice what his did in a quarter of the time.
"The beat is so alluring; it already is a catchy little beat," she says when I ask why she thinks her version popped in a way Carti's couldn't. (She clarifies that she's a fan of his.) "With me, my voice is very unique. Adding my unique voice onto the catchy beat, it caught people's attention, and they were just like, Oh my gosh, who is this girl?–type thing." Part of the effect is her voice, its youthfulness and brevity. Megan Thee Stallion makes bodacious triple entendres; Doja Cat makes horny radio-ready hits. Flo Milli sounds like your overconfident little cousin. She was born and raised in Mobile, Alabama; early in high school, she and a friend promised each other they'd make it as a rap duo. Their live performances as Real and Beautiful, and later Pink Mafia, are still somewhere on YouTube. When she and the friend grew apart, she kept writing lyrics in binders or stepping out of math class to record voice memos of half-ideas into her phone in the bathroom. "I worked at Metro [PCS, the cell-phone retail store], and it had a speaker. I would blast beats and rap, and the people next door, it was like a tax company, they would snitch on me to my boss. Like, 'This girl is rapping all day at work!' " A beat later, in her own defense, she adds, "But nobody would come into the store!"
Flo Milli approaches everything in her life with the same brash buoyancy as the opening of "Beef FloMix." She's newly single after having been in relationships for most of her adolescence, but she's dexterous at getting a man to do what she wants. "When I was like 15, I used to be a player. Like I used to play the hay-elle" — she drags the word out, southern accent thick and vowels long — "out of a n—," she says, laughing.
"I used to be thicc when I was younger," she continues. "Like around the time, I was 160 pounds, I had a fat ass, everything, girl. I looked like I was 19 and 20 when I was really just 15 and 16. I would get a lot of guys trying to talk to me. All [older guys] want to do is just fuck. So let me just play y'all ass!" She wasn't very interested in them, let alone what they wanted. She just wanted to see what the hustle could be. She had a Rolodex of admirers she kept at a distance. "It was really funny to me! But you know — I forgot where I was going with that story. What was the question again?"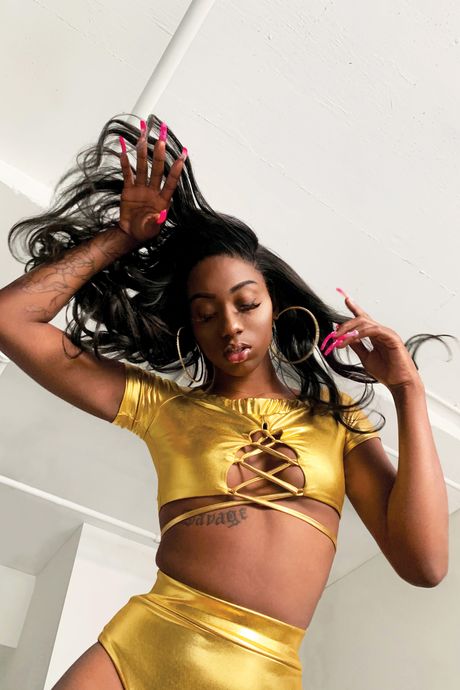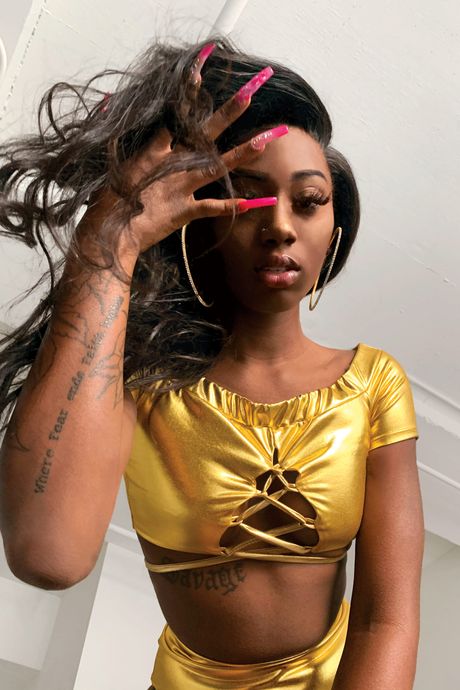 In middle school, she set out to become "IG famous." "I used to have a tactic when I was in middle school. Little sneaky tactics to get followers," she admits. She hems and haws about not wanting to tell me what they were but finally relents, explaining the ecosystem of high-school Instagram like it's a science. "I made my page private, and I would follow a lot of people that have private pages, because they have to accept it," she says. This means they also tend to send you a follow request back. Once she got the follow-for-follow, she'd wait a couple months and unfollow them in the middle of the night to keep her ratio enviable. "At like 3 a.m., when everybody was asleep, I would unfollow them and keep them in my requests and build it up."
By 17, she'd amassed 20,000 followers. When she started working on "Beef FloMix," she'd already graduated from high school, months early, but didn't have a job yet. She was smoking and bored, playing around on YouTube, when she decided to play around with the song instead. She posted snippets of it on Instagram, and her fans begged her to record it properly. It stalled at 20,000 listens on SoundCloud when she uploaded it in October 2018. After fans used the song to soundtrack their own videos, it moved around Instagram, TikTok, and Twitter. "Beef FloMix" didn't technically chart, but it is considered the rare TikTok hit that's as good heard in full as it is in short, viral bursts.
When it came on RCA's radar, they called Flo in. The label was drawn to the then-teen's wild confidence and how assured she was of her talent, said George Clark, the director of marketing/A&R. "She's got the shit that everybody says I have," says the rapper Rico Nasty, who Flo Milli counts as a friend and role model. "[People say] 'Rico, you have this personality.' She has that shit." "Weak" is the mixtape's standout track, a song Rico says announces the debut of someone who will be in the industry a long time. "[Flo is] making music. Not fucking bops," she continues, dismissing short-lived viral hits. "Beef FloMix" got her attention, but "Weak" is the beginning of a body of work.
Ho, Why Is You Here? is an imperfect debut. You can hear the growing pains: Some songs rely too much on naïve brags Flo Milli doesn't seem ready to commit to; others sound rushed and half finished, with beats she's advanced beyond. But at least a few capitalize on what has positioned her as the first rapper to make it out of Mobile in a meaningful way in some time or pop from TikTok alone. "Make a n— blow a check on me / Save his number under 'We gon' see,' " she says on "Pussy Cat Doll." Flo Milli makes music to party to, for women to feel themselves; she writes bars for memes and for songs that could script their own Euphoria needle drop. Maybe she likes it that way — her lyrics are inspired by her life and her own puckish confidence. "The standard or the stereotype that people try to put on dark-skin women is so not real," she says. "People automatically think I'm going to be insecure because I'm dark skin, and that's not the case." She makes music "to show people can be happy in their own skin."
Flo Milli is young enough to describe her dreams in lofty generalities. She's inspired by Minaj and wants to be a role model for another younger girl. "I would love to be doing shows, getting endorsements," she says. "I want to eventually get into modeling. I want to be inside fashion shows. I want to be in movies when I get older. I want to be that person, a legendary artist."
But she's aware of the way the industry can chew up Black women and spit them out. The day she was signed felt bittersweet. "It was scary for me, coming up religious, hearing stuff about the industry," she says. She grew up in the church, and when churchgoers would ask what her plans were with music, she wouldn't share her big dreams. She still lives with her family, though no longer in Mobile, and she doesn't have a raucous group chat of girlfriends to confide in. She keeps a close circle because she's leery of clout-chasing friendships.
"I'm not going to lie — I barely have friends," she says. "But I have one best friend that I talk to every day." Her fans, though, are dedicated. When she wrote a since-deleted tweet saying, cryptically and alarmingly, that "if anything happens to me my ex did it," they were loudly concerned. She's at that honeymoon stage of fame: She feels every eye on her, and most of them are still supportive. When the mixtape drops, she has made plans to just chill with a cup of Hennessy or Don Julio ("I don't know if those are the good ones, but that's what I be drinking") and her best friend. "We're going to get lit," she says. "We're going to listen to that shit all day."
*A version of this article appears in the August 3, 2020, issue of New York Magazine. Subscribe Now!