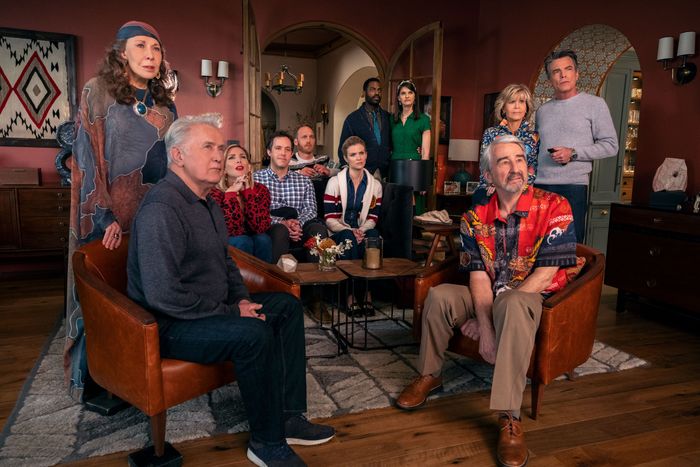 So many looks!
Photo: Courtesy of Netflix
For six seasons, Grace and Frankie has delighted me: There are few joys in life as pure as watching Sol (Sam Waterston) play with his dog Carl, Robert (Martin Sheen) brag about his Tappy Award, or Grace (Jane Fonda) and Frankie (Lily Tomlin) navigate life as polar opposites thrust together after their husbands leave them for each other. The show is truly a salve; you never finish an episode feeling anything other than comforted and endeared to the characters in it.
But Grace and Frankie is also a visual treat. Who wouldn't want to live out their days in that La Jolla beach house? Or cook dinner every night in a kitchen like the one in Sol and Robert's hacienda-style home? Paired perfectly with such dreamy surroundings, the clothes on Grace and Frankie are vibrant, enviable, and singular in style. Each character's looks so clearly define their personalities that if you saw a picture of any of their outfits on the rack, you would know instantly which character they belonged to. I talked to Grace and Frankie costumer Allyson Fanger about how she styles the fab four, what it's like working with Hollywood giants like Jane Fonda, Lily Tomlin, Sam Waterston, and Martin Sheen, and how she put together her favorite looks for each character.
Sol (played by Sam Waterston)
"People really like his clothes because they are unusual," Fanger says about dressing Sol, who's wardrobe consists largely of printed short-sleeved button-down shirts, soft trousers, cardigans, and huarache sandals. "I figured [Sol and Frankie] went camping a lot and stuff when their kids were young," she explains, so she sought out a lot of Cabrillo camping shirts and gear. "And these odd shirts that I figured that Frankie probably bought for him, like those beige and print short-sleeved shirts."
Fanger sources most of Sol's signature quirky shirts from small boutiques in Malibu, Palm Springs, and Santa Monica. "I'd try to go to a beach community because they live at the beach or they live in a beach town," she says. And it's all about comfort: Sol is usually in drawstring pants, and she likes to mix soft textures for his looks so his clothes move with him. His whole wardrobe is a bit ill-fitted on purpose to play up the "goofy awkwardness" that makes Sol, well, Sol.
But dressing Sol was also a lesson in the differences in costuming for an older character. At one point, Fanger wanted to put Waterson in a modern cut J. Crew seersucker suit, but he resisted. "We had a real battle of the wills about it," she recalls. "He didn't like the way it fit because it had been cut by J. Crew for a bit more youthful customer. He just kept talking about the rise on the thing … I had to really learn a lot about their bodies and the fit and how it went beyond the fabric or the style that I was trying to portray."
Robert (played by Martin Sheen)
While Fanger gets a lot of inquiries about Grace and Franke, and occasionally the odd intrigue about Sol, Robert's wardrobe largely flies under the radar. But don't be fooled by his subtle casualwear and preppy dadcore vibes: Costuming for Robert is challenge all its own.
Fanger modeled Robert's style largely after her own dad's look, the kind of preppy lake culture aesthetic she saw him wear growing up in Minneapolis. But finding the actual items for Robert can be challenging: Her go-to, the Beverly Hills mainstay Carroll & Co., went out of business last year. These days, she does a lot of online ordering for Robert, and even buys some of his clothing from a catalogue that Martin Sheen's wife Janet passed along from a company called Maus & Hoffman. (Janet comes to all Martin's fittings. "She's amazing," says Fanger.) She also sources a good amount of his clothing from department stores like Neiman Marcus and designer names like Ralph Lauren, Armani, and Brioni.
Although Robert used to be a man of suits and ties, in his retirement he's taken to comfier looks, albeit nothing quite as deconstructed as Sol, opting for jeans, half-zip sweaters, vests, dress shirts, and polos. Ironically enough, Sheen is the one who bucks the conventions of dressing conservatively off screen; Robert is a "tuck-in guy," she says, but Sheen isn't. "Martin dresses so casual," says Fanger. "He dresses in big, oversized polos that are halfway down his thigh and sweatpants. No joke."
Grace (played by Jane Fonda)
I'll be honest: I want every single item of clothing that Grace Hansen wears. She is the epitome of WASP chic and, of course, it doesn't hurt that Jane Fonda is one of the best looking women on Earth. Her shirts are always perfectly tailored and pressed, her pants accentuate all those years of Jane Fonda workouts, and even when she's dressed down and cozied up on her private beach, Grace looks like she just walked out of Bergdorf Goodman.
Like Robert, Grace also wears a lot of Ralph Lauren. (Fanger jokes that last winter's RL collection was like "the Grace Hanson line" because everything was camel and classic.) All of her white blouses are Carolina Herrara — it's the perfect white shirt, Fanger says — while her bolder print shirts are custom-made. "We wanted to start bringing color into her life from Frankie," she says. "When she first started, she was very cold. She really doesn't wear printed stuff except for those shirts." Fanger also costumed Grace to reflect her surroundings: Her clothes were softer in the beach house, then when she started living with Nick, her looks became more modern and angular to mirror the aesthetic of his loft apartment.
Aside from Ralph Lauren, Grace's go-to brands include Escada, Armani, and St. John. The other staple in her wardrobe are a pair of bootcut Hard Tail yoga pants. Fanger initially bought them for Frankie, but when she realized their bootcut style would be Grace's signature trouser look (she wears almost exclusively bootcut jeans from AG or Frame), she decided to use them in her wardrobe instead. They're often paired with an oversized Carolina Herrera cowl-necked cardigan — a piece Grace has worn since season one.
Fonda herself is partial to trousers, too. "She doesn't like dresses and skirts," says Fanger. "There was a polka dot dress — the wrap dress from Carolina Herrera — I really loved on her. It's not her thing, but I can get her in it every once in a while. It has to be the right silhouette."
Frankie (played by Lily Tomlin)
We can't talk about the delightful costuming on Grace and Frankie without talking about Frankie, the pièce de résistance of the show's wardrobing. Much like Sol, many of Frankie's pieces are one-offs from small, local boutiques. "I like to go to all the really most obscure boutiques that I can go to for her," says Fanger. "And I've discovered some of the most amazing brands through these boutiques."
Amid Frankie's impressive collection of tie-dye tunics and silk caftans, she occasionally rocks designer frocks from Natori, Dressed to Kill, and Issey Miyake, but Fanger also dresses her in a lot of vintage. ("I use a lot of Yosef caftans on her, which are from the '70s and I figure she's been wearing those forever.") Under almost all of Frankie's caftan looks, she sports the coolest sheer sleeves in a variety of colors from Petit Pois and Sleevie Wonders. It's one of the piece that Fanger gets asked about most often. "I was starting to do this show, I was like, They're not going to be showing their arms, they're a little older … So I really had to find that solution and those have been great."
Frankie's jewelry is a statement all its own, and Fanger says these finishing touches make all the difference for her looks. For heavy crystal pieces, she uses jewelry designer Adina Mills, who has been bedazzling Frankie since season one. But she also says much of Frankie's jewelry comes from jewelers who get in touch via social media. "The more obscure, the better," she says. "I like all of the things that she wears to look like something that she's either made herself, or that she got on her travels. She's had her clothes for a long time in her closet."
Despite her bold personality on the show, Fanger says Tomlin was a little skittish about Frankie's outfits at first. "She wasn't quite sure what I was doing. She's still is not sure what I'm doing, but she's completely surrendered to what I'm doing," she says. "There's times when she'll be like, I don't like the way this looks on me. And I'll be like, Fine. Let's get rid of it. But artistically, she really leaves it up to me. She couldn't be more lovely. She feels it once she puts it on."