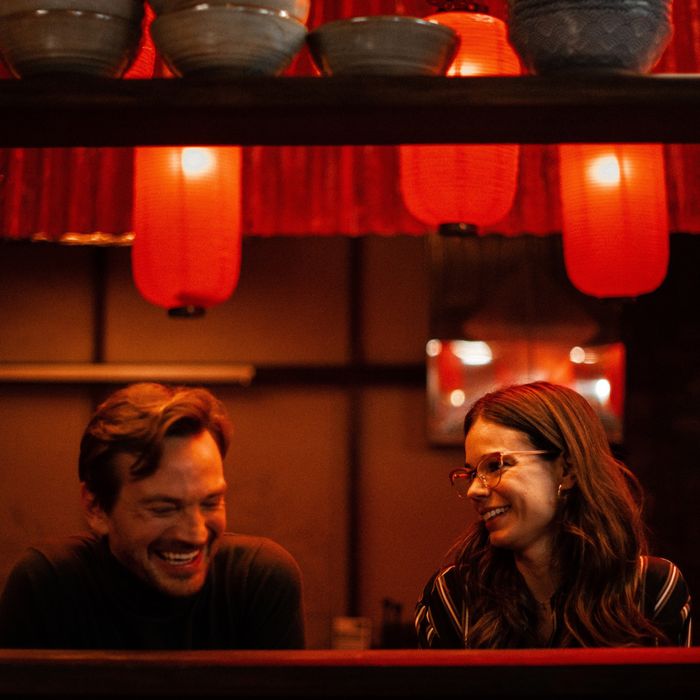 HBO's Spanish series Foodie Love arrives in the United States at the most perfect time. Or at the absolute worst time, depending how you look at it. Created and directed by Spanish filmmaker Isabel Coixet, Foodie Love is her first TV series and a salute to the things she loves most: romance, food, and travel. While the eight-episode series celebrated those things in a grand way when it aired in Europe last year, now it's a painful reminder of better times — unless you're the kind of viewer that can sink into and appreciate the whimsical, delicious, and emotive world Coixet creates. "It's so weird, right?" Coixet laughs. "I'm sorry?"
The story is centered on a couple that meets on a foodie dating app and follows them as they get to know each other through their appetites in Barcelona, Rome, the south of France, and Japan. Played by Spanish actor Laia Costa (Victoria, Life Itself) and Argentine actor and director Guillermo Pfening (Nobody's Watching), the couple meets over coffee and goes on a gastronomical adventure that exposes all of their vulnerabilities.
Coixet, who lives in Barcelona, Spain, spoke to Vulture about how much Foodie Love — now available in its entirety on HBO and HBOMax — made her wish she had created and directed a TV series sooner, how she found all the restaurants, bars, coffee shops, and bakeries in her series, and her colorful, stimulating visual style.
Have you always wanted to do a TV series?
I've done tons of feature films and documentaries and commercials. In the past, I've been offered seasons of existing shows. But as a filmmaker, and a person who really wants to tell stories, personal stories, even if I love some of the material they sent me, I just thought I was going to be bored. When you go into a project like that, the casting is decided, the plots are decided, even the wardrobe. It's not as fun as creating something.
I was living in New York and I started thinking about couples and apps. And I've always been the kind of person that will go 50 subway stops to have some Korean barbecue in some obscure place. So, I thought about combining all these things: my love for love stories, and my love for food and discovering and sharing things. Even from the beginning, I had some of the episode titles in my head as I developed the characters and the plots and kind of food they were going to eat in each episode. One of the things which can unite people is food, no? Even the two main characters of Foodie Love, they don't have much in common except food — the love for the best coffee, the best cocktails, and the best ramen.
We never learn their names. Why not?
Because for the first time in my life, I wasn't able to give them a name. It's not some obscure mystery. They both have so many things of me that I wasn't really able to give them a name. I just wrote "him/her." As I started writing, I would tell HBO, "Don't worry, it will have a name by the end of it." But I was completely unable. All the names sounded preposterous and fake. When you name a character with a certain name, there's usually a connection with your past, your friends, your life. But I have to say, this is the first time this happened to me. I still don't know why. Everybody knows my secrets now.
The pacing of the story is so interesting. Even though we're rooting for them to get romantically involved, there isn't really this "Will they or won't they?" focus that is so common in these types of stories.
I spent six months with these characters in my house, in my car, in the restaurants I went to. In my head, in my bed. I wanted to do a really raw and complex relationship. I want to show life is very complicated. Some people say love is simple. It's not true. Love between people is complicated because love is a very complex feeling. It's about losing yourself in the other person and that's a never-ending journey. I wanted to capture all the weird silences, the first trip together. Okay, we have been together for two months, and we went out, and the sex was good, but what's gonna happen when we are away from our usual place, and there are all these hours in the car? How is it gonna be? What you're expecting from me? What do I expect from you? How do I behave? And all of these contradictory ideas you have in your mind. And I want to picture two full-burst human beings, not just being a part of the other.
You use a variety of devices to tell the story—voice-over, thought bubbles, etc. Can you talk about those choices?
In all my films, there's a ton of voice-over. I always loved voice-overs. Some people say it's a very literary thing, but I don't care. I think it works because sometimes the thing you're thinking about doesn't have any relationship with what you're really saying and also with what you're feeling. To me there is a wonderful opportunity to explore, the voice in your head is telling you, "This person is not for you, go." Or, "Maybe he's not that bad. Maybe you're not reading the signs the right way." We live with the things in our heads, not just in love stories, but in friendships and in the supermarket. [Laughs.]
You worked with four different cinematographers and each one did two episodes. Why did you go that route?
I had never done a series before, so I thought having four different sets of eyes would help me to keep it fresh. And I loved the work of the four people I worked with. Natasha Braier is a brilliant cinematographer. She did the first two episodes, and then Jean-Claude Larrieu has been my director of photography in my last seven films. Jennifer Cox is also an amazing director of photography. She's very young. She lives in Oakland right now, and I thought the Japan episode was perfect for her, and for her way of seeing things. [Nils Dalmases of The Bookshop was the fourth.] The production people were hating me for having all these four different DPs, but for me it was very refreshing and very helpful.
The visual style offers a lot of color and stimulation, not just with how evocative the food is, but you also use cartoons and that important image of the wave that we understand at the very end. What informed your visual style?
First of all, I really wanted the food to look amazing. Every time there is a piece of bread, cocktail, coffee, cookie in the show, I really wanted it to have tons of attitude and appeal. And I want it to feel luxurious. Sometimes there are very sophisticated things, but sometimes it's just a Spanish tortilla or coffee or bread. And then when they are in France, I really wanted to capture all these ideas we have of France — the lavender fields and bridges and old villages and all that. And in Rome, what Guillermo says at the beginning of the episode, "What I really like in Rome is the color of the walls, and the cracks in the walls," I always felt that way in Rome. Rome and Tokyo are my two favorite cities in the world, and I want these cities to shine. It's funny because it seems that everybody's favorite episode is the Rome episode and it's the only one they are not together! [Laughs.] But since they are not together, you have that compelling feeling of "Oh, we want them together."
Laia Costa and Guillermo Pfening have great chemistry.
They were very open with each other. We rehearsed a lot, but also I told them I wanted them to be free to explore things. Some days I would call on set, "Remember that scene with four pages of dialogue? No! We're going to do a dance, and you're naked in a kitchen, and let's see what happens." And they would go, "Oh, okay." Very sexy, but they are very quirky in unique ways. I had a blast working with them.
How did you pick all the restaurants? Are these places that you personally love?
Yeah. [Laughs.] And I guess the owners hate me right now. Well, right now, no, because half of them are closed. But before. The coffee shop is a real place in a neighborhood in Barcelona. It's a place I always loved. I wrote the first episode in that same coffee shop. The bar is like in a secret place. You go to a pastrami shop, and then there is a door in the fridge and you open it, and you go to a corridor, and then there's a bar. And all the cocktails are real. They're a creation of these people in the bar. And the place in Rome exists. It's one of my favorite trattorias. The only one that doesn't exist is the gelato place, because that thing about those ice creams and the philosopher is just an invention. But I think it's a good invention.
I love that woman. I love how she always asks, "Are you sure?" about the gelato that you order.
Luciana [Littizzetto] is a very well-known actress in Italy and she has a very funny TV show. I did several commercials with her many years ago and I thought, I have to write something for her, because she's brilliant.
The show has these secondary characters that are so memorable and become part of the story: the barista couple, the bartender, the delivery guy, and the gelato philosopher. Why did you give them such importance?
You can give life to all of these people around them and create some plots that are a mirror to the main plot. And you know, the bartender is a very talented actor and French director, Agnès Jaoui. The good thing about doing a love story in eight chapters is that you can explore all the life [intertwined] with the plot. Now I'm thinking, "Why did I waste my time before without doing a series? Was it too late?" [Laughs.] No, I don't think it was too late.
Was it hard to convince HBO to let you travel so much for a four-hour series? You were in Spain, Italy, France, and Japan.
No. From the beginning, they were really supportive. They knew this is a different love story. This is a tad more sophisticated than the things we're seeing, but one of the beauties of television now is you can be as sophisticated as you wish, and people will go with you.
The finale episode in Japan is super-unexpected. We experience much of the story of that episode through her thoughts. Why did you choose to do it that way?
She has spent the last year with this wound, this trauma. And the fact that she's really falling in love with this guy is opening these other scars in her life. I have to say, I was surprised people didn't even think about why she was so hard. But it's good that you can surprise people at the end. And I think I did that. But for me, since, of course, I knew from the beginning what was going on in her heart and in her soul, it was a very healthy thing, this trip she took to Japan. The series is inspired by things in my life and also things we never talk about. When you meet someone, it's never "What you see is what you get." There are lots of layers in human beings. And sometimes you're going to know these layers, and sometimes you will never know them. And even if it's painful, I think it's worth it to know what's going on in the soul of the other person.
Guillermo Pfening's performance in the finale is really affecting. I understand what you're saying about why she needed the trip, but from his perspective, it's cruel.
He didn't know why she disappeared. It's very difficult. I remember that night when we shot that scene with the message he was leaving on her phone, and I think half of the crew was crying by the end of it. Me included. I've said these words. Not in the same circumstances, but every little word he's saying and every idea he's having and everything, I have felt that and I have said that. I think Guillermo did an amazing performance. He's very different from his character in the series and I think he really went to a really vulnerable place. And I love him for that.
Is a season two possible?
I'm ready! [Laughs.] I have to say, I started this with like three seasons in my head, with different stages in life, and I hope I will have the opportunity to do them because there is a lot of things to explore with these characters and with other characters, and with the concept of Foodie Love.
I have to know. Why did you stop writing your food blog?
Because you become friends with the people in restaurants and you realize if you want to keep being a friend, there are sometimes things you shouldn't say. So, I decided when I have something good to say, I will say it. If not, I will not say it. Or, at least, I will say the thing to the right people. There are so many food bloggers. I prefer to do Foodie Love. I prefer to say what I want in the series.