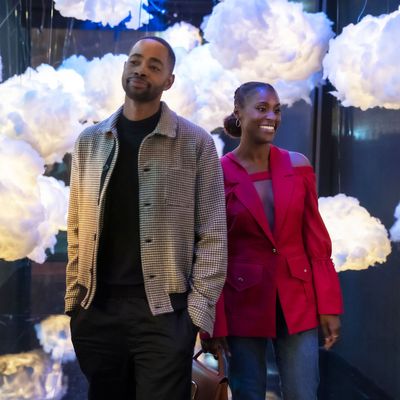 Natasha Rothwell is a romantic at heart. She may deliver Kelli's naughty zingers and her hilarious British accent on Insecure, but as a writer on the HBO comedy, she has been rooting for Issa and Lawrence to reunite all along. This past season, that dream finally came true with the bottle episode "Lowkey Happy," Rothwell's first solo script credit, in which Issa (Issa Rae) and Lawrence (Jay Ellis) rediscover that they make each other happy.
A romantic comedy buff who counts Sex and the City as one of her favorite shows, Rothwell imagined the episode as an "anti rom-com rom-com" because in addition to laughs, flirting, and heat, the script needed to unpack the pain of their breakup. "It was a risky pitch," Rothwell recalls about her idea to devote an entire episode to Issa (Issa Rae) and Lawrence (Jay Ellis) honestly discussing her betrayal, his neglect, and their lack of communication. "It's a lot of real estate to dedicate to giving them the opportunity to have this conversation that they really needed to have."
Although Rothwell hadn't decided how the episode would end when she pitched the episode, she knew that not all of the writers would be in favor of Issa and Lawrence getting back together. "I have not seen a portrayal of a moment in a Black relationship where there's infidelity on the woman's part and the man can come back from it," she said. "It's always the reverse that you see. We could all agree that there was unfinished business between them, and it was a dynamic that we felt was worth exploring. We got to explore why she didn't feel heard and loved and the impact of her cheating on him and allow a Black man to speak his pain."
Executive producers Prentice Penny and Rae sparked to the idea of focusing an episode on the relationship, and the group considered giving Issa and Lawrence a chance to be fully open and say good-bye with peaceful closure. But as they thought about Lawrence's role on the show if they remained apart, that didn't feel right. So they entertained another question: After growing so much as individuals since season one, would the new Issa and Lawrence actually work as a couple?
"We wanted to explore the things they didn't know about each other because the audience has seen for four years the things they know," said Penny, who serves as showrunner and assigned Rothwell the script. "Natasha was perfect for this episode because she's such a softie and just a rom-com person. Obviously, she's very funny and she'll pitch funny stuff, but a lot of her pitches are about what characters are thinking and feeling. I don't think people would naturally assume that this is the default of the woman who plays Kelli."
Directed by Ava Berkofsky, the episode reconnects the former lovers at a meetup that begins with drinks followed by dinner, a magical stroll through L.A.'s Art Walk, and spending the night together. Rothwell labored the hardest on the episode's six-minute restaurant scene, and her poignant and careful writing reflects it. Over an intimate dinner, several truth bombs go off: Lawrence asks Issa why she slept with her ex and confesses he had bought her an engagement ring, and she admits how lonely and neglected she felt while he was unemployed and depressed.
"I was trying to focus on the economy of the language and what it means to have two people that know each other super-intimately and for a superlong time have a conversation like that," Rothwell said. "I love writing moments where characters get to explore the dynamic of being vulnerable. When two people know themselves and know each other so well, it doesn't necessarily need a lot of words for things to be communicated that make sense."
Rothwell proves that later in the episode with four simple words: At the end of the night, Issa gets the nerve to tell Lawrence, "You make me happy," while standing in his living room, a scene that left much of the crew in tears during filming. The exchange occurred to her at the outline stage, as she thought about the simplest sentiment she's ever wanted to hear and say and mean.
"As a writer, I've been accused of and have been guilty of using too many words," Rothwell laughed. "Because we want to say all the things! But as I worked on that moment, it hit me. It's that simple: You make me happy. That's where the genesis of the episode title came, too. The whole episode is exploring what makes you happy and coming to the understanding that it's the other person. It's not just work. It's not the life I've been living since we've been apart. But it's you."
Ellis, who had no idea Rothwell was going to reunite Jay and Issa, recalls reading the script for the first time and being flooded by his own feelings. "It felt like closure," he said. "It felt like love. It felt like friendship. It felt like soul mates. It felt like our show is so universal. There were just so many things about it that were absolutely amazing just reading it. I remember turning to Natasha and telling her, 'I think you just wrote the most beautiful episode of this show ever.'"
Penny felt it, too, at every stage of the production process. "It's never happened to me on this show, and it's never happened to me on any other show, where at every phase of the script or story, it kept making me feel things," he said. "I'm reading outlines, scripts, obviously I already know the outcome. You're watching it being shot, then the edits, and then finally watching it on air, and every single time, I got emotional. It got me, every single time."