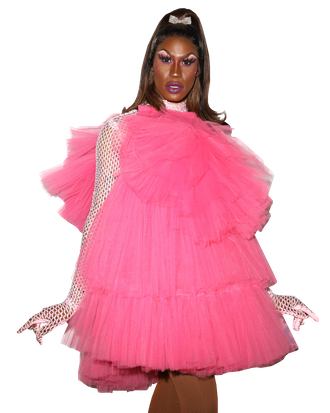 Bow to your current f**king reigning.
Photo: Getty Images
Spoilers for the season five finale of RuPaul's Drag Race All Stars lie ahead.
When it's correct, it's gloriously correct. Shea Coulée never did come to play; she came to win. After the trickery, stuntery, and highway robbery that cost Coulée a season nine win, the Chicago queen and A-plus Drag Race student was finally given her rightful crown and scepter as the winner of RuPaul's Drag Race All-Stars 5 in its finale last week. Couleé dominated the season from the start, whether fantasizing out loud about Chadwick Boseman, serving an iconic Flava Flav performance for Snatch Game of Love, or eating up the runway every week. We at Vulture have barely hidden the fact that we've basically functioned as a Shea stan account all season, so we were thrilled to speak with Coulée in the hours leading up to the finale about why right now was the perfect time for All Stars 5, those "crafty" comments, and changing the season nine narrative.
So this is the morning of the finale, and you don't actually know if you've won or not yet. How are you feeling? 
My stomach is in knots. At home, I have my morning routine, and that definitely is not the case this morning. I'm running around the house like a chicken with its head cut off, like what am I even doing?
If-slash-when you do win, it's gotta be weird to celebrate just in your house, social distancing. 
That will definitely be interesting. Hopefully I can hear the roaring sounds of all the gays in the neighborhood screaming in celebration when it happens. Because if I won, I'd be the first Chicago winner. It's so long overdue!
How has it been watching this season, in which you're displaying Black queer excellence, at this particular moment in time, with the Black Lives Matter movement louder than ever? 
I am a firm believer in destiny and timing, and this is airing right now for a very specific reason. Because I, myself, as a Black queer person, when I discovered RuPaul's Drag Race, it brought me hope during a time in my life where I felt really hopeless. It's a full circle, for me to be providing inspiration and hope to other queer, Black, gender nonbinary individuals. And not even just them, but everybody who watches this show and identifies with my story.
In the three-in-one runway where you wore that gorgeous moth look, it was one of my favorite looks of the season. And I was so surprised when the judges called it "crafty." A lot of fans pointed out that the judges sometimes have a double standard with what they call "crafty" versus "artistic." What was that moment like? 
It's definitely a hard pill for me to swallow, because I put so much thought and time into making that look. It was covered in Swarovski stones, I invested time and money, it was custom airbrushed. I had to reconcile the fact that the way that I feel about something is not necessarily the way the judges are going to view it. So I had to take the critiques in stride, because what somebody perceives as their truth, they perceived it as crafty. I perceived them as wrong. But that's just the way the cookie crumbles. We don't always agree on things. But I was really, really happy to know the fans liked it as well.
You started off All-Stars 5 so strong with that performance of your song "Collide." Can you tell me a bit about that song, and how you developed that pole-dance performance? 
It was really exciting because "Collide," I absolutely love that song. And it was important to me for my music not to be treated as a novelty track. I want people to know that I'm extremely passionate about music and I put a lot of thought and effort into it. And not only that, but I wanted to do something that we hadn't seen on the show before. I wanted to perform the song but I wanted to take it to the next level. So I started training with pole dancing just to challenge myself and to show the judges that even though I'm proud of season nine I was willing to go out of my comfort zone and try things I've never done before to show them how willing I was to take it all the way.
Speaking of season nine and musical performances, I always think about you making that "Sickening, no?" Alexis Mateo reference in your "Category Is" verse. What was it like to be at the center of drama with Alexis Mateo and India Farrah's conspiracy theory about a plot to send you home? 
My head was spinning. I've always been a fan of Alexis Mateo because season three was the first season of Drag Race that I watched. So getting the chance to work with her and get to know her, we had been having what I thought was a lot of fun. And it was really shocking to hear India say that. In watching it back, though, however, I'm still unsure of how it went down. And I just feel like there are so many loose ends that need to be tied up because I just don't know the truth.
Have you been chatting with either of them since?
Yes, I have. I would say that I chat with Alexis the most. She's always reaching out, checking in on me, we'll just text back and forth. Alexis really is such a funny person. And her shade is never really shady. She's always there for a good kiki. And she's really supportive.
Throughout the season, there was this tension where the judges seemed to want to limit you to this one narrative about the season nine finale and overcoming that upset, rather than a narrative surrounding the fact that you had four challenge wins and literally one of the best, most well-rounded Drag Race track records of all time. Did you feel like you had to push back against that at all? 
I would say there were definitely moments where I felt like I wanted to shift the focus away from that narrative. However, in the way that the story goes, that was kind of the last moment in the chapter of Shea Couleé that we had seen on season nine. There's lots of things that get talked about on the show, and there are things that get left out, so I wasn't even sure it would be a story line that continued through. But what I wanted to do was always be open and go with the flow. You are more successful when you allow yourself to just give in to the process of Drag Race. This time, more than season nine, you found me being much more vulnerable than I have been in the past. And I think that that was important for me to show, to allow the fans to see how I was doing behind the scenes. Now that we have kind of closed the chapter on the season nine finale, and hopefully tonight will be the opening of a new chapter, and that chapter involves me having a crown.