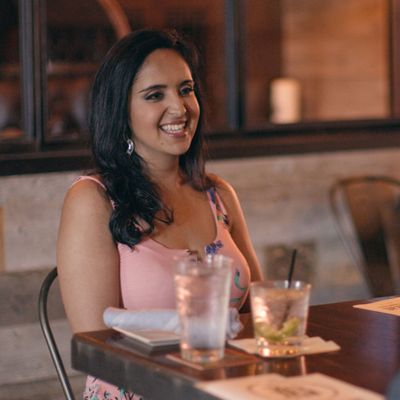 The newly minted Netflix star has some thoughts on how the show was edited: "I mean, the Bolivian salt flats are not so important, right?"
Photo: Netflix
A little over a week after the series Indian Matchmaking premiered on Netflix, conversations about what the reality dating show does or doesn't mean for the South Asian community — diaspora and all — have officially gained steam online. Here on Vulture, Mallika Rao wrote thoughtfully about the connections between colorism and marriage in the Indian community and how Indian Matchmaking provides an unvarnished glimpse into the "marriage industry." ABC Life's Bhakthi Puvanenthiran talked to South Asian Australians about their experiences with arranged marriages and navigating issues of caste.
Around the same time, I talked to Aparna Shewakramani, one of the eight people featured in the Netflix series who enlisted the help of matchmaker Sima Taparia "from Mumbai." With her deadpan delivery of the attributes she could and couldn't put up with in an ideal partner, the 35-year-old lawyer from Houston — who's never really watched that much TV — became a fan favorite. During our conversation, we discussed her path to becoming a reality dating star, the castmates she still keeps in touch with, and the ways in which she feels Indian Matchmaking reinforces and disrupts people's assumptions about arranged marriages.
How has it been for you since the show premiered?
I don't know. It hit me yesterday that, a week ago, no one in the world knew my name except for my friends and my family. Now I literally can't avoid my name. It's an interesting phenomenon. It's something I could have never anticipated. I watched [the series] at 2 a.m., because it dropped in L.A. at midnight and I'm in Houston. It's been a roller coaster since.
Why did you decide to do the show?
About two years ago, my plane was delayed at LAX and I was on Facebook scrolling through mindlessly. A friend of a friend posted, "Are you South Asian? Are you looking for your significant other?" And I thought, Well, yes and yes. She said, "Apply to this show, my sister's on the casting team," or whatever it's called. I applied while literally standing in line, boarded the plane, didn't think anything of it. A week later or two weeks later — I don't recall — somebody called me about my application. I thought it was spam. They wanted to Skype, and then the process kicked off with the casting team.
Did you think this could actually work or were you like, I'm just going to enjoy the ride?
I thought it might work. Why not? I thought nothing else has worked. Wouldn't it be the craziest story if I had to go through all of a TV show? I'll put myself out there and then the perfect guy [will come] along and then we'll laugh forever about that story. I thought it would actually be the cutest story, if it could work. And I was pretty sure it would work. Why wouldn't it?
Are you still seeing any of the people you matched with?
Well, I don't see anyone. I'm sitting in my house all day.
But, no, am I seeing them in a romantic way? Definitely not. L.A. Times opened that up right away. Do I talk to them? Yes, I talk to Shekar every day, sometimes for hours every day, especially in these seven months, as I like to call it — or seven days, since the show premiered. He's been a big support, and we've remained really close friends. I text Jay and Dilip, from my dates, pretty much every day, too. I've become really close to Ankita in Delhi. I speak to Manisha and Nadia here on the Stateside. Rashi's reached out a couple of times, from the Vyasar episode.
What's interesting about the show is that we were all filming in a vacuum. Like, other cast members on reality shows, when they're filming, [they] are filming together. They already know each other, they have that comfort and that companionship and … and none of us had that. We were floating along in our own bubbles. I didn't even know that these people really existed. I knew the crew was traveling from place to place to meet people, but I didn't know who they were. [Now] I can contact them and I can be like, "Wasn't that crazy when they did that or this?"
So that's been a special part. There was that camaraderie and being able to understand how that person's feeling more than the best friend that they have at home. I relate a lot to Ankita. She's very modern and progressive, and that's the way I actually always saw women in India my age. Those are the kinds of women I met when I traveled to Bombay to visit family. For me, that's a norm that I already expected, but I can see how a viewer that maybe isn't from that part of the world, or South Asian even, might not realize that people in India are so liberal and progressive and are so far ahead of any traditional matchmaking process.
I think the show has removed some of these antiquated ideas of what a lot of people assume an arranged marriage is like.
Or reinforces them. It can go either way. I think the show is triggering for a lot of people, as it turns out. That was a surprise. I'm getting a lot of feedback from the Indian subcontinent and it's a lot of women and it's a lot of really angry women. I was honestly shocked. I took the show at face value: as entertainment. I assume the normal viewer would as well. Of course I was a part of it, so I also got to think about the nuances and the deeper questions. A lot of women are really angry with how antiquated the process still remains in 2020 or what they believe remains antiquated in 2020 about the process.
Sima seemed like a force. What was that back and forth with her like?The back and forth is interesting because I watch myself now on the episodes, or I watched it that one time, and I was very direct with her. I was very clear because I was just hoping that the more clear I could be — the more detailed I could be — she would be able to understand and find me that person. I was very assertive in that and I was very willing to share that with her because I really wanted her to understand. Quite quickly I realized there was something lost in translation. My eagerness to share that with her was not being understood by her.
That's when I had to embrace our process and say, Okay, she's not listening to what I want. But maybe she knows something I don't know. This is her job, this is her profession, and she's the expert. Maybe we go along and try her way. And I think that was a part of evolving, too, realizing that there is a certain loss of control. You think you're signing up for a matchmaker to gain control of the situation. But that is actually not the reality of it at all.
At least in the way the show was edited, if you — not only you, but all of the people working with Sima — said "This is definitively what I want," you were painted as too picky. But then if you just said, "I want a good person," what does that really mean? So it feels like a very hard balance to strike.
You made a very strong point right now in the editing, right? Our conversations, off-camera, had a lot more context behind them — the broader things that I wanted. I mean, the Bolivian salt flats are not so important, right? It's just shocking. Somebody sent me a graph last night that I put up on my Instagram story. I was literally crying. I was laughing so hard. They found the analytics on the interest in Bolivia and salt flats being Googled, and apparently it has just spiked. All of India is Googling the Bolivian salt flats. I'm like, What is this? That's television.
It can be jarring when elements of your personality are played up and skewed in a certain way for TV.
Yeah. I'm taking it better than on day one. I think it's a process, too, about dealing with social media and the boundaries you want to set and what you want to listen to and what you want to absorb. These are choices that you have. Sometimes they're not always in my control. Like on Instagram, if I am wanting to engage with all the lovely people and the discourses and the conversations out there, then sometimes I'll notice or see a comment come in that's just unnecessarily harsh. I guess I knew people did that, but I'm a little shocked that people do that. That's not my world. Seven days ago, I didn't even really watch TV. So this is not my world to imagine that people get so invested in things that they see on television and take it so seriously that they feel so invested in it and then come to say their piece on it. It's interesting that people feel this way about any show, not just this show.
But I've been more focused on the conversations I'm having — whether they're positive or negative. Ones with people who have thought about the show, past the entertainment, and thought about why it upsets them or why it empowers them or why it affects them. That's the beauty of television I found out this week — that it can really reach someone and it can make them think about their lives and their context and their experiences in a way that I probably am not sure it was ever intended.
Has there been a specific conversation or comment that's really stuck with you?
I think there's a lot of women in India who were reaching out to me about the process and how they've never believed that they had a voice in it or that they could stand up for what they deserved. And then watching me, they had a feeling of empowerment that, "Hey, there's, there's this Asian woman who's saying, 'I worked hard. I built my career. I love my family and my friends, and I'd love a partner, but I want to partner on my terms.'" That's been surprising and beautiful and very profound for me because I never expected to reach anybody on any level. It was not an expectation. What if I gave one woman a voice to stand up for herself and her choices in choosing a life partner?
Some people said it just made them think more about standing up for themselves and speaking their mind in general. They say, "I'm married. I'm already in the relationship and watching you made me think I should be asking my partner for the things that I need. I should be more vocal." So it's not just a woman who's my age or younger or older looking for a partner. It's women across the board. I've heard from 12- and 13-year-olds. I've heard from 70-year-olds. It's an across-the-board female experience, and it's been amazing to hear.
This interview has been lightly edited and condensed.