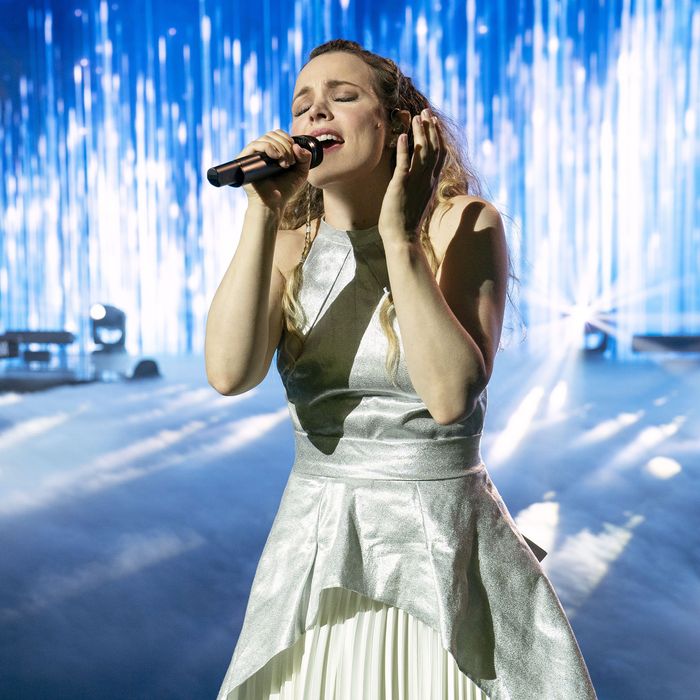 Will we be seeing this at the 2021 Oscars?
Photo: John Wilson/Netflix
The Netflix comedy Eurovision Song Contest: The Story of Fire Saga follows a pair of lovable losers who become Iceland's representatives in the annual musical competition after their rivals perish in a mysterious boating accident. (Magical elves may be to blame.) Through these gate-crashing naïfs, we get a loving portrait of Eurovision in all its glory — a diverse mix of cultures and genres smothered together under a generous helping of cheese.
With actual Eurovision canceled, and most of the summer's blockbusters pushed back, the film has become a surprise streaming hit. Now, fans are wondering: In this strange, unprecedented year at the movies, when many ostensible contenders have similarly fled the field, could one of Eurovision's many musical parodies crash the Oscars' Best Original Song category the same way?
Let's start with the big, blinking CAUTION sign: While the movie boasts a cavalcade of pitch-perfect Eurovision imitations, including Fire Saga's snakebitten duet "Double Trouble" and the rousing Russian entry "Lion of Love," comedic numbers often face an uphill battle for recognition from the Academy. Remember how "Blame Canada" infamously lost to Phil Collins's Tarzan theme? The subsequent two decades of Oscars history haven't gone much better for funny songs: "Everything Is Awesome" lost to "Glory" from Selma, while the Disney pastiches from Enchanted had the bad luck to go up against "Falling Slowly." Those are some of the most legendarily funny movie songs ever recorded, and they were lucky to even get a nomination. More often, spoofs similar to those in Eurovision — from the hilariously over-the-top heavy metal of Spinal Tap, to Music and Lyrics' faux–New Wave hit "Pop! Goes My Heart," to Walk Hard's ultraspecific parodies of boomer legends — have been ignored by the Oscars altogether. When songs from comedies do get nominated, it's often the most sincere entries that do it: "A Kiss at the End of the Rainbow" was the only number from A Mighty Wind to earn a nomination, and "Man or Muppet" from The Muppets actually won the dang thing back in 2012.
Which is why I suspect that if any song from Eurovision manages to catch any awards buzz, it'll be "Húsavík," the heartfelt ballad that Rachel McAdams's Sigrit secretly composes on her own and — spoiler alert — performs at the Eurovision finals. As the movie's climactic number, it checks many of the boxes voters prefer in their Original Song contenders: emotional resonance, a sweeping, Adele-style chorus, and lyrics that aren't too silly (except for that line that at first glance seems to be calling whales "gentle people"). And it closes with an absolute whopper of a high note from McAdams's vocal double, Molly Sandén — a wailing "Speorg note" as majestic as the peaks of Hvannadalshnúkur. Like the scream in "Shallow," it's a musical moment that makes your hair stand on end.
Does it matter that "Húsavík" also bears the peculiar distinction of being partially in Icelandic? Probably not. Though songs at the real Eurovision usually need to be in English to have any real shot, Academy voters have historically not been averse to a little foreign language in their Original Song picks. "Remember Me" from Coco and "Al otro lado del río" from The Motorcycle Diaries were partly and entirely in Spanish, respectively, while "Jai Ho" from Slumdog Millionaire was a musical mélange of of Spanish, Hindi, Punjabi, and Urdu. (There was also a version with the Pussycat Dolls, who sadly did not get to share the Oscar.)
Unless something goes terribly wrong — or, I guess, even more wrong — Eurovision does not seem poised to be a major Oscar player outside Original Song. Luckily, that matters less in Song than other craft categories, where Best Picture nominees usually have a built-in advantage. Perhaps it's because music composition feels walled off from the rest of the moviemaking process, or maybe it's because a catchy tune is a catchy tune, but this category tends to be regarded as its own separate thing. Since the Best Picture category expanded in 2009, six of the 11 Song trophies have gone to films that weren't nominated for the top Oscar, including last year's winner, Rocketman's "(I'm Gonna) Love Me Again."
Speaking of last year's Song race, what might ultimately determine Eurovision's chances is less the quality of its music and more the quality of its competition. More than most Oscar categories, Original Song sees the caliber of its nominees fluctuate wildly from season to season. Sometimes you get a year like 1997, when "My Heart Will Go On" steamrolled the quality quartet of "Journey to the Past," "How Do I Live," "Miss Misery," and "Go the Distance." Other times, you get races like last year, which was a bit of a duff, or the aforementioned "Man or Muppet" year, when the only other nominee was a song from Rio.
The good news for "Húsavík" is that its strongest competition so far would seem to be "The Other Side" from Trolls World Tour and Billie Eilish's Bond song "No Time to Die," neither of which feels particularly imposing. The rest of the season may be breaking Fire Saga's way, too: The new live-action Mulan seems to be much less musical than the animated version, while technology has not yet progressed to a point where Steven Spielberg can bring Leonard Bernstein back from the dead to write a new number for West Side Story. In fact, Eurovision's biggest foe may be time itself — with the 2021 Oscars ceremony pushed back to April, will voters simply overlook a song that's ten months old?
While it feels too early to dub "Húsavík" the front-runner just yet, I won't be surprised if, next spring, we see Will Ferrell and Sandén performing the song on the Oscars telecast, whatever form that takes. As for a win? Well, that's in the hands of the elves.