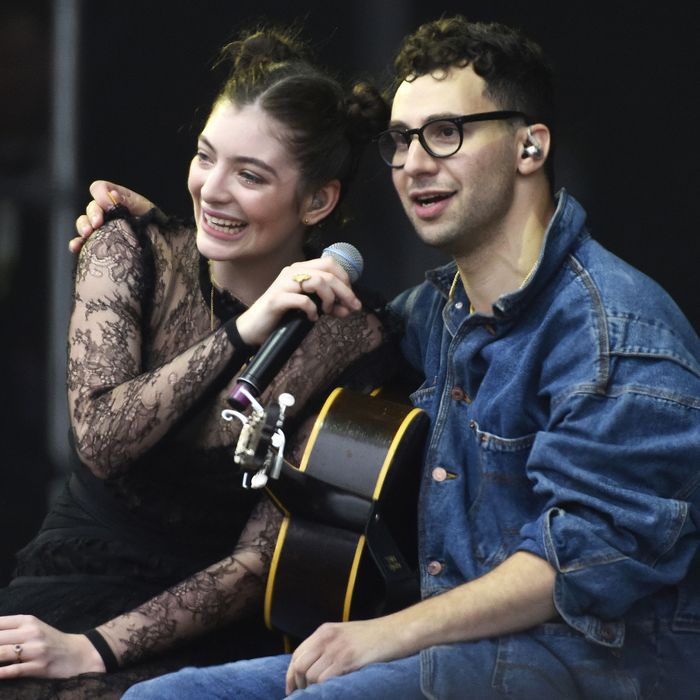 Photo: Tim Mosenfelder/Getty Images
Few of pop's current heavyweights feel as accidental as Jack Antonoff. He did his time in the indie scene for a decade, first fronting Drive-Thru Records band Steel Train and later joining fun., which itself began as an indie supergroup (singer Nate Ruess fronted beloved power-pop band the Format, and keyboardist Andrew Dost spent a few years in baroque-folk outfit Anathallo). Fun. broke big with the surprise hit "We Are Young" in 2012, but that wasn't the pop moment Antonoff was looking for. Not one to stay idle for long, Antonoff started the '80s-nostalgic side project Bleachers, which soon became his main project when fun. announced a hiatus.
He co-produced every track on Bleachers' sharp 2014 debut album, Strange Desire, and started producing for other artists around the same time after lending his pen here and there. Namely, he placed a few key tracks on Taylor Swift's 2014 pop turn, 1989, including "Out of the Woods," "I Wish You Would," and that banger of a bonus track "New Romantics." After accumulating some of the best credits a pop producer could get, he produced the odd track for a hodgepodge of musicians, from Sia to Fifth Harmony. But he didn't become a capital-P Producer until Lorde took him on for 2017's Melodrama, released three years after the two met at a Grammy after-party. A fellow alternative-pop artist, she formed a tight bond with Antonoff as a writer and producer — fans thought they were romantically involved despite Antonoff being in a longtime relationship with Lena Dunham at the time — and they produced the definitive work in both of their catalogues. Three years later, Melodrama highlights Antonoff's best skills as a writer and producer, all of which circle back to his early days in music: making larger-than-life songs, bringing a rock ear to pop music, and understanding how much he actually needs to do to help an artist say what they want and shine while doing it.
Since then, he's racked up more credits, becoming a writer-producer first and a performer second. 2019 seemed like the Year of Jack Antonoff, between turns at the helm of albums by Lana Del Rey, Kevin Abstract, and Taylor Swift. But as these past few weeks have shown us, that was just the start. He gave the Chicks' long-awaited return, Gaslighter, its infectious pop sound and now provides ambient, brooding accompaniment for Del Rey's spoken-word album Violet Bent Backwards Over the Grass. And between the two, Swift released six tracks he produced on her surprise album folklore, calling him "musical family" when announcing the project on Instagram. Those projects make it the perfect time to review — and define — the Jack Antonoff Sound, a style that's made an indelible mark on the last few years of pop and seems like it will only continue to do so.
Poppy, percussive acoustic guitars
Steel Train remains some of Antonoff's most organic music (before he discovered synths with fun.), built around energetic acoustic guitars, like much turn-of-the-decade rock. Antonoff's been bringing back that style recently on tracks like Lorde's "The Louvre," Bleachers' "Alfie's Song (Not so Typical Love Song)," and the Chicks' "Texas Man." On all those songs, the guitars sit somewhere between rhythm and melody — there's something percussive about that jumpy performance style he developed in his Steel Train days. You can even hear just a bit on folklore's most conventionally poppy song, "betty," when things start to pick up during the second chorus and bridge.
Grand string flourishes
This is why the Chicks' "Sleep at Night" might remind you of Lorde. Fun. carried the torch for theatrical pop music during their short time in the spotlight, and Antonoff has grafted this trick of theirs (see: Some Nights) to pop, country, and rock music alike. After Melodrama, flickers of those warm Antonoff strings were all over his work: on songs like St. Vincent's "New York" and albums like Norman Fucking Rockwell! Even when it's not there literally, that ethereal feeling comes through via synth and guitarwork on projects like Kevin Abstract's ARIZONA BABY (which can otherwise feel like an outlier in Antonoff's discography). folklore gets both, with actual string arrangements popping up on tracks like "my tears ricochet" and "august," while a twinkly Antonoff guitar centers the wispy "mirrorball."
Big '80s synths
Early in his career as Bleachers, you couldn't not talk about Jack Antonoff and the '80s in the same breath. Big, Springsteen-esque synths were the defining attraction of the New Jerseyan's first album as Bleachers, Strange Desire. Shortly after, they became one of the first identifiable Antonoff touches on Swift's 1989 — not to mention one of the most '80s aspects of that whole album, even though Antonoff touched just three songs. He's since laid those synths on tracks by everyone from St. Vincent to Carly Rae Jepsen to Pink, even sneaking a Moog onto Gaslighter. (Oddly, all of the synth moments on folklore come courtesy of Swift's other producer on the record, the National's Aaron Dessner.) Yet "Out of the Woods" remains one of the best uses of the Antonoff synths, making an already big song into an anthem.
Bigger choruses
Sure, you're thinking: Pop music is all about the choruses. But while hit-makers like Rick Rubin and Max Martin know a hook when they hear it, Antonoff has specifically mastered the bombastic, shoutable choruses (and bridges!) that anchor his hits. It's the true through line of his work with Steel Train, fun., and Bleachers, calling back to his '80s influences and at the center of his vision for pop. You'll hear it somewhere on almost every project he touches, from Sara Bareilles's "Brave" to Pink's "Beautiful Trauma" to Jepsen's "This Love Isn't Crazy." Or you can chart it across his partnership with Swift: "Out of the Woods," "Getaway Car," "Cruel Summer," and "august." Antonoff also knows, though, a big chorus doesn't have to be loud, which no song better exemplifies than "The Louvre," when everything cuts out for a one-liner that just demands your attention.
Intimate songwriting
"Jack and I know each other so well by this point, we can communicate almost telepathically," Lorde told The New York Times Magazine as she was recording Melodrama with Antonoff. If Antonoff has a reputation as a producer and songwriter, it's not for those '80s touchpoints or his ear for big pop sounds — it's his ability to help performers say what they're trying to say. His credits include breakup albums, both of the sentimental (Melodrama) and bitter (Gaslighter) variety, along with Swift's media kiss-off, Reputation. Last year saw him branch out toward love songs with Swift on Lover and existential angst on Del Rey's Norman Fucking Rockwell!; on this year's Swift collaboration, he's helping her reflect on the past through a more complex lens. It raises the question of Antonoff's ongoing collaborations with women — some have argued that his presence on a record steals a spotlight from those women in favor of his "male genius." Yet Antonoff's intent seemed to be the opposite from the Steel Train days, when he made Terrible Thrills, Vol. 1, a compilation of women covering his songs. (He's since done two more for Bleachers.)
Just a woman with a guitar or piano
Because at the end of the day, sometimes that's all you need. This is what's made Antonoff into a pop-music meme over the past few years: If you've got a breakup or some other drama to hash out, the joke goes, he'll be there to play guitar with you when you do it. But it really goes back to the fact that he came to music not as a pop savant, like Max Martin, but as a rock performer. Lorde said she and Antonoff wrote all of Melodrama on piano, and soul-baring tracks like "Liability" and "Writer in the Dark" emerged with not much else on top. He got Swift to strip back her music for her own heart-wrenching moment on "Soon You'll Get Better," then accompanied her through an album's worth of those moments on folklore. It's the style that anchored his crowning achievement, Norman Fucking Rockwell!, and it's the crux of Del Rey's follow-up spoken-word album Violet Bent Backwards Over the Grass.