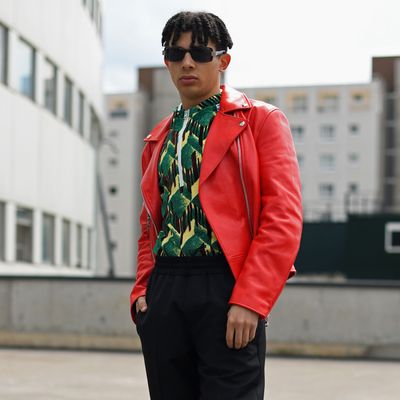 Jimothy is indeed his very own mood ring. Here are the videos that best introduce all his loveable, complex musical personas.
Photo: Vanni Bassetti/Getty Images for Acne Studios
Jimothy Lacoste is an unusual delight. While there's no shortage of U.K. rappers making it big across the Atlantic with various strains of grime, Afropop, and drill, this 21-year-old north London artist is working in his own lane to crank out dance-floor-primed singles that feel distinctly silly, poetic, and pure.
Jimothy, born Timothy Gonzalez, began producing beats in his bedroom as a young teen, honing the bouncy, keyboard-heavy hooks that have propelled his music to premium status in the lo-fi YouTube algorithms (recommended to you alongside recent stars of that realm like ChilledCow, Clairo, and the Chats). Since the release of his first single, "T.I.M.M.Y.," in 2016, he has built a dedicated online following of nearly 60,000 across his socials; his self-directed music videos consistently receive flattering feedback for their immaculate vibe-setting — "RUDE TUNE SHAG THE BIRD TO THIS," reads one under "Getting Busy!," his most popular — and his stellar serenade to the Tube, "Subway System," cemented his cult DIY status.
Life is getting quite exciting for Jimothy, who has coined that exact phrase and its useful acronym, LIGQE, since taking off on YouTube. His reliably fashion-forward looks landed him an Adidas ad campaign and a British Vogue feature, and he has since signed to Black Butter Records, home to fellow U.K. artists J Hus and Octavian. Jimothy has kept busy even in quarantine, linking up with iconic British rapper Mike Skinner of the Streets for Skinner's latest mixtape, None of Us Are Getting Out of This Life Alive, and releasing a string of new singles. In March, he dropped the house-inspired track "Humble," adapted from a freestyle he did in the back of a van, before releasing LIGQE anthem "Always Improving" and "Getting Acid," his trippy ode to mind-altering substances.
On July 24, Jimothy released his debut album, The Safeway, a project he says is "for everyone, for the whole world, for everyone who appreciates music — from young kids to pensioners." To get you up to speed for Jimothy's wide-ranging full-length debut, let us walk you through the YouTube hits that signaled early on the eccentric, emotionally resonant artist he's developed into. Jimothy is indeed his very own mood ring. Here are the videos that best introduce all his lovable, complex musical personas.
Jimothy the Eternal Optimist
"Getting Busy," Jimothy's first big YouTube hit, is a great introduction to his deadpan lyrical delivery and Fornite-style dance moves. Be sure to "watch and listen in good volume to hear the dirty bass," as the video instructs. You'll also hear crisp snares and some delicate chimes, the makings of a great Jimothy jam. Catch him shaking his hips on the campus of University College London and atop a bus stop as he muses about pursuing the simple pleasures of life: getting paid and eating pizza. We even get a glimpse of Jimothy affixed to the back of a train, an image that will become somewhat of a motif in his work.
Jimothy the Romantic
"Future Bae" is real fodder for all the fangirls with their sites set on capturing the attention of the elusive Jimothy. He looks pensive as ever in the video's opening moments, pondering his future love interest while looking out at the River Thames. Throughout the song, Jimothy lists the attributes he's after in a woman, which include "being lovely and peng," although he doesn't mind if you have a few zits. Flanked by two powerful elderly ladies, he praises femininity and invites you to "be his pretty housewife called Sally." While his stance on women's rights feels a bit regressive, his dance breaks around London are an undeniably charming form of mating call.
Jimothy the Self-Made Style Icon
If "looking like a million pounds" is your M.O., this is the tune for you. In "Fashion," Jimothy dons his signature primary color cords and promotes the premise of clothing as art. This is Jimothy at his most luxe, and it's a real treat. Cloaked in furs and leather, he dances beside the grill of a Rolls-Royce and lays down rhymes in front of a zebra. He may have swiped a bottle of Champagne from Sainsbury's supermarket, but sometimes you have to fake it until you make it. In this catchy ode to aspirational style, Jimothy proves he can rise to the occasion.
Jimothy the International Casanova
Just when you thought this young hit king couldn't get more impressive, he flexes his bilingual muscles in "I Can Speak Spanish." Filmed in the hills of the Basque country, this lush music video features Jimothy attempting to woo a potential future bae with his Spanish proficiency, courtesy of childhood trips to visit relatives in Bilbao. Alternating lyrics in two languages on top of a glimmering beat, he attempts to flatter his lady with talk of sipping wine and dancing in the cantina. She may doubt his command of a second language, but between his smooth rhymes and "shoot dance" skills, I'm convinced and fully smitten.
Jimothy the Not-So-Subtle English Expat
In a cheeky nod to brash Brexiteers, Jimothy hits the Big Apple to preach the virtues of Burberry. Rocking a Burberry puffer, a belt emblazoned with Saint George's Cross, a Burberry dress shirt and, naturally, Burberry socks, Jimothy is "feeling hella English" on the streets of New York. He hits the L train to advertise his Englishness but, as with his performance on the London Underground, no one seems to care. That doesn't stop him from extolling the brand from the middle of Columbus Circle, among the boulders of Central Park, and on the roof of a taxi cab, making it quite clear that when he wears Burberry he gets "cocky and not shy."
Jimothy the Life Coach
Jimothy is wise beyond his years in "Getting Talkative," dropping self-help tips over a retro U.K. garage beat. Surrounded by books and miniature Jimothys in an elegant living room, he confesses that the LIGQE lifestyle is a double-edged sword — with great clout comes stress and insecurity. But Jimothy knows that you've gotta focus on the passion to avoid the pain and "the slime," meaning the naysayers. Just don't succumb to clingy behavior, and you're golden: "In life you can't get possessive. If you're possessive you'll only lose the person you like. So don't be like that. Do you know what I mean?"
Jimothy the Schemer
Jimothy may be Mr. Positivity, but he's also down for some illicit activities. With sharp snares and ominous synths, "Getting Carjacked" is undoubtedly the hardest track in his catalogue. In this soundtrack for suspect choices, Jimothy spots a Mercedes and decides to break in. As real Jimothy devotees know, he is not to be messed with in a Benz. After successfully stealing the car in a ski mask and leather gloves, Jimothy does a joy ride before hitting the club and meeting up with a "friend that sells molly rocks." Jimothy's new motto: "Do I like crime? Yes indeed."
Jimothy the Luminous Dance Guru
Good luck getting this track out of your head. "Finna Glow" sounds like a victory lap for a guy who's only just gearing up to share his earworms with the world. Strutting around the swanky, pastel-hued London neighborhood of Primrose Hill in some incredible outerwear, Jimothy just wants to dance with his crew. When he finds his mate looking dejected on a bridge, he gives him one hell of a pep talk: "You might think that I'm showing off but, come on bro, you need to get off that wall. You seem a little jealy. Just watch my moves and learn." I, for one, am furiously taking notes.