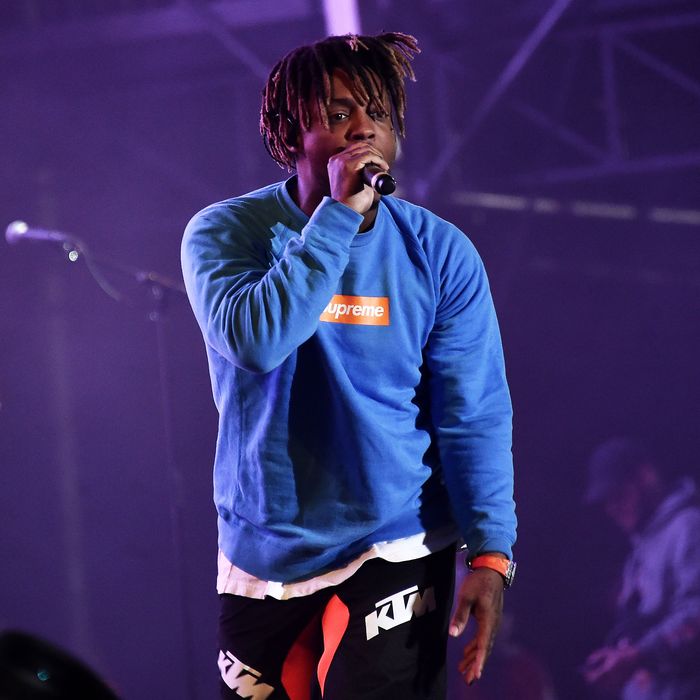 The title would have you think it's a toast to his successes, but, really, it's for the people who helped him out along the way, the fans most of all.
Photo: Steven Ferdman/Getty Images
The word "emo" followed Juice WRLD wherever the rapper went during his short life. A Vulture profile around the release of his second studio album, Death Race for Love, even attempted to distance him from the label in its headline: "Juice WRLD Doesn't Want to Be Emo Anymore." His relationship to the genre had always been more about raw, confessional lyrics dealing with addiction and depression. A punk and metal fan, he liked a good guitar riff, but trap beats seemed to fit his freestyling flows better. Between the lyrics and the influences, he pioneered a whole rap subgenre alongside peers like Lil Peep, XXXTentacion, and Lil Uzi Vert in the late '10s, but what he really cared about were the fans who found comfort in his music — because he knew where they were coming from. "There's like a vibe you get when you connect with somebody that's going through the same shit that you're going through," he told Vulture in 2019.
Juice WRLD's posthumous album, Legends Never Die, came out July 10 with less than a week's notice, seven months after the rapper died at 21 because of an accidental drug-overdose-induced seizure. Like his previous two solo albums, it's overflowing and wandering. But it caps off with one last high point, an anthem to Juice WRLD's legacy and fans. "Man of the Year" sounds like the '00s pop-punk anthems he loved by Fall Out Boy, with crashing drums and a chorus begging to be screamed at the top of your lungs. Yet unlike the album's earlier guitar-laden Marshmello collab "Come & Go," it doesn't sound forced — this is a Juice WRLD song through and through.
Juice WRLD confronts his anxieties once again on "Man of the Year," but he doesn't wallow in them. "JK, Juice WRLD, you're so awesome!," he assures himself in the first verse, after he doesn't like who he sees in the mirror. (Later, he boasts, "Big dick too, probably won't fit in your mom!," in case you forgot that he was only 21.) But even though he's "still got problems" after all the fame from his breakthrough hit, 2018's Sting-sampling "Lucid Dreams," as the song opens, "Man of the Year" isn't about Juice WRLD. He dedicates half of the second verse to his girlfriend at the time of his death, Ally Lotti: "I got to admit it, she helped me find where I belong," he says. "Stayed down with me through all of my rights and my wrongs." It's closer to shouting than rapping or singing, one of his most energetic and passionate deliveries ever.
Then there's the fans, whom he addresses in the chorus. "I know my lyrics saved you," he says. "I know I helped you break through." Even to someone who isn't a dedicated Juice WRLD fan, it's affecting to hear the rapper accept the profound impact he's had on his audience. He insisted he didn't let worries about his music get to him, but he did have those worries: "Is that subject matter still going to be relevant? Is that still gonna be the sound?," he wondered in that 2019 interview. He answers himself on "Man of the Year" with a resounding, powerful yes.
Juice WRLD sets up the song like a toast, opening with a "cheers." The title would have you think it's a toast to his successes, but, really, it's for the people who helped him out along the way, the fans most of all. He deserved to toast them live, where the song surely would've been a stunner, and hear them screaming that chorus right back at him. Instead, he's given the song to them as one last, short reminder of the brief journey they shared together.