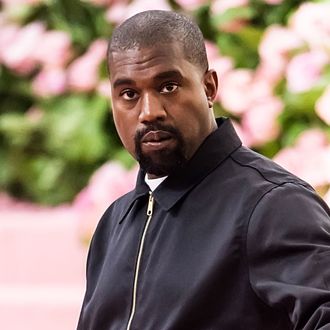 Photo: Gilbert Carrasquillo/GC Images
Just a handful of days following the release of his new song honoring his late mom, "Donda," Kanye West tweeted out an announcement for an album of the same name, set to drop next week on July 24. He then deleted the announcement minutes later, but not before eagle-eyed fans (who should really know better by now) got a look at the track list. According to the handwritten list, Donda will include the tracks "Wash Us in the Blood" and "New Body," though it's unclear if the latter will include Nicki Minaj's verse, which has already become a bona fide TikTok anthem all on its own. Other titles include "In God's Country" and "God's Country," which suggest that Donda is likely the new name for West's previously announced new album, God's Country. West has yet to make any formal announcement for Donda that he hasn't deleted, so for now, it's best to take the announcement and the release date with several pinches of salt.
Update, Tuesday, July 21, 8 a.m.:
In a string of late-night tweets, Kanye West posted a revised track list for Donda. The album now has 12 tracks as opposed to the 20 he tweeted and deleted. "DONDA coming this Friday," he captioned it, confirming the release date. The new version doesn't have West's recent drop with Travis Scott, "Wash Us in the Blood," but still features "Donda" and "New Body," a leaked track that was supposed to go on Yandhi, then Jesus Is King. It's still unclear if Nicki Minaj's verse will make it, especially since the new track list calls it the "Ye Edit." While the tweet survived through the night without being deleted, we all know a Kanye West release date is more like a suggestion. Donda allegedly out July 24.