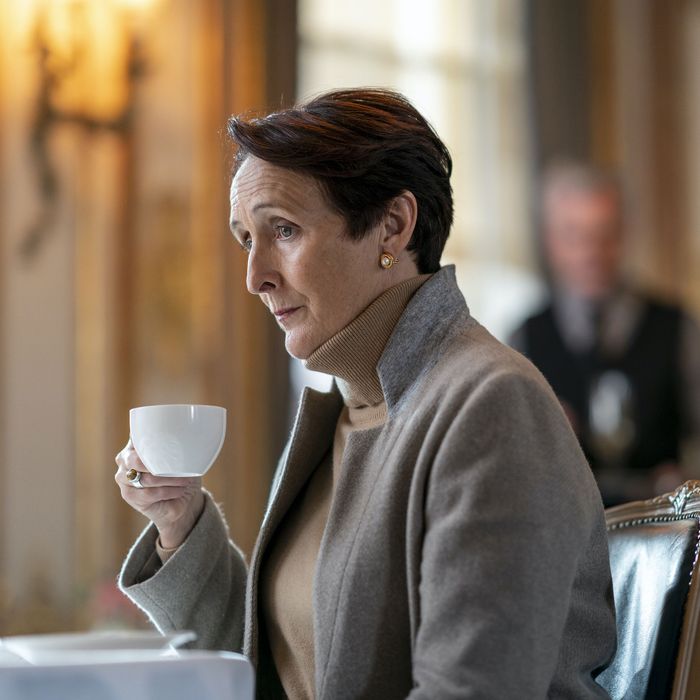 Photo: Des Willie/BBC America
Killing Eve has some of the most sublime costuming on television. Villanelle's clothes are as colorful and unpredictable as she is, exuding an irreverent sensuality and an indulgent whimsy. Then there's Eve, who perpetually looks like she walked out of an Eileen Fisher ad, decked out in understated neutrals and shapeless slacks and jackets that move effortlessly on her frame.
But my personal Killing Eve style icon is Carolyn, a woefully underappreciated figure in the show's sartorial discourse. There's a complete dearth of coverage about her impeccable costuming. She's underrepresented in Killing Eve look wrap-ups, and despite numerous pieces (rightfully) focusing on Villanelle's lust-worthy outfits, I could only find one dedicated to my frigid queen. Worn on TV, a website that compiles looks from shows and tracks down the exact items as well as dupes, features a single Carolyn look: a stunning tree branch–patterned Erika Cavallini overcoat.
Fiona Shaw, who landed an Emmy nomination for the role last year, puts it best: "There's something iconic about Carolyn." Her style is not quite as bold as Villanelle's nor as subdued as Eve's. She dabbles in graphic patterns like the aforementioned coat, and she often complements earth-toned outfits with standout accessories like a bold scarf or a fur hat. But generally speaking, we most often find her in neutral tailored clothing that is both high-fashion and high-function.
Shaw says Carolyn's style started out simplistically. She had suggested they look to the sartorial choices of real MI5 agents, which accounts for her understated introduction in season one. From there, Carolyn's style — in part a nod to '70s Cold War–era fashion — truly "emerged." In the most recent season, Shaw suggested Carolyn's style take the occasional turn to the "perverse," like the choice to wear a white coat to her son Kenny's funeral.
Carolyn, Shaw says, is someone who dresses intentionally for her surroundings. "It's the daringness of Carolyn, to literally dress for the place she's in," she explains. "She's always got something that replies to the place she's visiting," whether it's an Italian black dress in Italy or that fur hat in Russia, which was added to the wardrobe after Shaw showed the costumer her own, similar hat. "She's willing to play the icon, even to herself."
After playing the role for three seasons, Shaw thinks there's a bit of Carolyn in her and now a bit of herself in Carolyn. Like Carolyn, Shaw likes to be comfortable, and she enjoys Carolyn's ability to balance functionality and high fashion. She's foregone jeans entirely for trousers, and she even went out and bought the same Armani jumpsuit Carolyn wore in season two. "In the last three years, I'm dressing much better in life because I can see how facile it is, what a joy it is," she says.
Carolyn's style, like her hair, is timeless and consistent. Save for the change in accessories, she almost always appears in a long wool coat, tailored slacks, and a silk blouse. And you'll never see Carolyn in heels: Instead, she opts for soft, Italian-made flats that are both comfortable and beautiful. It's an interesting stylistic choice. Too often, female characters finish off their business looks with a pump, but that would be inconsistent with the kind of woman Carolyn is. "She dresses how she sounds, doesn't she?" says Shaw. "She's very accurate. She's very neat, she's very sure, and she's very stylish and slightly flamboyant."
When you break down the individual pieces of Carolyn's uniform, it's apparent how refined and singular her style is. Her blouses are usually silk; she loves a good collarless button-down or V-neck blouse. When she's not in a silk blouse, she's often in a turtleneck, another power piece in her wardrobe. The silhouette of a turtleneck up around her face frames her angular features, but the softness of the fabric complements the glints of levity in her demeanor. These tops are paired with perfectly tailored ankle-length slacks, with a mid-rise, again in a neutral, cool tone like navy or gray.
But the raison d'être of Carolyn's wardrobe is her coats. In nearly every scene, her outfits are topped off with exquisite overcoats, usually in a refined wool or linen blend and very occasionally in leather. "A lot of it is based on me in that I like nice jackets and I like nice coats," Shaw says. The coats accentuate her height and stature, skimming just above her knee. They're soft without being unstructured; they're more man-tailored than Eve's collection of windbreakers, but they never look stiff or conservative, because Carolyn is neither. Sometimes she opts for a monochromatic look, pairing a brown overcoat over a brown blouse, while other times she opts for a timeless contrast of a navy jacket with a white blouse.
Carolyn's impeccable taste never relents, even in the comfort of her own home. A scene in the most recent season found her in her living room, cleaning out her late son's belongings in a lush cashmere loungewear set. Later, she stands in her kitchen in a beautiful black bathrobe with contrasting white lace — a rare moment of unchecked delicateness, reflective of the vulnerability Kenny's death brought out in her. These choices, too, are a nod to Shaw's personal style: Like Carolyn, she lounges at home in cashmere sets. The stunning, blue-and-white French dressing gown set that appeared in season two is Shaw's own.
Shaw says Carolyn's love of clothes communicates her passion for life and that her commitment to comfort and quality brings a timeless elegance to her every look. And while Carolyn's fashion sense hasn't generated as much celebratory coverage as Villanelle's and Eve's looks, Shaw has still met many women who go tell her they're fond of her clothing. "She's sort of beyond fashion," she says. "She an eternal elegance."