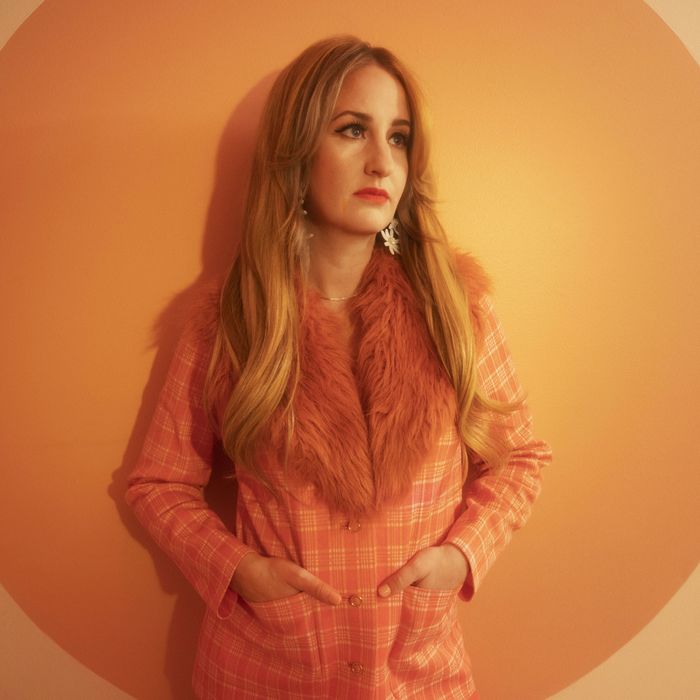 "I'm just soaking in the unemployment and the misfortune as I've done in the past. I'm sure that I'll gain something from it — maybe new perspective, or maybe good songs."
Photo: Bobbi Rich
The spring release of Margo Price's third album, That's How Rumors Get Started, was supposed to be a pivotal moment for the Grammy-nominated singer, multi-instrumentalist, and songwriter — "a rebirth of sorts," she describes it.
And then the tornado hit.
On March 2, Price threw the first Rumors listening party in Nashville, where a small crowd heard the new material for the first time. Instead of the familiar twang of outlaw country she'd embraced on prior records, guests were greeted with free-wheeling rock and roll and synthier anthems begging for repeat play on a dive-bar jukebox. She and her husband and collaborator, Jeremy Ivey, went out for a nightcap with friends in the East Nashville neighborhood of Five Points. The tornado — which killed 25 people and injured many more — touched down and decimated the area shortly after they left the bar around midnight. Nashville was thrown into a state of emergency that intensified with the onslaught of the coronavirus pandemic, and the crisis got personal for Price when Ivey came down with COVID-19 in early April; soon, so did her Rumors producer Sturgill Simpson. Then, on April 7, Price's dear friend and mentor, John Prine, died following complications from the virus.
"There's this pessimist that lives in the back of my head that says, 'You're cursed!'" she's able to joke now of the unfathomable lead-up to Rumors, which was pushed from its mid-May release date to July 10. "It's just kind of the way that my career has been — a lot of ups and downs. You can't have redemption and a rise from the ashes if you don't have struggles. I was joking with my manager the other day that if I don't have a certain quota of disappointments in my life, then my art and my writing will struggle." She laughs. "I'm just soaking in the unemployment and the misfortune as I've done in the past. I'm sure that I'll gain something from it — maybe new perspective, or maybe good songs."
Wry realism courses through the 37-year-old's music. Anyone who's listened through her 2016 debut, Midwest Farmer's Daughter, and its follow-up, 2017's All American Made, understands it exactly. She revisits her most personal tragedies — the death of her infant son, Ezra; the loss of her family farm to the farm crisis of the '80s — with unwavering clarity in her voice as the stories unfurl. Price and Ivey have faced countless changes, many of them favorable, since they had to sell their car and her engagement ring to finance MFD, and the "ups" grew more frequent than the "downs" as her fans grew in number, and members of country's old guard, like Prine, Willie Nelson, and Loretta Lynne, voiced their approval as her star grew.
With Ivey now on the mend and their frightening experience with COVID-19 in the rearview, Price is settling in for a different season: tending to her tomatoes, hanging out with their two kids by the pool, counting her blessings, and trying to make the silver lining linger after the storm.
I've been thinking about how this album fits into your larger story, and how the context around the songs has changed — as has the world that shaped them. Jeremy co-wrote many of them, and music has always been such a huge part of your marriage. How did Rumors originally impact your relationship with him, creatively and otherwise, when you were making it together?
I knew, personally, that I wanted to do something different. He and I just kind of went back to what we had done in Buffalo Clover, which was studying great rock and roll songs. I knew that it was going to be a really important time for us to write, and we were on the road constantly. We did a lot of the writing just really touch-and-go: Sometimes he would be home and I would be on the road, and we'd write back and forth to each other, sending little scratch demos, or just texting lyrics back and forth — I'd write a verse, he'd write a verse. Other times, when he was out on the road with me, we'd take over the back lounge of the bus and work a thing out, and then we'd work on it later in the hotel room, always just trying to fit it in. I wrote "Prisoner of the Highway" on a flight out to Los Angeles. I was opening a show for Willie Nelson at the Hollywood Bowl. I had just found out I was pregnant, and there was just a lot of stuff going on. Jeremy and I had been through a lot of changes with my career and how often we were even seeing each other sometimes. It put strains on our marriage. It really tested it. "I'd Die for You" and "What Happened to Our Love" — they were hard to write, but they were important to write.
Did the traumatic experience you just lived through with Jeremy change the meaning of these songs at all?
It feels like everything changed. "Letting Me Down" and some of the songs, they're just hitting different, you know? Of course, [there was] the tornado, [and there's] the struggle that is going on in Nashville right now to rebuild and stay afloat. People are unemployed. There have been these protests, which are amazing — it's a revolutionary time, but everyone feels so divided. There's such hate being spewed by the president right now. "I'd Die for You" completely takes on … not even a new meaning, because there have always been struggles, and these have always been issues. Whether they're in the light or swept under the rug, they've always been there, but it just feels like we're at a turning point right now. I don't know where it ends.
I noticed that you handed your social media off to Adia Victoria to introduce your fans to her music, and that you've posted protest flyers to encourage your fans to attend Black Lives Matter protests alongside you. I've been thinking of the progress that's been made in Nashville, too, and there's a long way to go, but it seems like there's a push for actual change, from Lady Antebellum and the Dixie Chicks changing their names to a long-overdue awareness of racial disparity in country music. [Ed. Note: Lady Antebellum rebranded as Lady A, a moniker already in use by Seattle-based blues singer Anita White; this week, the group sued her and are seeking rights to use the name "Lady A." Price's response: "Does the A stand for Antebellum or asshole?"]
I've been talking about that for a few years. When [reporters started] shining a light on country radio and how sexist it was, I felt like I was in the background saying, "How many Black artists do you hear on there?" From the award shows to all the organizations that say that they're country and they've stamped their name on the genre and ruined it, there's also gotta be accountability for the lack of diversity. There has to be accountability for the double-standards of beauty, from men and women and an older generation. It's pretty clear what they want: they want sheep that are just gonna go along with whatever they say. Not speak out against gun control, not speak out against politics that they don't like, or abortion rights, or whatever the hot topic is going to be. It's gotta change, but I don't think it's going to be happening anytime soon, and I know there's a lot of artists that have not even uttered a word about Black Lives Matter. There are people who are content to stay quiet, because then they can keep that right wing crowd.
Is the potential there for progress, even if it's slow? Is it different this time, even if there will always be idiots popping into the comments on your Instagram posts telling you to "shut up and sing" and such?
We have a lot of work to do. I think there's a lot more people that are willing to fight for civil rights than there was in the '50s. If they made change and progress back then, I definitely know that we can do it now … I do think there are a lot of allies out there, a lot of great people who are both liberal and like country music. In a sense, it was kind of why I was trying to switch genres, and just separate myself for a moment from this organization and the times that we live in. But there's probably even more sexism in rock and roll, so [laughs] it's probably not gonna make a damn bit of difference.
Sturgill Simpson produced Rumors, and he also lends his voice and guitar to "Letting Me Down." How did working with him on this album introduce you to a new side of him?
We sang together a little bit. We really just picked guitars on a porch and traded songs a long time ago. I've always respected his ability to be straightforward. I went to him and said, "I want to make a rock and roll record," and he said, "All right, cool." I think both of us have been pigeonholed in a way that, you know … it's these expectations that we have to be museums to a genre or something, or a time period. The best thing about being in the studio together is just the ability to be transparent about how we want it to sound, or what songs are the best, how we should orchestrate everything. I really did want to be able to be open to other peoples' suggestions and say, "Let's put a different chord or different bridge in there." I was more open than I expected myself to be. We were all just trying to serve the song.
It's been really wonderful to see how you've been embraced by your heroes in the last few years. You've been performing regularly with Nelson, for his Farm Aid concerts and elsewhere; you were close with the late, great John Prine; Loretta Lynn gave her blessing so that your daughter Ramona could share her middle name. Do you continue to learn from them in new ways? Is that a perpetual education, and does it continue to influence your work?
I've been so lucky to meet the coolest people. One of the last trips I took, I went to Carnegie Hall and hung out with Iggy Pop, and Patti Smith was on the bill, and I had her sign my copy of Year of the Monkey. I think more than anything it showed me how to run a business and to also still be humble and down to earth and kind. I've met a couple people that I looked up to a great deal, and then they disappointed me. When you do get to meet someone like John Prine … we recorded together when I was pregnant, it was May of last year. He had actually just had a stroke, and he was not feeling the greatest that day, and we were tracking a version of "Unwed Fathers," and of course he and his wife, Fiona, had the idea to donate all the proceeds from the song to the ACLU because of what was going on with abortion at the time — and still is right now. Just seeing his ability to work through pain and still have a sense of humor, he was driven until the very end. They wanted to shine a light on the injustice of telling women what they can or cannot do with their bodies. That was a really special moment.
Rumors drew new connections between you, your music, and your family — as a mom, as a wife, as well as an artist who's still experimenting with her sound. Was there any lesson that the album taught you, or shaped how you'll move forward?
I think just taking my own advice, trying to really just be in the moment and be present and aware of what's going on, and to give back to the earth and not take from it. It's just really slowing down my way of life. Even though it's been painful at times, it's been rewarding to see the sky look a little clearer and the pollution going down. Those things, you've got to be really grateful for, because we don't know what's going to happen in the next ten years. There could be something where we have to wear masks outside because the air wasn't clean. We're not promised a day; we're not promised anything. I really am going to spend all this time writing and reading and recording. That's kind of more important than playing a show and playing the same songs over and over again. I got work to do! Fiona Apple's record and her work ethic really inspired me. When you take longer on something, it's going to show, and That's How Rumors Get Started was; it was a fair amount of months, goin' in and working on it. I've put a lot more time in this than I did in the first two [albums], because I just wanted to get those out. I didn't have a lot of budget, obviously, so it was nice to just be able to go into the studio, pay for the studio time myself, do everything on my own terms and own timeline. I'm gonna sell the harvest and plant for next season.
You left Third Man Records to release Rumors with Loma Vista, and it's a fitting change — this album is a fresh start in many ways. Is this related to the shifts you've made as an artist, and this gravitation toward something new?
I'll always be rooted in traditions that I fell in love with, whether it's blues, or folk, or country, or soul, gospel, rock and roll. All of those things have a line that runs through them. I very much know that Jack [White, Third Man founder] feels that way about music and tangible things that are real. It was a really seamless transition to Loma Vista, an independent label as well, and they knew exactly who they were dealing with — they're not trying to make me something that I'm not. That feels really good. Also, my vinyl is still being printed at Third Man in Detroit, and it's pretty cool that I'm still able to have a piece of my past going forward into the future. I'm looking to shed the old skin in many ways. I think that you have to keep changing and moving in order to grow, because I see a lot of people just using the same formula, the same producer every time. I'm doing this because someone else did it and it's successful. It's boring.
This interview has been edited and condensed for clarity.