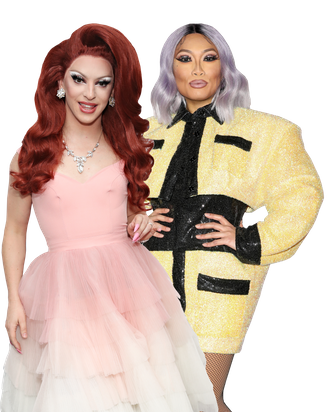 Shea Couleé may have taken the crown on the finale of RuPaul's Drag Race All Stars 5, but not without some fierce competition from fellow finalists Miz Cracker and Jujubee, who turned it out between performing verses of "Clap Back," walking the runway in their best All Star Eleganza, and lip-synching to Janelle Monáe's "Make Me Feel." Cracker and Jujubee entered the competition as two different kinds of fan favorites: Cracker as a darling of New York City before her run on season ten; Jujubee as a two-time Drag Race finalist, lip-sync assassin, and iconic narrator. Yet they still had more to show this time around. Cracker entered the finale with the best track record, with three wins under her belt and two Lip Sync for Your Legacy victories, while Jujubee snatched her first-ever win on the competition. In the days leading up to the finale, Vulture spoke with Juju and Cracker separately about the highs and lows of their AS5 runs.
On AS5 versus their past seasons
Miz Cracker: On All Stars I learned, if no one else enjoys you, you may as well enjoy yourself. I think I learned that you don't know what tomorrow brings. You may not be here tomorrow. So you may as well live today fully. I really think that's what changed.
Jujubee: I just feel more in the moment. Which can sometimes drive me crazy, 'cause I like to get a little lost. This time around, I was prepared to do anything and everything. And I think that I'm probably the most mentally strong, compared to my times before. So that's what felt different for me. And I was there to have fun!
On the other girls
Cracker: I got to work with a lot of girls I never got to work with before. It felt like meeting legends.
In your behind-the-scenes interviews, you said you knew Shea would be in the competition, and that to you she's one of the best drag queens in the world. How did it feel to compete with her? 
Cracker: It was exhilarating! Because you don't get to meet a true rival every day. So to compete with the best of the best is exhilarating.
Jujubee: I seriously felt like grandma Barbie. Just like Mariah Paris Balenciaga said! And as I was putting on that look that [first] morning, I was like, Juju, what are you doing putting on this gray-purple hair, they're gonna call you an old lady, and that was the first thing I hear! So Alexis and I, yeah, we're like the aunties that show up late to a backyard barbecue. You take all the food and run away. We were excited to be invited!
On their comedy queen styles
Jujubee: I have this really silly sense of humor, and I'm somebody who just laughs at things that I say. Like, I'll laugh before I say something. I'm glad that people can see that I'm just being funny, I'm being stupid.
Cracker: I went into season ten going, "I'm not going to be the Jewish queen!" Then I watched it, and I was like, "Oh. I'm the Jewish queen!"
But there is this tradition of strong, funny Jewish women. 
Cracker: I don't try to be a part of it, I try to honor it.
Who are your influences? 
Cracker: Sarah Silverman. Nicole Kidman. My beauty icon is Nicole Kidman. And Sarah Silverman is my comedy icon because she tackles so much political and social stuff. And she makes a lot of mistakes, but she fixes it.
On their iconic moments
Cracker: When I first did that Snatch Game, I thought it was the worst Snatch Game that had ever been done in the history of Snatch Game. So we made [this Instagram] video to make fun of me, along with the world. But it didn't turn out to be that bad! It turned out to be okay. It was fine! I don't think anyone was falling out of their chairs, but I don't think anyone was throwing vegetables at the screen, either.
During the comedy challenge, Blair says, "This is Miz Cracker in the club." And that's really the key to you winning the challenge. The show captures some of the live energy, but not all of it. What's it like for this season to come out at a time when you can't be in the club, hosting viewing parties and getting that reception live? 
Cracker: It's a nightmare, because there's nothing more kind and generous than an audience full of live people, and there's nothing more cruel than the internet. And all I have now is the internet.
Jujubee, you had so many moments that just turned into these really quick memes, like, "a sensible 74" as Eartha Kitt, or "My name is Ping but everybody calls me Amber."
Jujubee: On paper, none of that is that funny. But in that moment it worked out, and I'm glad that it resonated with people. And they could see how silly and incredibly stupid I am.
You also had some of the most amazing confessionals seen on Drag Race. When you were going into those interviews, what is that like?
Jujubee: I actually approach it like I'm going into your head. I look at confessionals as though I am sitting in somebody's brain, and I am like the living-room set, and I'm just saying all the things that you're already thinking. And sometimes it's hilarious — I mean, I don't remember everything that I say, and when I see it, I'm like, [laughing] Oh my gosh, I need to shut my mouth.
On their struggles
Jujubee: Coming into the competition sober helped me go through it with the clearest mind possible. That's what I'm so grateful for. Being able to talk to RuPaul about my struggles, and having Ru relate to me, was very needed at that moment.
Cracker: You learn to swim with the current instead of against the current when it comes to neuroses; to go with them instead of battle them.
Was it validating to go into the finale with a solid track record, between lip-sync and challenge wins? Did that quell any self-doubt?
Cracker: I'm Jewish. I'll always have anxiety about what I've accomplished.
On coming back home
Cracker: I am building a Crackville. I had a very troubling childhood, and I relive and rework my memories by making the houses that I grew up in. So it's like therapy, to reimagine them as these little places that I've made, that are better. I was cared for in my mother's house, in my godmother's house, in my grandmother's house. I moved between those houses.
That's the most interesting quarantine hobby I've heard of so far, but you really do sound like Toni Collette in Hereditary. 
Cracker: [Laughs.] I know! When I first saw Hereditary I was like, "That's me! I am her!"
Jujubee: Being away from [my cats] is actually really, really hard, because I really do love them. They are my life, they run my life, and everything is scheduled around them because that's how it is. My friend watches them, and I think they love him more — which annoys me, but it is what it is. My cats get everything they want, and it's all because of RuPaul, so thank you, Ru!
What was it like to come back to them after the competition?
Jujubee: I was so excited to pick Mister up and squeeze him — it was, ugh! I like it when I seek love from my cats, and they give me a little bit and then just ignore me for the rest of the week. Like, I was looking forward to that.