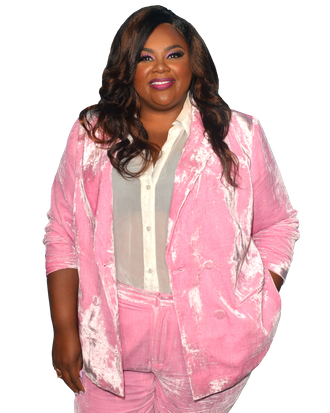 Photo: Jerod Harris/Getty Images for Comedy Central
If one show has been getting us through quarantine, it's Nailed It!, Netflix's reality competition version of those baking fails you laugh at all over social media. The fourth season came out April 1 — an early bright spot in our pandemic-induced isolation, thanks in no small part to its effervescent and charming host, comedian Nicole Byer. The Emmys recognized that this morning, not only nominating the show in outstanding reality competition for the second year in a row, but nominating Byer in Outstanding Host for the first time. (She's also the first Black woman ever nominated in the category's 13-year history.) Vulture caught up with Byer for a few minutes after the news of her nomination to talk about the highlights of Nailed It! season four, being nominated against her friends, and her quarantine baking.
So Emmy nominee Nicole Byer, how does it feel?
Hell yeah dude, it feels fucking good!
You get to tack that in front of your name all the time.
Yeah, for the rest of my life.
It looked like you woke up to some texts, how many people were texting you this morning?
I woke up to like five texts that were like, "Congrats on Nailed It! being nominated." I guess the announcements weren't over yet. And then one of the execs from Netflix was like, "Nicole, congrats!" and I was like, "Yeah, the show got nominated again, what a treat!" She was like, "No bitch, you!" And I was like, "Wait what?" So it was honestly a very Nicole way to find out something.
How was season four of Nailed It! for you?
Season four was fun, they indulged me a little bit more. Like, in one episode, I roll off a table. [Laughs] And I'd been asking all season, I was like, "Can I roll off the table during one of the panics?" I think they thought I was kidding, cause they like were winding down, and I was like, "Guys, I still haven't fallen off a table yet." And they were like, "Oh. Uh, okay." And then they did it. So I still think it was funny.
What's next on the list of things you have to do on the show?
Um, I wanna fall out of the ceiling.
[Laughs] Oh my god.
It's real dumb, but I really want to fall out of the ceiling.
Thinking back through the contestants and the cakes on season four — if you were giving out some awards, who would you be awarding?
Larry, he made a sloth cake that made me laugh so hard. And then he was just this gentle, kind man. I'd give him the award of best contestant.
It seems like everyone's been baking in quarantine, have you been baking much?
I baked cookies, just like cookies out of a bag. And then I tried to make my mom's cream cheese sugar cookies, but they were really bad and they ended up being like weird little biscuits. But my roommate, he ate them instead of his boyfriend, so they weren't that bad.
So, not quite a failed it.
Yeah.
In your category, you've been on RuPaul's Drag Race, you did a crossover with Queer Eye — what's it like to be nominated against friends?
Oh, it's incredible. I feel like everyone in this category is just the most wonderful person. Ru is just truly one of the most nice, kind people I've met. And Ru doesn't need to be — Ru is so successful, like I'm just a little person in comparison. And the Queer Eye boys, they're just so nice and kind and wonderful. Amy Poehler [for Making It], I perform at her theater, so to be nominated with her is kind of nuts.
I know you're a big Drag Race fan, did you catch the finale of All Stars 5?
Of course I did!
What did you think of it?
I love Shea Couleé, I think she deserves everything she ever gets. But I also really like Jujubee. And I also really liked Miz Cracker! It was a really solid top three, I think.
So, do you know where you'll put your eventual Nailed It! Emmy?
Maybe in my bathroom, I don't know, because people use bathrooms? So then someone will have to see it.
You're used to being the one judging things. Now that it's everyone else judging you for this award, what's your final pitch?
Just give it to me, I'm cute! That's it!