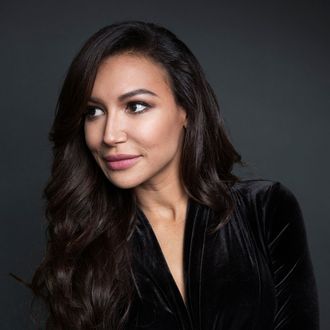 Photo: Taylor Jewell/Invision/AP/Shutterstock
Glee actress Naya Rivera is presumed dead by authorities in Ventura County, California, after going missing in a potential drowning. On Wednesday, July 9, Rivera's four year-old son was found floating alone on a rented boat in Lake Piru in Ventura County. Per NBC Los Angeles, Rivera rented a pontoon boat at the lake with her son that day around 1 p.m. The Ventura County Sheriff Department responded to a report of an unaccompanied toddler found on a boat in Lake Piru around 4:48 p.m. The child has been confirmed as Rivera's son, but Rivera's whereabouts are currently unknown. Multiple news outlets have reported that Rivera and her son went swimming and that her son returned to the boat while Rivera did not.
As of Thursday morning, authorities have reportedly shifted their efforts to a recovery mission, presuming Rivera to be dead. TMZ reports that the lake only has five to nine inches of visibility and that local officials say it typically takes seven to ten days for a body to rise to the surface. Authorities are investigating the incident as a possible drowning, and a dive team and air unit were deployed in the search Wednesday evening. "Happening now: Search for possible drowning victim at Lake Piru," tweeted the Ventura County Sheriff Department at 9:30 p.m EST. "@VCAirUnit @fillmoresheriff on scene. SAR Dive Team and PIO on the way." The search-and-rescue operation was suspended for the night and continued on Thursday, July 9, "at first light," with assistance from dive teams from "throughout the region."
Update, July 9: The search for Naya Rivera has officially shifted from a rescue mission to a recovery mission. In a news conference held at 3 p.m. PST, the Ventura County Sheriff's department confirmed that the actress is presumed dead by authorities after disappearing during a boating trip with her 4-year old son on Wednesday afternoon. Per the media briefing, "approximately 50 sheriff's personnel, along with a helicopter, boat crews, divers, and unmanned aerial vehicles searched the lake for five hours Wednesday evening" before suspending the search at 10 p.m. due to "zero visibility in the water and dangerous conditions for the divers."
Approximately 100 personnel aided in the resumed search for Rivera which began again "at first light" on Thursday, July 9. Even in daylight, the divers experienced "less than one foot of visibility" making the recovery operation "a very slow process" according to the Ventura County Sheriff's department. "We're presuming that an accident happened and we're presuming she drowned in the lake," stated Ventura County Sheriff Deputy Chris Dyer during the news conference.
Update, July 10: The Thursday recovery mission for Naya Rivera has been suspended for the night and will continue on Friday, July 10. Max O'Brien, a diver, described the lake as having "one to two feet" of visibility with some clearings having "three to five." He also described the lake as having "a lot of tree branches and overgrowth from when the lake was lower" and stated that the divers were searching "a heavy brush bottom." The Ventura County Sheriff's Department has released audio of the 9-1-1 call, in which the caller reports a child found in a boat alone without a guardian. TMZ released footage of Rivera and her son pulling up to Lake Piru in her G-Wagon, getting into the pontoon boat, and heading off into the lake.
Update, July 13: The Ventura County Sheriff's Department confirmed that a body was found at Lake Piru this morning. "The recovery is in progress," the department wrote. A news conference will follow later in the day.
This is a developing story and has been updated throughout.