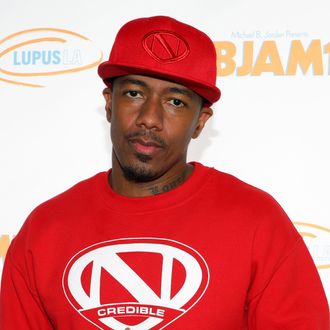 Nick Cannon has been fired by ViacomCBS over anti-Semitic remarks Cannon made on his podcast, Cannon's Class. In the episode, which was filmed last year but posted two weeks ago, Cannon was in conversation with rapper Professor Griff, who left Public Enemy in 1989 after making similar anti-Semitic comments in a Washington Post interview. Cannon asserted the truth of a number of conspiracy theories in the episode, referencing "the Rothschilds, centralized banking, the 13 families, the bloodlines that control everything even outside of America." Cannon insisted that the conversation was not hateful, because "Semitic people are black people." "You can't be anti-Semitic when we are the Semitic people," he said. He also voiced admiration for Nation of Islam leader Louis Farrakhan.
In a statement on Facebook yesterday, Cannon addressed the episode, writing, "I do not condone hate speech nor the spread of hateful rhetoric," but did not directly apologize for the podcast episode, instead saying, "I encourage more healthy dialogue and welcome any experts, clergy, or spokespersons to any of my platforms to hold me accountable and correct me in any statement that I've made that has been projected as negative." Cannon elaborated on his thoughts in a statement to Fast Company, saying, "There's no malice or negative intent, but in a time like 2020 we got to have these conversations." Responding to criticism he faced for not apologizing in his Facebook statement, Cannon said, "To me apologies are empty. Are you forcing me to say the words 'I'm sorry'? Are you making me bow down, 'cause then again, that would be perpetuating that same rhetoric that we're trying to get away from."
ViacomCBS responded to the controversy today in a statement announcing that they have "terminated" their relationship with Cannon. "While we support ongoing education and dialogue in the fight against bigotry, we are deeply troubled that Nick has failed to acknowledge or apologize for perpetuating anti-Semitism, and we are terminating our relationship with him," the statement said. Cannon had a longstanding relationship with ViacomCBS, including hosting shows on Nickelodeon and MTV like Wild 'N Out and Lip Sync Battle Shorties.
Update July 14 at 9:35 a.m.: Nick Cannon is wildin' out for Wild 'N Out. In a long Facebook post titled "Truth & Reconciliation," the actor and host demanded that ViacomCBS give him ownership of Wild 'N Out, the TV show he created for MTV and VH1. "If I have furthered the hate speech, I wholeheartedly apologize," he wrote. "But now I am the one making demands. I demand full ownership of my billion dollar 'Wild 'N Out' brand that I created, and they will continue to misuse and destroy without my leadership! I demand that the hate and back door bullying cease and while we are at it, now that the truth is out, I demand the Apology!" He went on to say he feels "silenced" and accused ViacomCBS of banning "all advertisement [sic] that supported George Floyd and Breonna Taylor who we are still seeking justice for." "I also went as far to reach out to Ms. Shari Redstone, the owner of Viacom, to have a conversation of reconciliation and actually apologize if I said anything that pained or hurt her or her community," he continued. "Dead Silence! So that's when I realized they don't want a conversation or growth, they wanted to put the young negro in his place." After listing his career accomplishments, he said he received an "outpouring of love and support from the Jewish community" and an invitation to Israel, "which is a lifelong dream." "As for Viacom, who is now on the wrong side of history," he wrote, "I will continue to pray for you."
Update, July 15, 11:30 p.m.: While ViacomCBS has cut ties with Nick Cannon, it looks like Cannon's gig hosting FOX's The Masked Singer is safe and sound. Shortly after Cannon apologized for his anti-Semitic rhetoric on Twitter, FOX has issued a statement stating that they will continue working with Cannon. "When we were made aware of Nick Cannon's interview with Richard Griffin on YouTube, we immediately began a dialogue with Nick," said FOX's SVP of Corporate Communications Lee Eisner. "He is clear and remorseful that his words were wrong and lacked both understanding and context, and inadvertently promoted hate. This was important for us to observe. Nick has sincerely apologized, and quickly taken steps to educate himself and make amends. On that basis and given a belief that this moment calls for dialogue, we will move forward with Nick and help him advance this important conversation, broadly. FOX condemns all forms of hate directed toward any community and we will combat bigotry of any kind." Apparently, one network's trash is another network's treasure.