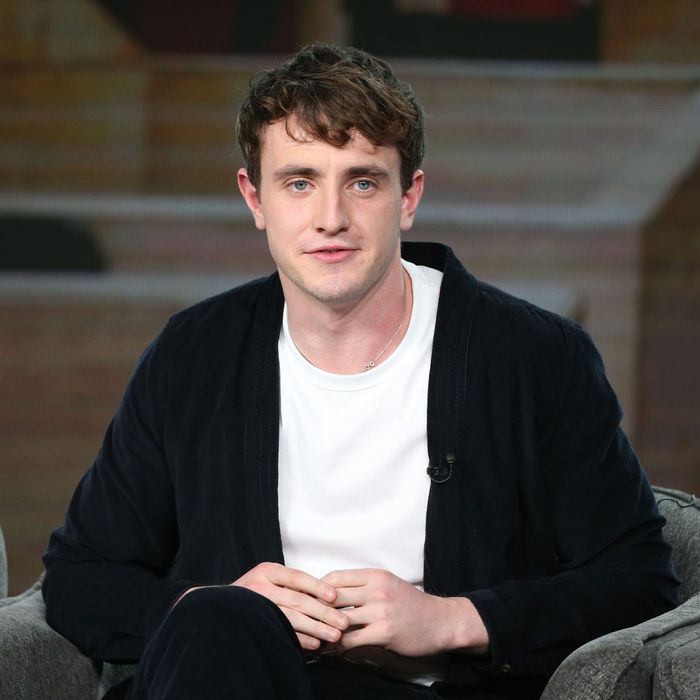 Photo: David Buchan/Variety/Shutterstock
Paul Mescal has become an undisputed object of international thirst in the months since his debut role as emo-jock Connell on Hulu's Normal People. These days, the onetime Irish theater actor, 24, can hardly walk down the street without inadvertently manufacturing internet chaos over the length of his shorts. And as of this morning, Mescal is now an Emmy-nominated object of international thirst, nabbing an Outstanding Lead Actor in a Limited Series nomination alongside heavyweights like Mark Ruffalo, Hugh Jackman, and Jeremy Irons. Vulture called him up for a quick chat about his reaction to the nomination, whether he's spoken to co-star Daisy Edgar-Jones, those Phoebe Bridgers rumors, and, of course, the shorts.
Hi Paul! Congrats.
Hi Rachel! How's it going? Thank you very much.
How are you feeling?
A bit like … fuzzy. It's really hard to describe — tired, excited, out of breath. I just got out of a taxi; I came from rehearsal. Trying to lug bags up the stairs. That's a really incoherent answer. Basically just really, really happy.
Rehearsal for what?
Rehearsing for something in London. I'm doing a concert with Dermot Kennedy, who's a singer.
Very cool. Have you spoken to Daisy today?
Yes, I've spoken to her. She was one of the first people I called.
What was her reaction?
She was overjoyed, just that the show had been nominated, and she was thrilled for me, obviously. The fact that I'm nominated is a testament to the work that she's done. Normal People is the kind of show that — the relationship between Connell and Marianne [is central]. I was thanking her for being an amazing person but also the best scene partner anyone could ever ask for.
Were you bummed or surprised that she wasn't nominated as well?
Personally, totally. If it was me I would have given her all the love in that category. I can't speak highly enough of the work she did on the show. I know there are extraordinary actresses nominated in that category, but I think Daisy's work is just phenomenal in this.
So you're clearly not in lockdown anymore. Has your life resumed its normalcy?
Yeah, kind of. Incrementally. It's not the kind of euphoric release that I think we were all expecting, but I'd like to think it's kind of normal. It's been nice to get out of the house and do bits of work.
What else have you been working on?
Um, nothing I can really talk about. [Laughs nervously.] It's really exciting that the [industry] is making strides towards opening back up again and hopefully I can be part of that.
Can you tell us what the format is? A TV show, a movie?
I can't really discuss it as a format. All I can say is that the people I'm working with, I've fangirled over their work for years and years. And to end up getting on a set with them, I'd be so excited to work with them.
In the months since we first spoke, I feel like your life has shifted quite a lot. Do you feel that way?
It's really hard to tell. I think it was a rapid change once the show came out, and then everything else just kind of felt incremental. And then something big happens, like somebody that you really admire has seen the show, and you're like, "What the fuck is my life right now?" It's crazy. But for the most part I've just been trying to stay safe and sane and healthy through lockdown. And see my family, and things like that.
Are you surprised by the attention that you've gotten from an internet perspective?
Yeah. Totally. [Laughs.] It's quite vast. The vast majority has been incredibly flattering, but it's strange to adjust to, I think, to be totally honest. But I'm happy that it's mostly positive and that people don't seem to hate me. I'm sure there are people who do, but …
How much do you follow it?
I don't, but my friends and family will read it, and it's hilarious. But it keeps me sane not to be looking at that kind of stuff. Because it's ultimately borne out of —  I don't know. I don't think it's particularly healthy to be reading about yourself at all.
That's fair. But have you followed the fascination with your shorts at all?
[Laughs.] Well, I've been made aware of it. But I wouldn't say I'm following it.
How have you been made aware of it?
My brother will send me a funny tweet. It's never really, like, a conversation that goes on for a long time. Because I don't think it's very interesting — my flatmate has just walked in — but it's not something that we talk about for a huge amount of time. Around the family dinner table, talking about my shorts, it wouldn't be the most interesting conversation.
Would you say your shorts are particularly short?
See, I think to an outsider's eye, they probably are. But to somebody who's grown up playing football, they're unfortunately the standard short length in football. [Laughs.]
You've most recently gotten some attention for having breakfast with Phoebe Bridgers, whom you've called one of your favorite musicians. How does that feel for you? Is it bizarre to have people know where and who you're getting breakfast?
Err, I'd rather not talk about that. Sorry.
That's okay. Did you know that Connell's chain had become such an object of fascination? I got one in the mail from Hulu.
[Laughs.] Yeah, I saw that. I was kind of like, "What's going on?!" It was not something we ever looked at like, oh, the chain is gonna be this thing. But then it was and it was strange, like, "What's going on?" But it just became a sort of totem of the show, and the best thing about it was that we were able to raise over €70,000 for a charity by auctioning off my own chain.
What do you miss most about filming Normal People?
I miss the people. I miss working with Daisy and Lenny [Abrahamson] and Hettie [Macdonald]. It's a sappy answer, but genuinely, that was my favorite part of the experience. Just going into work and working with incredibly talented people who are genuinely some of the best people I've ever met.
Have you watched the series in full?
I watched it the first weekend it came out on BBC, and then I put it to bed.
What do you mean?
I won't watch it now until I'm old and gray. That's not true. I don't know when I'll watch it again. I'm obviously incredibly proud of it, but, yeah.
What was the experience like, watching yourself in something so intimate? Was it uncomfortable? Did you enjoy it?
It was neither uncomfortable nor did I particularly enjoy it. It was in that gray area. It's weird seeing yourself in that position, but also, I was really proud of the material. I was like, this is what I believe to be a really accurate and truthful and honest portrayal of a relationship, but also a sexual relationship.