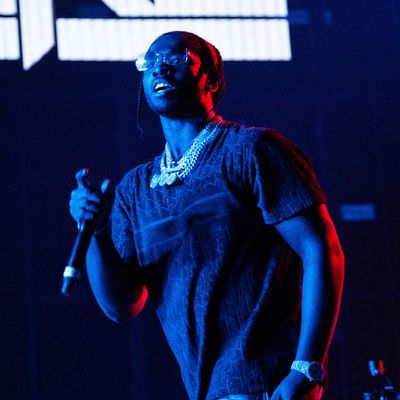 Shoot for the Stars Aim for the Moon
is evidence of a star gaining his bearings, but as much as it is a product of a young and growing artist's path toward refinement, it is also a document of his jarring absence.
Photo: Joseph Okpako/WireImage
It's a beautiful sight when the entire city of New York gets behind the same song — greater still when it unites behind a homegrown talent. Music strengthens bonds and closes gaps in style and taste that divide the boroughs. Summer 2014, when Bobby Shmurda tossed his Knicks fitted into the sky in the "Hot Nigga" video and it stayed there, might be the last time we knew true peace. (A week after the Shmoney dance Vine went viral, a different video ushered us into darker days as we watched the freshly slain Michael Brown baking in the Missouri sun, and a fresh, pained movement for equal rights began.) Three years later, during the hot, stressful summer of 2017, Cardi B's "Bodak Yellow" topped charts and rocked parties from Brooklyn to the Bronx, thanks to the Dominican-Trinidadian Washington Heights icon's gruff sense of humor, a distillation of the rowdy spirit of aggressive New York rap reimagined for modern ears. In July 2019, Canarsie rapper Pop Smoke dropped "Dior," a classic Big Apple party anthem and a perfect argument for the global reach of drill, a dark offshoot of trap born in Chicago and adapted by scenes in BK and the U.K.
To call "Dior" the song of that summer is an understatement; it hasn't stopped playing outside since then. When New Yorkers took to the streets last month to press the mayor and governor for change, "Dior" was one of the songs that soundtracked marches. It makes a kind of sense when you consider the rapper's dismay about the well-trodden pathways between inner cities and upstate prisons, as expressed in "Dior" as well as in interviews, and the fact that the NYPD was on his back so much it literally had him removed from a festival bill. The tenuous relationship between New York hip-hop artists and police and elected officials pinched the tributaries that push local talent into the mainstream. For a while, the well dried up. Pressure on venues to avoid booking musicians with criminal records and bar owners' reluctance to host rap fans complicated the path to stardom for artists in their own hometown. Couple that with the years it took chart authorities like Billboard to adjust to younger listeners who stream much, much more than they buy, and it explains why the last six years have felt like an explosion in the hit-making potential of New York rappers. Barriers to access lowered; the cost of making beats and videos dipped; and a new generation charged into the game. Pop Smoke wrote his first hit, spring 2019's "Welcome to the Party," in half an hour in his bedroom. In a year, it went platinum.
"Dior" was supposed to be a game changer for Pop, whose life took breathtaking turns as he grew from a musically gifted church kid, to a streetwise voice of outer-borough discontent, to a newly minted hip-hop superstar, to another bright spot in the constellation of rappers taken away too soon, all of this before his 21st birthday (which would've been celebrated with a king's welcome later this month). The murder of Pop Smoke in February, after a shooting during a break-in at a house he was staying at in the Hollywood Hills, is a story many of us know all too well. We all know vibrant characters whose presence lifts spirits when they walk into a room, who seem so full of personality that it can barely be contained within one frame, who deserve better cards than they were dealt by the universe. An early death is a question mark. The hurting eases slowly over time, but the wondering what greatness went missing, what good times are gone, never leaves. The toll of what was lost is incalculable. The story always feels unfinished.
When a prolific musician passes away, the art left behind is a gift, a window into thought processes and creative endeavors pursued at the time of passing, sketches of a possible career trajectory the artist may have navigated given time to carry out more plans. Shoot for the Stars Aim for the Moon, Pop Smoke's posthumous debut studio album, is evidence of a star gaining his bearings, but as much as it is a product of a young and growing artist's path toward refinement, it is also a document of his jarring absence. Shoot for the Stars was a work in progress when Pop passed; noble efforts by his manager, Steven Victor, and his sometime erstwhile mentor, 50 Cent, help to make a collection of songs that weren't necessarily done yet feel complete, but the guests brought in to pad out some of these song fragments cost the album a measure of the hometown feel of his Meet the Woo mixtape series. It's far from a Biggie Duets situation, where people who didn't know the artist line up for collaborations, and the guest list — Quavo, Future, Roddy Ricch, Lil Baby, DaBaby, Swae Lee, Quavo two more times — makes sense for a mainstream rap album in 2020. None of the outside artists breaks anything. It just starts to feel too slick after a while.
It makes sense that Pop Smoke would want 50 Cent involved with his debut album. In 2003, Get Rich or Die Tryin' gave a coat of colorful melodies to the Queens rapper's battery of threats and trash talk. The uncompromising grit of mixtapes like 50 Cent Is the Future carried over to the Interscope debut relatively unchanged. Smooth Dr. Dre beats and indelible hooks gave a distinctly New York City album a winning post-regional versatility. Shoot for the Stars tries a similar trick. The rapper anointed as the new voice of drill was itching to flex his dynamic range. Melodic Woo tape outliers like "Foreigner" and "PTSD" are the main thrust here as Pop proves the velvet low tones of his voice were adaptable for lighter productions. The album arrives on grim, foreboding cuts like "Aim for the Moon" and "44 Bulldog" but drifts a little with every song. By the closing stretch, Pop is putting his own spin on late '90s and 2000s R&B staples like Ginuwine's "Differences" ("What You Know Bout Love"), Tamia's "So Into You" ("Something Special"), and Playa's "Cheers 2 U" ("Diana"). He's figuring himself out, seeing what works. There are too many guests, too much radio fodder, and not enough snide, rude, funny bars. The main artist feels profoundly missing.
This mix of present and future drill staples, textbook New York commercial rap anthems, and careful R&B exercises is smart career planning, though. Cuts like "Yea Yea" and "Creature" suggest a "21 Questions" moment, where a tough-guy rapper pivots flawlessly into romance, was on the horizon. Killer trap collabs with Roddy ("The Woo") and Future ("Snitching") would've silenced anyone who tried to accuse Pop of being a one-dimensional artist. The Karol G spot on "Enjoy Yourself" should have been the first of many urbano excursions for a rapper who was clearly interested. The curse of a posthumous album is that it shows what roads an artist could have traveled that they can't travel anymore. Shoot for the Stars Aim for the Moon should have been a stepping stone, not a capstone. If it itches as a final album, it's because Pop Smoke should be here figuring out how to broaden his horizons and refine his craft even further. Still, you can hear him in the wobbling bass carried on the balmy New York summer wind. It'll have to suffice.
*A version of this article appears in the July 20, 2020, issue of New York Magazine. Subscribe Now!