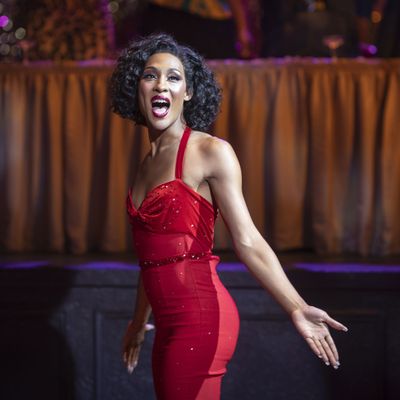 Photo: Michael Parmelee/FX
"Child, listen, it was so hard for me not to say a word!" says Pose star Mj Rodriguez about the fate of her character, Blanca, who almost dies of AIDS in the second season finale of the FX Emmy-nominated drama. Pose fans were already reeling from the brutal murder of beloved character Candy, and Rodriguez wished she could comfort them. "We knew all along that Blanca wasn't going to die, but of course I couldn't say a darn thing. I'm sorry!"
In the second season, the mother of the House of Evangelista found herself fighting the transphobic landlord (Patti LuPone) who burned down her business, struggling with an empty nest and being diagnosed with AIDS. For a while in the finale, "In My Heels," it seemed like Blanca might not make it, but she recovered and then turned out the ballroom with her triumphant jaw-dropping return, details of which were not even shared with the rest of the cast before rehearsal.
"Blanca was flying the coop and becoming a mother, jumping out of the nest and batting her wings in the first season. And she got through everything and became Mother of the Year for her work in the community," Rodriguez said, reflecting on the character's journey. "Throughout season two, I saw constant obstacle after obstacle for her. And, through all the obstacles, she was someone who always prevailed even in the worst of circumstances."
Vulture spoke to Rodriguez from her home in New York City, where she has been living through the pandemic and Pose is filmed. Production on the second episode of the third season was underway when the TV industry shut down in the spring, but Rodriguez teased that Blanca's living her best life. "She's in a relationship now. She's thriving. She's definitely healthier and she's achieving and pushing for more in life. She's got a love, girl, and he loves her down, girl."
Below, Rodriguez breaks down her two most challenging and memorable scenes from last season's finale: The emotional exchange when a hospitalized Blanca gives her will to Pray Tell (Billy Porter), and her triumphant Whitney Houston lip sync when she returns to the ballroom.
The hospital scene
I've known Billy since I was 19. Even though I wasn't in a time that he was in, he still sees that we have a mutual understanding of what was at stake when it came to LGBTQAI, melanated individuals during that time. And that's what made it so easy for us to work together. I couldn't ask for any better. He helped me out a lot with my scenes, and I'm sure I can say I've done the same thing for him because we really feed off each other. But Mj separates herself personally from it and she takes the feelings that she's had and puts them into Blanca. That's how I channel the moments that Blanca has to be strong. So, in that moment where Pray Tell is extremely emotional, I have to play off of what Blanca would do. She wanted to be strong because she is presenting her will to her friend, Pray Tell, who was possibly going to carry off the legacy and spread it.
People would tell me they had a feeling of nervousness watching the show. You just never know what might happen, especially with them being Black trans women or Latina trans women. We already know what's stacked up against them, so it's possible that Blanca could die. It was extremely heavy, emotionally. I was very, very young when I knew about the HIV and AIDS epidemic. But I also had a mother who had friends who were affected by the epidemic. When our third season comes around, it will definitely have even more of an effect on me because I'm living the experience of not knowing what can hurt a person, what can hurt a mass group of people, knowing that there's something at stake. The world is in complete shock and it's reminiscent of what happened in the '80s. I think it all ties very closely to today and I think that it will leave an imprint on people's minds to make space for individuals who you may think are different, but really aren't. They're just simply human beings, existing.
The ballroom lip sync
I remember [director] Janet Mock telling me two or three days before, "Okay, girl, this is what you're gonna have to do. You're gonna have to lip-sync Whitney." And I said, "Whitney Houston, girl? Oh my God." I went home and rehearsed constantly. For me as an actress, I have to see the scene, and I have to see the set, and I have to be in a costume, and the hair, and everything has to really click. So I was like, Oh God, I'm not gonna know what it's gonna be like until I get into the space.
When I was younger, I was in a group and we sang the national anthem at a stadium. It's always nerve-racking when you have to sing that song because you never want to mess it up, especially when you know it's for your nation. Deep down in my heart, as an actress, as someone who's never lip-synced before but who is a singer, I knew I had to do Whitney Houston justice. I knew I had to serve her right. So, that was nerve-racking in and of itself.
We only had one rehearsal and then it was like, Okay, go in and do what you gotta do. I just wanted to go off of sheer instinct. It was hard at times, but it was beautiful. Usually, I'm set when it comes to the more dramatic scenes. I'm really comfortable and confident 'cause that's where my craft lies. But when it comes to even a moment of lip-syncing, or being performative within a performance, it got me a little nervous. I was really happy with it, but scared as hell.
The costume designers are beyond amazing on this show. They really put in the work to really make sure it personifies what we bring into the ballroom scene and how we live out our truest fantasies, girl. Honestly. They just made sure I felt good and was comfortable and I feel so indebted to them. When you go into a performance, you want to feel comfortable in the clothes that you're in, the heels that you're in, so that you can execute the performance. It was in the script that I would reveal the jumpsuit when I sang "at the rocket's red glare." But no one on set knew, except Janet and our showrunner Steven Canals and the costume designers. They wanted it to be really authentic, so we revealed it at the rehearsal and then to everybody else in the actual scene.
I remember feeling nervous, excited, and liberated. Nervous because you're about to perform in front of your peers, liberated [because] I could see how much Blanca has grown. She's dealt with the ACT UP coalition, she was dealing with HIV and AIDS, her kids were going through so many ups and downs, and she got stuck in the hospital. There were just so many things on her plate, and in that moment, sitting in the wheelchair, I'm thinking, This is a great moment for her. Not only coming back into the ballroom scene, but she made it through her illness. She showed how to be a true African-American, a true melanated woman, and she set the example for people in that space of the ballroom scene: You can thrive even when you're in what you may consider the lowest of circumstances. So, I felt nervous and liberated and exhilarated, not just because of Blanca's journey, but because of what my ancestors who were part of the ballroom scene had to do.