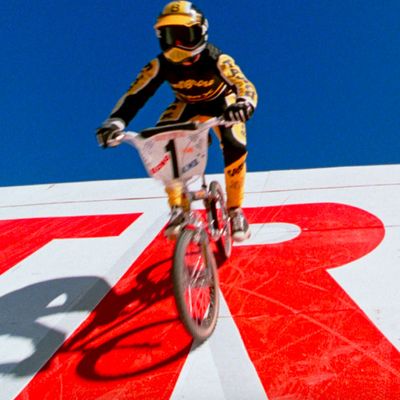 Nobody saw the 1986 movie about a hometown BMX hero directed by Hal Needham and produced by Jack Schwartzman. Well, almost nobody.
Photo: Tristar Pictures
In March of 1986, a sports movie called RAD — all damn caps — hit U.S. theaters. Directed by the iconic ex-stuntman Hal Needham, it told the story of Cru Jones (Bill Allen), a scrappy young biker fighting corporate malfeasance and dreaming of impossible glory in an insane BMX race called Helltrack. Says Olympic gold-medal-winning gymnast Bart Conner, who played the Billy Zabka–esque villain, Bart Taylor, "It stayed in theaters maybe a day and a half?"
The movie was panned, then bombed and disappeared. Despite being a perfect relic of feel-good '80s underdog drama, RAD never quite cracked the cult-film canon, either. The movie lived on instead in the hearts and minds of BMX diehards, who made it a Blockbuster rental staple and then passed around bootlegs for years. A Guardian investigation into 10,000 movies in the Rotten Tomatoes database found RAD to be the film with the greatest discrepancy between critical reception and fan love, and it has retained prominent boosters: Over the years, the cast has heard fawning tales of love for the movie from Shaq, Pharrell, and, unsurprisingly, the Lonely Island, whose 2007 film Hot Rod bears clear RAD overtones. (The comedians specifically borrowed the music of John Farnham, whose big, dumb power ballads — "Break the Ice," "Thunder in Your Heart" — are all over RAD.) Still, RAD was never made widely available on DVD, let alone on a digital rental platform — until July 2020, that is, when a newly restored 4K version of the film so few people actually saw finally hit on-demand platforms.
RAD was and is a family affair. It was produced by Jack Schwartzman, who passed away in the mid-'90s and whose son Robert Schwartzman, the former Rooney frontman turned movie director, helmed the rerelease through his distribution company, Utopia Films. The younger Schwartzman had been on the set of RAD ("I loved that Cru is such a badass," he recalls. "He blows away all these pros. And then he exposes the world of corruption within the sport"), as was his brother, the actor Jason Schwartzman. His half-brother, the Oscar-winning cinematographer John Schwartzman, shot the intro's mesmeric BMX footage. Robert and Jason's mother, Talia Shire, helped her husband produce the movie and had a small onscreen role.
"It was all those years ago. My God, all those years ago," says Shire. "But now it's going to have its opportunity for its next incarnation. This really is very meaningful to me. Jack died in 1994, and I miss him every day. And when you have a chance to revisit someone's work, you have a chance to revisit them."
Through the late '70s and early '80s, Jack Schwartzman produced films like the Peter Sellers classic Being There and Never Say Never Again, Sean Connery's last outing as James Bond. But with RAD, he pivoted to PG fare under the name of his production company, Taliafilm, which was based in his family home in L.A. "We had little children, and Jack really liked to be available to those kids," Shire says. "It was wonderful but also very stressful. And looking back on [preproduction on RAD], I'm gonna tell you a secret: I don't know how helpful I was." She laughs. "I didn't understand the complexities of putting a movie together, but Jack Schwartzman was a master at it."
Taliafilm's namesake, a two-time Oscar nominee for Rocky and The Godfather Part II, intended to remain behind the scenes on RAD, but, late in the process, she agreed to play Cru's BMX-hating, spoilsport mom. "I was always talking about the SATs [in the movie]," she says, laughing. "'My son! Who didn't do the SATs!'" In reality, her life revolved around her children. "I got my kids up, I made them lunch, and Jack and I carpooled." It was at bedtime, Shire says, when she read to the kids and they'd remember she was an actress: "I — got a little bit dramatic." She recalls one night, when she enthralled Jason with Romeo and Juliet. "Then I went to Robert's room. He's gonna kill me. And I started reading Robert Lowell's Prometheus Bound, which is heavy duty. And I'm doing this and I'm really into it, and here's this little boy and he says, 'Stop! Can't somebody just get her a job?!'"
RAD took off in earnest when Jack Schwartzman hired Needham to helm the movie, which follows Cru as he defies both his mother's wishes and those of the deceitful president of the Federation of American Bicyclists, Duke Best. By the mid-'80s, Needham, the actor, stuntman, and director of Smokey and the Bandit and Cannonball Run, was a few years off his peak, but he still carried that swaggering, old-school Hollywood cachet. Case in point: Needham is the acknowledged inspiration for Brad Pitt's stuntman character in Once Upon a Time in Hollywood.
Needham in turn hired Conner as his lead villain, the Helltrack qualifier who plays along with Best's corporate interests. Needham "saw me on TV at the Olympics, and said, 'I want that guy in my movie,'" Conner recalls. By then, he'd won two gold medals in gymnastics at the 1984 Summer Olympics, which were held in L.A. (Conner later married fellow Olympic gymnastics star Nadia Comaneci.) "I always wondered," Conner says, "when Hal cast me, did he want me to be like the blond dude in The Karate Kid?"
Conner continued to take part in lucrative post-Olympics showcases, performing for fans while he waited for the RAD shoot to begin in Calgary, Canada. During one showcase in Oklahoma City, he dismounted awkwardly and tore both his ACL and MCL; post-surgery, he was put in a leg immobilizer for three months. Conner remembers reluctantly calling Needham to break the bad news that he could no longer do his movie: "I said, 'I blew out my knee. I can't move my leg!'" He said, "Oh, you'll be fine! We'll shoot you from the waist up! We'll give you some Percodan!'"
Fresh-faced Bill Allen starred as Cru, who is in love with Lori Loughlin's Christian Hollings. Allen remembers watching the dailies alongside Needham and an open bar: "Hal had been at the rodeo so long. He understood we're here to have a good time and make a movie, but mostly to have a good time. He could stay up till four in the morning drinking and work all day. We don't see people made like him too often."
"Hard drinking? I didn't see that!" Shire says. Instead, she remembers an afternoon before the start of filming when Needham gathered the cast, and his mother, to say a prayer before the shoot began. "It was very pure stuff." Nonetheless, Needham lived up to his onetime-hotshot-stuntman reputation. Shire, who was always nervous when performing, says she mentioned to Needham, before a particularly difficult scene, that acting reminded her of the finicky nature of parallel parking: "You're always trying to get into that space." So Needham threw her into his car, parallel parked with ease, and said, "This is how you do it! Now go act!"
Helltrack — the beautifully named course built for RAD's big set-piece finale, when Cru triumphs over Best, Taylor, and all — was Needham's masterpiece. It featured a wall so tall the pro-BMX stunt riders on set initially refused to even try it. "That wall was massive," Conner says. "It was so steep. Scary dangerous."
"I stood on that wall," Allen says. "It was terrifying."
Then a 15-year-old named Beatle Rosecrans volunteered to try it out. "'Screw it, I'm going,'" Conner remembers Rosecrans saying. "And everybody watched. And he survived." Once little Beatle did it, Allen says, "they all had to do it." Such was the way on a Needham set. In an unlikely comparison, Shire — who grew up traveling with her own director father, Carmine Coppola — likens the RAD set to the work of pioneering biologist Lynn Margulis. "Everything was harmony through conflict," she says. "I loved that world that takes place in proscenium on the stage. It's thrilling. And I began to see my kids doing that."
To promote the completed film, Shire and Schwartzman rented a bus, stuffed it full of BMX riders, and pulled up on unsuspecting customers throughout Southern California to spread the gospel of RAD. "We were so excited about this movie," she says. "We loved this terrific story with these nice kids. And then it opened in the theaters." She laughs. "And nobody went. It's so painful. You work so hard on something and nobody shows up."
Outside the theaters, however, in video-rental stores across the U.S., the movie began to accrue a small but devoted fan base. "I have loved the movie RAD since I was 9 years old," the Lonely Island's Jorma Taccone says. "I have watched RAD more times than Die Hard and purchased three times as many BMX bicycles because of my almost irrational love for the film."
In 2011, Allen came back into the world of RAD for the film's 25th anniversary, when fans in Calgary arranged a screening and invited Needham and the cast. "There were hundreds of people from around the world," Allen says. "That's when I got to see up close the impact it had on people." Not long after, Allen was invited to be a presenter at the NORA Cup, a BMX awards show. "There were 5,000 people there, and when they introduced me, the place became unglued." From then on, Allen has fallen deeper into the world of real-life BMX, hanging out with the stunt riders from the movie and even taking up the sport himself. "I've racked myself up a number of times," he says.
A few years ago, a superfan in Texas built a replica of Helltrack, and once again hundreds of die-hard fans descended on one location. "There must have been a thousand people from ten different countries," Conner says. "People made [replicas] of the bikes from RAD. I met people who had tattoos of me from the movie." Among those RAD fans, Conner's Olympic glory is a footnote, if known at all. While Conner was signing autographs at the makeshift Helltrack, a RAD fan came up to him and said, "Hey, man! My wife says you were a gymnast?!"
Allen personally hears from fans on Twitter, Facebook, and his own website, MyRadCareer.com. "I've seen entire families on bikes — mom, dad, kids — all in their RAD T-shirts," he says. "It's like puppies or kittens; it's the cutest thing you'll ever see." He has also met children named Cru. "For me, someone who doesn't have any kids, that's a legacy I'm really proud of."
For Shire, the return of RAD is, understandably, even more personal. "For Jack's [children], it's an opportunity to reconnect and to have intimacy with their father again — especially for Robert, who was so young when his father died," she says. "I may be saying too much — Robert will say, 'Why did you say that?' — but it really is exciting for me. I loved Jack dearly. And now, all these years later, to have this wonderful opportunity to reconnect, to know their father another way — it is absolutely profound."
"I've been waiting for this for a long time," she adds. "It gives me a chance to say, 'Ah! Here! All of you, here, take this man. Know who he is. Put this man in your hearts.'"
RAD is available to rent courtesy of Altavod.