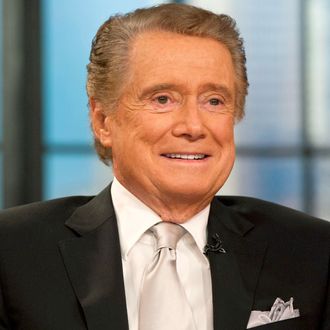 Regis Philbin, one of the most tenured and affable hosts in television history, has died at the age of 88 of natural causes. Philbin's family confirmed the news of his passing to People. "His family and friends are forever grateful for the time we got to spend with him — for his warmth, his legendary sense of humor, and his singular ability to make every day into something worth talking about," the statement read. "We thank his fans and admirers for their incredible support over his 60-year career and ask for privacy as we mourn his loss." Beginning his TV career in the late 1950s, "Reeg" worked the local talk-show circuit before getting his big break in 1983, when he began hosting The Morning Show with Kathie Lee Gifford out of New York City. By the end of the decade, the show, renamed Live! With Regis and Kathie Lee, became nationally syndicated with millions of viewers. Philbin stayed on the show until his retirement in 2011, with Kelly Ripa joining as his new co-host in 2000. It's believed that nobody has hosted "more hours on camera" than him.
Philbin also charmed contestants' nerves as the original host of Who Wants to Be a Millionaire?, a gig that earned him an Emmy for Outstanding Game Show Host in 2001. He earned two other Outstanding Talk Show Host Emmys for his Live! work, in 2001 and 2011, respectively, in addition to receiving a star on the Hollywood Walk of Fame in 2003. Since news of Philbin's death became public on Saturday afternoon, social media has been flooded with remembrances and condolences for the airwaves legend.
Philbin's former Live! co-hosts, Gifford and Ripa, also addressed his passing.