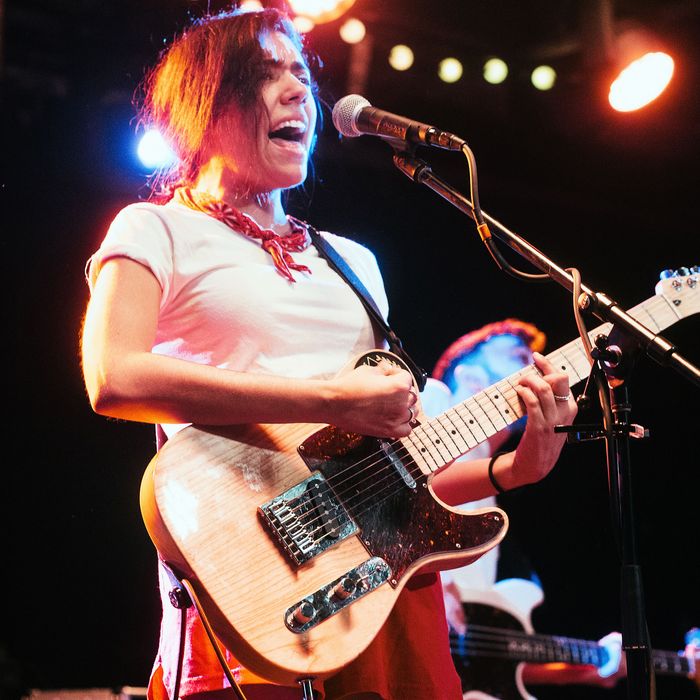 Photo: David A. Smith/Getty Images
"This is not the one you've been waiting for," Illuminati Hotties promise in the title of their new mixtape, Free I.H. And how could it have been? The mixtape first surfaced earlier this month, when no one was looking for it, as a SoundCloud release called Occult Classic. Fans deduced it was Illuminati Hotties, self-described Los Angeles "tenderpunk" band, given the references in the songs along with support from artists like PUP and Sadie Dupuis, before it quickly disappeared. But the title doesn't refer to that, and bandleader Sarah Tudzin has said it was an accidental leak. So no, Free I.H isn't the anticipated second Illuminati Hotties album — it's a final kiss-off to once-influential indie label Tiny Engines, which the band broke from after allegations of mismanagement came out in late 2019. Tudzin told Stereogum she paid out Illuminati Hotties' contract with the promise of royalties from a future project. Enter Free I.H. "I got emotionally fired up and realized I had to do something fast if the exit agreement I was signing gave royalties to a label that had nothing to do with this record," she said.
The record is 23 minutes of punchy, caffeinated rock, with lyrics that balance bite and humor — the opening track is called "will i get cancelled if i write a song called, 'if you were a man you'd be so cancelled,' and opens with the lyric, "Let's smash to a podcast." But the centerpiece, "free dumb," stands apart. It's the most earnest song on the record, an epic that looks past the Tiny Engines situation for two minutes to question this thing Tudzin and her bandmates do. "While the world burns, how could you care about a fucking record?" she asks. It was a question Tudzin found worth asking in February, when she was struggling to leave Tiny Engines at the beginning of an already tumultuous year. Now that the coronavirus has effectively frozen the touring economy and is threatening to shutter independent music venues, it hits even closer. A later line, "There was no love lost until you deemed that I was nonessential," was directed at Tiny Engines then; today it feels like a message to all the powers that be.
As a song, "free dumb" is a magic trick. Not only does it barely pass two minutes, it has just four lines of lyrics, split between Tudzin and bandmate Zach Bilson over a steady guitar chord. Then they start to build a proper song, adding ooh-oohs, a drum beat, a bass chord. It all disappears only 100 seconds in, just leaving some static behind. Not that the song needed anything else. Illuminati Hotties have reduced their music to its basic elements and still managed to make something beautiful out of it — on a project that challenges the format and a song that most directly takes on Tiny Engines, no less. Free I.H, "free dumb" in particular, is Illuminati Hotties pushing back with sheer skill, working at the full extent of what they can do. "I guess it's my fault for being good at something sentimental," Bilson sings, with Tudzin joining in. Even after Tiny Engines tried to hold power over them, Illuminati Hotties have the upper hand.