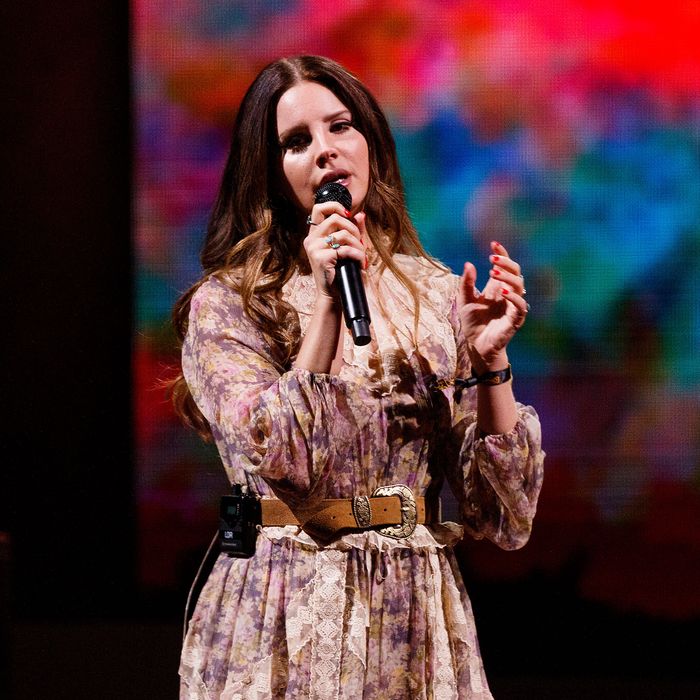 Photo: Andrew Chin/Getty Images
For years, paradise has been Lana Del Rey's fascination. It was the focus of her Born to Die follow-up, on which she sang about long car rides, sex, and the ignorant elegance of being American. In the music that followed, her paradises were both tangible and fleeting: sometimes California, sometimes smoking a joint on the beach. Her most recent album, Norman Fucking Rockwell, stunned because she acknowledged, for once, that her paradise was in trouble — between climate change, technology, and fascism. It was her grand valediction: "If this is it, I'm signing off," she sang. Except she didn't. Whatever praise Lana gained from that album — Pitchfork dubbed her "the poet laureate of a world on fire" — she quickly lost with a series of May Instagram posts, in which she called out a group of mainly women of color for earning hits "about being sexy, wearing no clothes, fucking, cheating etc" and clarified her intentions to usher in a "new wave/3rd wave of feminism."
Just two months later, we have Violet Bent Backwards Over the Grass, a spoken-word album of 14 poems culled from Del Rey's eventual debut book. Most of the poems focus on the banalities of life, '60s nostalgia, and being Lana Del Rey, but on "Paradise Is Very Fragile," Del Rey attempts to continue the conversation from NFR. She sees environmental destruction in Florida, fires in Los Angeles, and "a megalomaniac" in Washington. Yet she sees it all with the same ignorance that marred her previous work. "I'm a dreamer / And I had big dreams for the country," she says. "Not for what it could do, but how it could feel / How it could think, how it could dream." Her descriptions of today's problems are too literal to feel profound, but she wants to skirt solutions in favor of a new utopia. She doesn't want to create change, she only wants to create a world she can find pleasure in again.
"Paradise Is Very Fragile" comes late in Violet, after the crispness of her delivery and warmth of Jack Antonoff's gentle accompaniment has worn off. All that's left are her words, making lines like "My friends tell me to stop calling 911 on the culture / but it's either that or I 5150 myself" stand out for being laughable — especially taken as failure for Del Rey to engage with her recent comments.
The better moments of the track, along with Violet as a whole, come from Del Rey's perceptive writing on love and infatuation. Her love songs have always soared with grandeur, from her beginnings with "Video Games" to NFR's epic "Venice Bitch" to her best song, simply titled "Love." At some point, Del Rey shifts her focus on "Paradise Is Very Fragile" to a difficult lover. "Because you take and you take and you take and you take / But you taste like the beach and a kiss," she says. "Candy from my eyes / In my veins you run citrus." The imagery is striking and beautiful in the moment, but taken with the whole poem, it only underscores Del Rey's self-centeredness.
Central to Del Rey's view of paradise is her contribution to 2013's film adaptation of The Great Gatsby, "Young and Beautiful." Looking back, what better pairing than Lana and a work critiquing socially unaware decadence? In "Paradise Is Very Fragile," she contemplates "the inhabitants that thrive off paradise" — "That should they take too much," she says, "There would be nothing left to give" — and concludes that like them, she has nothing left to give. Unlike her lover in "Young and Beautiful," we have the awareness to let go of her.