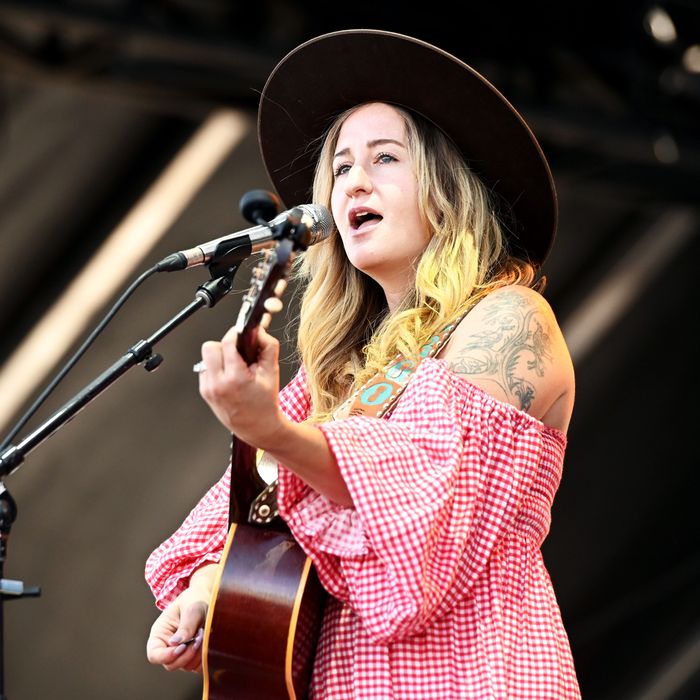 Photo: Stephen J. Cohen/Getty Images
Margo Price's voice has always been larger than life. On her 2016 debut, Midwest Farmer's Daughter, she stunned from the first chorus of opening track "Hands of Time." It sounded effortless — not just the vocals, but the lyrics laying out her family's history and struggles. That's always been the dual draw of Price's music: that voice and those lyrics. Both shine through as ever on Price's third album That's How Rumors Get Started, finally released July 10 after being rescheduled due to the coronavirus pandemic. And they're the simple reasons why closing track "I'd Die for You," a stark departure from Price's past sound on her most adventurous record yet, shouldn't be so surprising.
Price always stood out from the country crowd. Nashville didn't want her; she performed there for years before eventually signing to Jack White's Third Man Records and selling her engagement ring to pay for sessions at legendary Sun Studio in Memphis. Her music always opted for more of an Americana flair, rather than leaning into the commercial pop-country trend, meaning she never broke into radio. But it took leaving White's label and teaming up with fellow Nashville outsider Sturgill Simpson for Price to show off her rock bona fides. Rumors spans heavy southern rock on "Twinkle Twinkle" to '80s-ish New Wave on "Heartless Mind," ending with a song more fitting for Woodstock than the Ryman. "I'd Die for You" is the biggest song Price has ever made: rock music with psychedelic and gospel undertones, a hymn more focused on life than whatever comes after.
It's built on slippery, loud guitars, keeping more rhythm than whatever drums and bass you may be able to hear. Those guitars could swallow up many singers in Nashville, but not Price. She belts solo on this song, after leaning on the Nashville Friends Gospel Choir on a few of Rumors' other big tracks. "Some say 'ours,' some say 'mine' / But we all bleed the same blood," she sings in one verse. This time, rather than retelling what she's done, Price interprets what she sees: poverty, gentrification, greed, hate. She's disillusioned, but she holds onto love. "I can't live for them, it's true," she confesses. "But honey, I would die for you." It's not hopeful, and it doesn't need to be, coming from a woman who's seen her share of shit. Listeners who know Price's story will find her a commanding preacher, while those who don't will quickly become fixated by the force of her voice and clarity of her words.
For over a year now, Price has been hinting at "a psychedelic gospel record" she recorded with husband Jeremy Ivey, whose writing and guitar also features heavily on nearly every Rumors track. As the album's closer, it's hard not to hear "I'd Die for You" as a first taste of that, Price getting ready for what could be next. "I think that you have to keep changing and moving in order to grow," she told Vulture of Rumors. Price has had music like "I'd Die for You" in her all along. That song only makes you want to hear what else she can do.