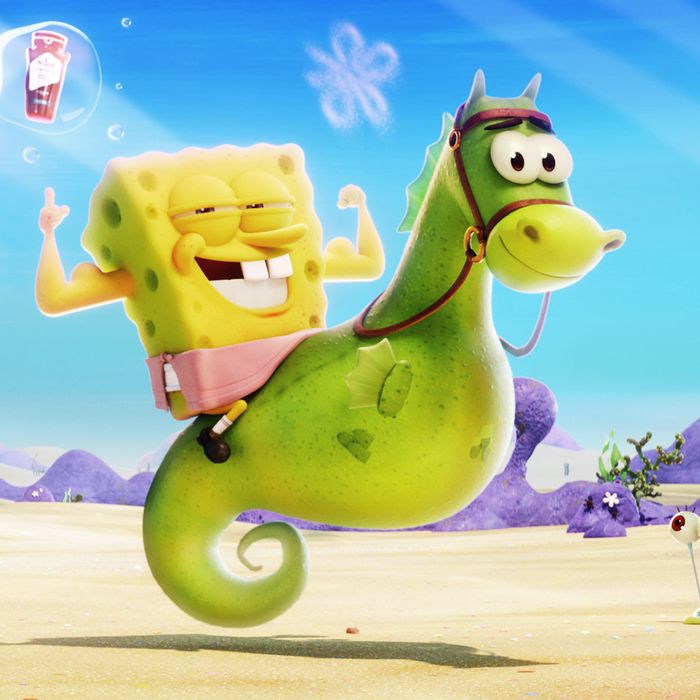 Photo: Courtesy of Paramount
SpongeBob SquarePants isn't slowing down any time soon. Although he's been the star of his own television show for decades, he's busier than ever this year, with an upcoming movie and a gig as the new spokesperson for Old Spice, the brand's first-ever spokesponge. When I swam over to visit SpongeBob at home in his Bikini Bottom pineapple, his hyperactive energy was palpable as he ran around doing six different things at once, a smile plastered on his face the entire time. One minute he was singing a song about the proper way to blow a bubble ("with a lungful of love," he crooned), the next second he popped into his bedroom to give his pet snail, Gary, a quick shell polish, and just a moment later he was scarfing down Krabby Patties with his best friend, Patrick Star.
Because humans aren't able to visit SpongeBob's world-famous underwater home of Bikini Bottom, and because most entertainment reporters are human, they sent me (our designated sea correspondent, Helen Halibut) instead, to get an exclusive interview with the beloved TV star — and part-time fry cook — as he filmed a commercial for the new combination face and body wash from Old Spice's Ultra Smooth line.
Even though I was excited beyond my gills to meet one of my biggest idols in person, I couldn't help but think that the partnership between Old Spice and SpongeBob was an odd combination. Things only got more strange when I arrived on the chaotic set of the commercial, which was located right outside of SpongeBob's pineapple house.
During our first interview, SpongeBob seemed oddly ambivalent about the fact that he now represents an international male grooming conglomerate. "I'm not doing anything differently than normal," SpongeBob said, flashing his signature exuberant buck-toothed grin, when I asked him how he's juggling it all. "I'm just living my life, having fun with Patrick and Gary, and flipping patties at the Krusty Krab. I guess if people want to film me doing regular stuff, that's up to them!"
In an attempt to get more clarity about SpongeBob's gig with Old Spice, I also spoke with his agent, the sea entrepreneur Mr. Eugene Krabs, who is SpongeBob's manager at the Krusty Krab and the sole beneficiary of his will. He told me that he granted Old Spice round-the-clock access to SpongeBob, on the condition that the spokesponge gig didn't interfere with his shift at the Krusty Krab, and that they split the payment fairly, right down the middle — 90 percent to Mr. Krabs, and 10 percent to SpongeBob. He then charged me for one of his business cards.
Before I had another chance to talk to SpongeBob, it was time to shoot a clip for the Old Spice commercial. Mr. Krabs told him to "ditch the square pants," and SpongeBob tore off his normal suit and tie to reveal the signature Old Spice spokesman towel now tied around his rectangular waist. He was also excited to be introduced to his co-star in the commercial: a seahorse, the underwater-friendly version of the famous white horse ridden by previous Old Spice spokesmen.
As the cameras started rolling, it quickly became apparent that SpongeBob was not a trained actor nor used to being on a commercial set, though the Old Spice marketing team oddly didn't seem to mind. Not twenty seconds after Mr. Krabs talked him onto the seahorse, it bucked him off, leaving SpongeBob in the sand next to the Old Spice face and body wash, his towel whipped off in the fall and his underwear exposed to the entire ocean. Mr. Krabs looked exasperated, and it became clear that it was going to be a long day before this shoot wrapped. SpongeBob's neighbor, Squidward Tentacles, watched the commotion angrily from his house, before pulling down his window shade and yelling "leave me out of it!"
Later, when Mr. Krabs attempted to shoot a scene where SpongeBob flexes his muscles to camera like previous Old Spice guys, his slender arms buckled under the pressure and beads of sweat poured out of the holes in his sponge body. (When I asked SpongeBob about his workout routine, he said he flips dozens of Krabby Patties every day, and he's been hugging Patrick more often, too.)
In fact, the whole time I was on set, it was unclear if SpongeBob even realized what was going on; that he's ever been on TV, in movies, or that he's now the new face of Old Spice. When the shoot finally wrapped, I talked with the famous star one last time. SpongeBob seemed to speak only in exclamation points, each quote more enthusiastic than the last. His new gig for Old Spice means he's the busiest sponge around town — but he's just happy to be here.
"I'm only busy with the things I love doing, like spending time with my best friends, riding this seahorse, and making Krabby Patties!" he exclaimed to me, before heading back into his pineapple house at the end of the day. "I love my life! I love being busy! I love smelling good! I love my job! I love my friends! I love this door mat!" He continued listing all the things he loved as he wandered off into his home, signaling the end of our encounter.
As I swam back to my underwater office, I kept pondering why Old Spice chose SpongeBob as the face of their combination face and body wash. Then it hit me — there really is no better option than SpongeBob. After all, who else has a face that's so perfectly combined with his body? And who else could claim to be the epitome of cleanliness except, you know, a literal sponge? Even previous Old Spice guys can't compete with that.
Although it's unclear how customers will react to the idea of SpongeBob as an Old Spice guy (the brand is holding focus groups both above and underwater to gauge reactions), SpongeBob doesn't have to worry about what his future holds, or where his next paycheck will come from. Of course, he still has his job as a fry cook at the Krusty Krab, and his newest movie, The SpongeBob Movie: Sponge on the Run, will soon be available to rent on demand, before it heads exclusively to CBS All Access. While it's yet to be seen if SpongeBob will be brought back for future Old Spice gigs, he'll certainly remain one of the ocean's biggest, busiest, and most absorbent stars for years to come, always around to give kids (and kids at heart) a good laugh — or, if you're Squidward, a good eye roll.
This advertising content was produced in collaboration between Vox Creative and our sponsor, without involvement from Vox Media editorial staff.