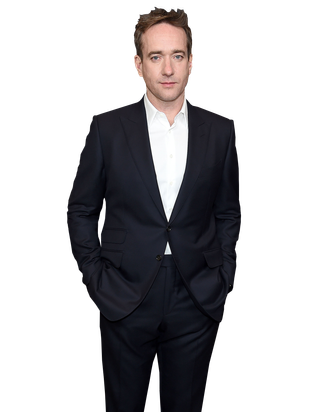 HE HERE FOR YOU.
Photo: Jamie McCarthy/Getty Images
Is this year's slate of Emmy nominations a game of Boar on the Floor? Because the Roy family is dominating. Season two of HBO's Succession garnered 19 nominations from the Television Academy today for its tragicomic look at the fundamental stupidity of the American billionaire class, including nominations in Directing, Writing, and Outstanding Drama Series. Most of the core cast received nominations as well (except for Connor, because life imitates art). Among them is Matthew Macfadyen, receiving his first Emmy nomination in the Supporting Actor in a Drama Series category for playing hapless striver and Roy-by-marriage, Tom Wambsgans. If you've ever seen Macfadyen's IRL British classy charm, you know what a feat of acting it is for him to tamp it down to play up Tom's general schmuckery and Greg-abuse. On the day of his Emmy nomination, we spoke to Macfadyen about when Succession season three will be able to film, and how the Tomlette gets made.
Congratulations on your first Emmy nomination! We're a few months into the pandemic now, what are things like where you are in the UK?
If you took away the masks, it would look like a pretty regular day. The traffic's a bit lighter. I don't know what it's like in the middle of New York, for example, but central London is a bit weird. A bit sad. It's very strange to walk around. And then as soon as you get out to where people live, then it's sort of okay. I live in West London, and people are going out to the shops, they're out and about, the pubs have reopened. Masks are mandatory now, so everyone's wearing them. People seem quite cheerful. I don't know. It's a strange thing, isn't it?
Where do you think Shiv and Tom would be quarantining right now?
They'd either be in a bunker in Fiji or New Zealand, depending on how bad it was, or they'd probably be holed up in their enormous apartment in Manhattan, going mad, ordering $700 of takeaway sushi.
How has the lockdown affected production on season three? 
We were supposed to start season three at the end of April. And so everything ground to a halt, and we're just waiting. I think our producers have been working really hard, planning and trying to work out how to go back to work. It's an evolving situation, so it's difficult. But we're hoping to start later this year. But there's no point trying to start if we can't shoot the show in the way we ought to, or in a way that's dangerous for the cast and the crew. So it's a waiting game, I suppose.
Especially for a show like Succession, with so many different locations and production moving around. 
Yeah. They jump around. We were in Croatia at the end of season two, and the UK at the end of season one. It would be a shame to be stuck in one location or in a studio. But I'm impatient to start. It's such a lovely, lovely job, and it's such a delight to play the part and work with everybody. I'm looking forward to starting again.
Tom is a character who vacillates between really high status and really low status, depending on who he's with. He's always in flux. How has the way you've played him evolved over the course of the show? 
I think he's probably hardened, a little bit. I think he's gotten a bit braver with Shiv. I think there's only so much he can put up with. And with the threesome, open marriage thing, he's trying to go along with it, and he can't. I think he's lost. I'm fascinated to know where he'll go. But your description of Tom is perfect. His status changes all the time. It's an old drama school exercise I remember: To play with status, it's one of the most interesting things you can do. It changes all the time. You're playing a different status and you're doing different things depending entirely on who you're with, or the situation you're in, or how you feel about the person. So just from an acting point of view, it's heaven. Because I can do all kinds of different stuff.
You go from brown-nosing Logan to throwing shit at Greg. 
Precisely.
You mentioned drama school, and training. You've done Shakespeare, you've done Austen, you've done these projects that are portraits of class and society at different moments in time. Do you think people will look back on Succession and be like, "there you have it, this is how the rich lived." 
Yeah, absolutely. If we survive, it will be like a period piece. This is how the 0.1 percent lived. When I do a period drama, human behavior, the sort of impulses that people have, hasn't changed greatly over hundreds of years. Society's norms are different. People wear different clothes. But people are still venal and controlling, and it's still all about money and sex and power and love. Or the lack of love. [On Succession,] it's very Greek. Everyone's sort of orbiting around Logan, the King, the Emperor.
Tom starts out in the cruises and theme parks department, which are two fields that are really at the core of the coronavirus. How do you think he would react to Disney World reopening in Florida? 
I think he'd be all for it! "I think it's very important to get the economy going, and coronavirus will just go away. It'll just magically disappear, hopefully. And I think we should probably not listen to the experts so much and just get out there, for the economy." That's Tom.
In the season finale, Shiv is reading Sally Rooney's Conversations with Friends. Do you think Tom read it? 
I think he tried to read it, yeah. Tom's not a halfwit. I mean, I don't think he would get on with Sally Rooney, particularly. I think he probably likes spy stories. I think he secretly likes Robert Ludlum, and stuff like that. Kind of twisty thrillers. But I don't know whether he's relaxed enough to sit and read.
I like that you made it clear that you don't think Tom's a halfwit. You're playing Tom Wambsgams to the height of his intelligence. 
I mean, he can't be really stupid, because he's running a big… there is, somewhere in him, he tries to do the right thing. I mean, I said that the other week on a Zoom thing with Jesse [Armstrong]. I said "He's trying to do the right thing," and Jesse, even Jesse, who dreamt him up, laughed. Jesse was like, "Really? You think so?" And I said, "Yeah!" His parents are nice! We met his parents at the end of season one, and they're good folk.
So you really let Tom's Midwestern decency come through, even if Jesse doesn't write it in. I'd love to see the Roys visit them in season three. 
Yeah, a trip back to Minnesota to see mummy and daddy.
Congratulations again. I'm guessing it will be some kind of virtual ceremony?
I think everyone's secretly thrilled about that. They don't have to dress up and wear uncomfortable shoes and be nervous, and then not win, and pretend to look happy.
This interview has been lightly edited and condensed.