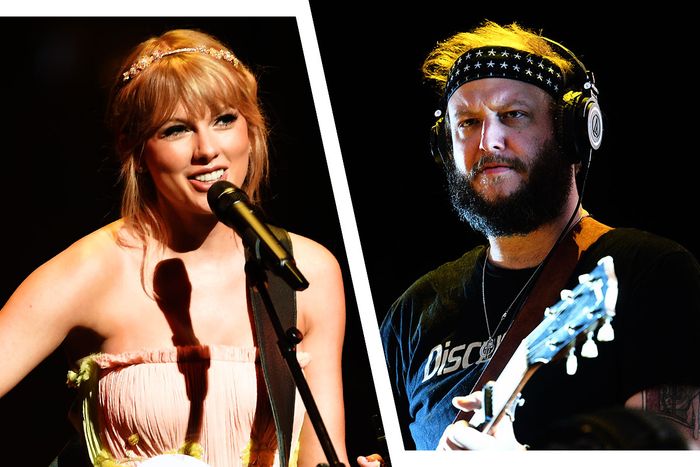 It's one of the songs superfans will find hardest to "crack" on the album.
Photo: Getty Images
If you were picking the most National-esque Taylor Swift song, pre-folklore (a task that would've felt like a fool's errand before yesterday), you could make a strong case for "The Last Time." The underrated Red track finds Swift as a lover in a frustrated duet with Snow Patrol's Gary Lightbody. It's brooding, desperate, grand. But while Swift made ultimatums on "The Last Time," as the title implied, things are much more complicated on folklore's "exile." "I think I've seen this film before," she sings. "But I didn't like the ending." This is take two.
The fourth track on folklore, "exile" comes as the most striking example yet of Taylor Swift's newest aesthetic: "indie" "folk," with strong quotation marks for one of the most capitalistic artists in contemporary music (who is, for all intents and purposes, still a pop star). That doesn't mean she can't make some great music by working with the National virtuoso Aaron Dessner, whose muted, glitchy musical sketches anchor the sound of folklore. (The Dessner tracks, in particular, are some of Swift's most static songs: built around a piano, textured with drums and the occasional guitar.) But it does mean we have to revise our expectations. This isn't the indie record that's much cooler than hers. This is what she makes after she's listened to that record. Like her attempts at arena rock, synth-pop, and retro-tinted pop, it's Taylor Swift music first and foremost.
Bon Iver's presence on "exile" aimed to prove Swift's indie bona fides — he is, after all, one of the most well-known indie musicians who remains beloved by critics and fans. After moving from the intimate folk of For Emma, Forever Ago to ambitious, stunning electronics on 22, A Million, Justin Vernon merged those styles last year to make his most organic and emotionally honest music in a decade on i,i. His voice was unadorned and haunting on songs like standout "U (Man Like)" and single "Hey, Ma." After i,i, then, his tormented baritone at the opening of "exile" doesn't land as such a surprise. The lyrics are a different story. They come close to Bon Iver at times, with the "honeys" and earthy motifs. But a line like, "You were my town, now I'm in exile seeing you out" can't not register as a Swift lyric, especially after she's spent nearly 15 years establishing herself as one of pop's strongest — and most identifiable — writers.
As the song builds, Vernon joins Swift on the chorus, creating a harmony almost more brilliant than Bon Iver's hallmark vocal layering. They trade more lines, almost like an argument: "You never gave a warning sign," Vernon hits. Swift counters, "I gave so many signs." But she's not here to litigate this time, so they share a final note as the song drifts off, until it's just a memory again.
Both the album's premise and pen are dynamic in this way. Like the rest of folklore, Swift leaves room for more gray area in "exile." "Picking up a pen was my way of escaping into fantasy, history, and memory," she wrote in the album's liner notes. She's taken the past four months of the pandemic to think outside herself and made her most contemplative album yet, with "exile" as a prime result. It's one of the songs super-fans will find hardest to "crack" on the album, because rather than hiding answers, Swift is asking questions.