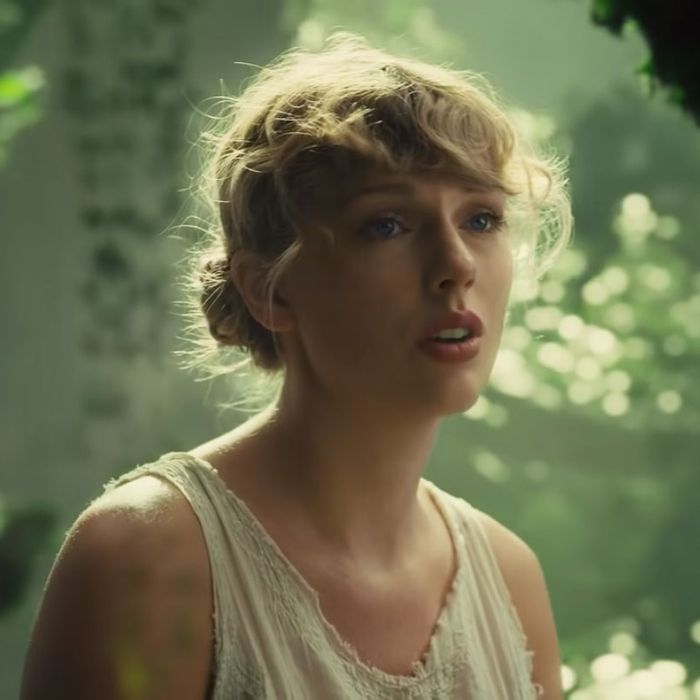 Loosed from the responsibility of piquing the audience's interest with a rollout dotted with attention-grabbing gestures, Swift is left with just her feelings and her stories.
Photo: YouTube
Almost a year ago, Taylor Swift released Lover, a lively course correction intended, in part, to craft a more measured and mature style for the singer, whose previous album, Reputation, had used withering sarcasm and hip-hop production elements to wage war with Swift's crumbling, goodie-two-shoes image and the enemies poking holes in the narrative. In January's Netflix documentary Miss Americana, which chronicled the Lover sessions and revisited key career moves in the preceding decade, Swift admitted to being driven, on a certain level, by a hunger for public approval: "My entire moral code is a need to be thought of as good," she said. 1989's pop turn was really a quest to be seen as the total package in music, an overcorrection for the embarrassment at the 2009 MTV VMAs. The country era before that had been a bit of an act of folksy people-pleasing, too. Lover, it seemed, was the real deal. But even that was a charm offensive of a sort, heralded by blindingly bright music videos and bustling, busy melodies.
Amid the R&B/soul underpinnings of "False God" and "I Forgot That You Existed," the droning synths of "The Archer," the high school melodrama of "Miss Americana and the Heartbreak Prince," the maximalist pop radio fare of "Me!" and "You Need to Calm Down," and the rustic repose of "Soon You'll Get Better" and the title track, half a dozen possible Taylors emerged from the pyre on which the old Taylor burned. Again, Swift created distance between her past and present by arming herself with different toys. You could argue that the singer's eighth album folklore, announced and released in a whirlwind 24 hours just before the weekend, is another sweeping recalibration, trading soaring melodies and effervescent production for moody, introspective folk-pop. But it undersells the true utility of this stripped affair to say it's just a new sandbox for Taylor. What's striking about this collection of songs is the relative lack of a fussy new sound and an obvious single. Loosed from the responsibility of piquing the audience's interest with a rollout dotted with attention-grabbing gestures, Swift is left with just her feelings and her stories.
By challenging the very idea of what a pop song needs to bring to the table in order to make a complete statement, folklore proves that Taylor Swift doesn't need to make as much noise to get through to us as she has in the past ten years of molting stylistic restlessness. The autumnal accompaniments, provided by the National's Aaron Dessner alongside his brother and bandmate, Bryce, as well as Swift's longtime production partner Jack Antonoff, are not a rejection of pop music so much as a reduction. In the quiet of a tune like "my tears ricochet," all vocals and slowly swelling electroacoustic instruments, there's nothing to hide behind — no loud, obvious, radio-friendly bells and whistles to elevate hit potential. A middling lyricist and melodicist wouldn't be able to carry it. The album floats because, beneath the dramatic twists, Taylor Swift is a writer's writer. Her stories here are more purposeful, if a little less personal. She's obsessed not just with people falling in and out of love, but the long tail of these connections. There is a Faulknerian interest in multiple outside protagonists and in stories that span decades. The "folk" in folklore isn't so much a statement of purpose with regard to genre as it is a signal that this is her storytelling album. The Dessners' trademark folk-pop quietude, at least as manifested on the National's 2019 album I Am Easy to Find, is the perfect canvas for Swift to show her wares and nod to her influences.
From the title to the music, folklore is an album about the wisdom and experience passed down through generations. On the opener "the 1," Swift muses languidly: "You know, the greatest loves of all time are over now." It doesn't stop her from pining for a storybook romance of her own or gesturing to some of the great love songs in recent history in her writing. The track "the last great american dynasty" recounts the tale of the heyday of Rebekah Harkness, the ill-fated oil heiress and philanthropist whose family life was marred by suicide attempts and murder charges. "mad woman" appears to pick the story back up years later, as a nameless woman stews in spite over a life lived under public scrutiny. "epiphany" is a flashback to Swift's grandfather's involvement in World War II's Operation Watchtower, the inaugural land offensive in the war against Japan and its acquisitions across the Pacific, that uses a wounded soldier's dark night of the soul to spin a timely yarn about courage in spite of illness and the nearness of mortality. folklore uses allegory to illuminate present realities the way great American songwriters and archivists do. Swift is able to address recent troubles with music industry men and tap into the era's chilling pulse without naming culprits, to point out the universality of American calamity without being bogged down by specifics.
While it does all that, folklore pays respects to its predecessors, left turns in rock and pop history like the Smashing Pumpkins' Adore, a gothic folk opus borne out of death and doused in electronic atmospherics from Nitzer Ebb's Bon Harris; Bruce Springsteen's Tunnel of Love, the Boss's synth-laced snapshot of a crumbling marriage and a band on the precipice of an extended hiatus; and Automatic for the People, where R.E.M. made a mint ditching the pop smarts of "Shiny Happy People" and "Stand," fixating instead on pain and loss in a series of acoustic career highlights. It's reductive to call Folklore the return to Taylor Swift's roots some have been waiting for since the EDM excursions on 2012's Red became the main thrust of 1989. It's more like a trip to an alternate universe where Rough Trade and 4AD indie rock and dream pop acts like Mazzy Star and the Cocteau Twins played the same field as blockbuster artists of the '90s like the Cranberries and Sarah McLachlan. It also fulfills the promise of the Cowboy Junkies fan service in Lover's title track and confirms the subtle, wide-reaching impact of the electroacoustic warfare at work in the recent Bon Iver albums, which is, itself, a mutant strain of '80s and '90s Americana.
It's tempting to say that folklore is a breakup album of sorts, but it's not necessarily obvious what Taylor Swift is breaking up with here. Is she done with Joe Alwyn, the boyfriend whose secret companionship seemed to inspire the giddier songs on Reputation and Lover? Is she through with trying to please every audience at once, pitching massive singles into the space between pop, hip-hop, and dance music? Or is she, like the rest of us, just missing a life where we could go and behave as we pleased, responding to the jarring shift in the mechanics of friendships, relationships, work life, and nightlife by sliding under her covers and playing sad songs until the outside world fades from view? Maybe she'll tell us next year.
*A version of this article appears in the August 3, 2020, issue of New York Magazine. Subscribe Now!