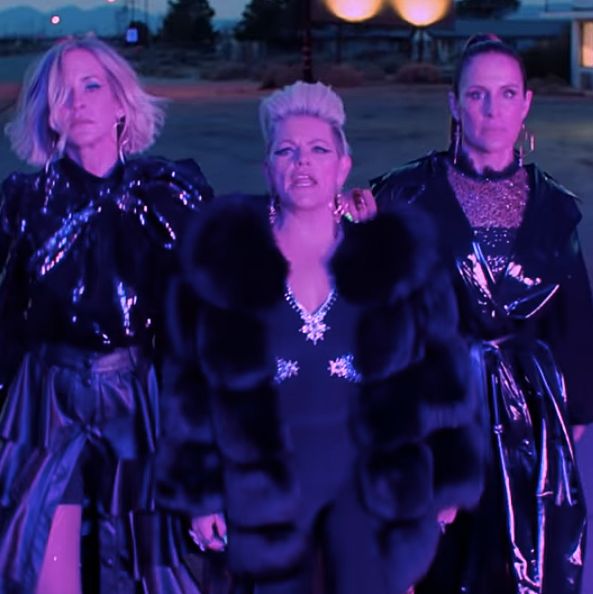 Gaslighter
is as careful in its blending of country instrumentation and delicate pop flourishes as it is in its balance of righteous indignation and scandalous receipts.
Photo: YouTube
The Chicks staged a minor coup at the end of the '90s, topping country albums and singles charts while selling Texas bluegrass charm, at a time when peers in the industry were finding mainstream crossover success by adapting to the sounds of pop radio, an era characterized by soaring ballads like Lonestar's "Amazed" and LeAnn Rimes's "How Do I Live" and brash genre hybrids like Shania Twain's "That Don't Impress Me Much" and Faith Hill's "The Way You Love Me." In 1995, the band bet the farm on Lubbock singer Natalie Maines, daughter of veteran producer and session man Lloyd Maines — see Terry Allen's Lubbock (On Everything), Joe Ely's Honky Tonk Masquerade, and Uncle Tupelo's Anodyne, to name a few — whose talent and spunk would fuel a career full of triumph and turbulence. Maines's lead vocals powered wounded turns like "You Were Mine" and "Goodbye Earl," priming mainstream ears for a bluegrass revival just in time for the mammoth success of O Brother, Where Art Thou? in 2000. It was Maines, speaking candidly at a 2003 U.K. tour stop, who dared to condemn the war in Iraq (whose justifications would prove to be shaky in time), making the band the scourge of its community for a time, such that their appearance at the CMA Awards over a decade later would kick up a cloud of unresolved resentment. Country stars don't court controversy; even now, there are many who prefer to leave their political leanings up to the imagination. Make a declarative statement, and you stand to piss off as many people as you please.
Try as they might, conservative gatekeepers couldn't quiet the Chicks. The singles from their 2006 album Taking the Long Way bricked on the country charts, but the trio managed to score Grammys and platinum certifications anyway. (The combative "Not Ready to Make Nice" breaching the Billboard Hot 100's top five but barely breaking Top 40 on Hot Country Songs is an oversight as glaring as kicking Lil Nas X's "Old Town Road" but letting "Meant to Be" sit at No. 1 for the majority of 2017.) The Chicks' reign ended only when they saw fit, as Maines and bandmates Emily Strayer and Martie Maguire put the band on hiatus to spend time off the road and out of the spotlight raising children. In the downtime, each of the Chicks saw long-lasting love end in divorce, most notably as Maines's split with actor Adrian Pasdar — her husband of nearly 20 years — grew ugly, and he filed a motion to try and prevent her from releasing music about the breakup. Hearing Gaslighter, the trio's comeback album (and the first to ditch the "Dixie," in solidarity with the Movement for Black Lives), makes it plain what he was thinking. Gaslighter contains a few Hall of Fame kiss-offs, such as the slyly reflexive title track, a pithy summation of where the marriage went wrong, which is possible to read as criticism of jilted Trump-era masculinity at large, and culminating in the scathing "Tights on My Boat," which kicks off wishing death on its subject, then suggests that Maines's ex cheated on the boat she bought him and accidentally left another woman's undergarments behind as evidence.
Gaslighter spares no details in its airing of grievances and stories about disintegrating trust and corroding lines of communication, but gone are the woeful weepers of Wide Open Spaces and Fly, where Maines ate her feelings as relations with her high-school sweetheart went south. There's no waking up crying at night here. The breakup tunes are pointed, fueled by expectations of faithfulness the lyrics suggest were not met. The jabs sting: "In 20 years, I'll still be younger than you"; "You can tell the girl who left her tights on my boat that she can have you now"; "My husband's girlfriend's husband just called me up / How messed up is that?" A lot of these songs are tenacious and angry, but Gaslighter doesn't seem to be exposing dirt just for revenge. It figures into the Chicks' overarching sense of justice — to a history of speaking out bravely against sexism and abuse of power on and off records, and to the group's upending of expectations for women in country music to be docile and happy to have what little space they're allotted on the radio — that they've come out of Maines's relationship woes looking to scorch the earth and start over all again. But listen close to less harsh gems like "For Her," "Young Man," and "Texas Man," and you come away with the image of a woman who just wants to be treated with respect, both because she deserves it and because little boys and girls growing up right now need to see it.
Gaslighter is as careful in its blending of country instrumentation and delicate pop flourishes as it is in its balance of righteous indignation and scandalous receipts. It is the kind of pop-country killer some people have been haranguing Taylor Swift for ever since 1989, the kind Lover's Chicks collab, "Soon You'll Get Better," proves she's still capable of. Swift collaborator Jack Antonoff resides as co-writer and co-producer, with help from gifted songwriters like Teddy Geiger, Justin Tranter, and Julia Michaels. It's a daring shift for the Chicks, who pivoted from '90s collaborations with accomplished Nashville writers to penning tunes alongside blues-rock and Americana veterans like Marty Stuart, Jayhawks co-founder Gary Louris, and Tom Petty and the Heartbreakers guitarist Mike Campbell in the aughts. As with Lana Del Rey's Norman Fucking Rockwell!, Antonoff proves he can outfit a vocalist with gorgeous instrumental flourishes without getting in the way of the song (a concern that arose from the more cloying trap-pop bits of Reputation). There's less fiddle and banjo up front in the mix, but centering Maines's voice alongside tasteful acoustics is the right way to frame these stories of betrayal and rebirth. Gaslighter feels like a natural progression for the trio; the title track cracking the Hot Country Songs chart's top 20, the first time a Chicks song did that since the Iraq War drama, is proof they might've taken the long way, but they've come back home.