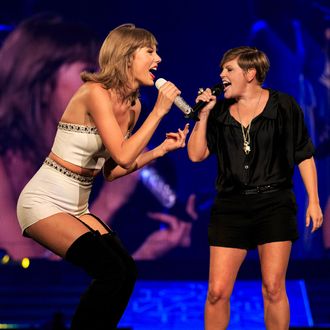 Taylor Swift with Natalie Maines of the Chicks.
Photo: Christopher Polk/TAS/2015 Christopher Polk/TAS
When her documentary Miss Americana showed Taylor Swift choosing to "get political," Swift mentioned that she was told throughout her career not to be like the Chicks — her Lover collaborators who were shunned from the country Establishment after criticizing George W. Bush in 2003. Talking to Andy Cohen on July 21's Watch What Happens Live, the band said they're "just proud of" Swift for making the decision. "You know, she started her career when she was so young that I think she had people that she went to, as kind of a panel, when she was younger," Emily Robison told Cohen. "So it's good to see her as she becomes her own woman, questioning these things and saying, 'No, I really do want to talk about it.'" Swift has recently been vocal during ongoing protests against systemic racism spurred by the police killing of George Floyd, criticizing Donald Trump and racist Confederate monuments. And over a decade since the fallout of their anti-Bush comments, the Chicks said they're not surprised they were the example. "She was told not to be like us, that's not news to us either," Robison added, as Maines laughed in the background.