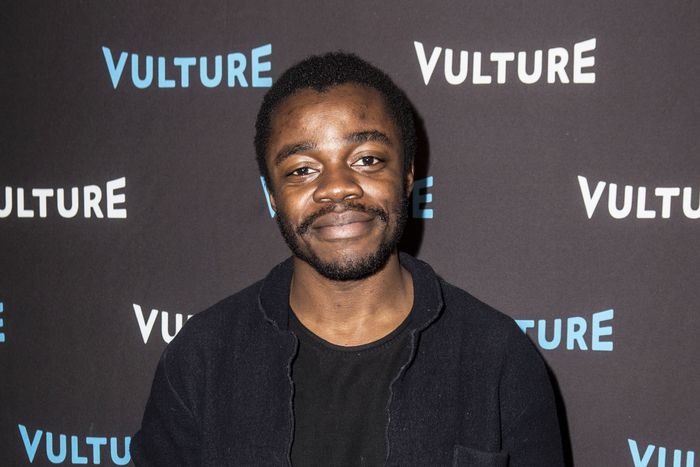 Demi Adejuyigbe.
Photo: Harmony Gerber/Getty Images
The comedy-podcast universe is ever-expanding, not unlike the universe universe. We're here to make it a bit smaller, a bit more manageable. There are a lot of great shows, and each one has a lot of great episodes, so we want to highlight the exceptional, the noteworthy. Each week, our crack team of podcast enthusiasts and specialists and especially enthusiastic people will pick their favorites. We hope to have your ears permanently plugged with the best in aural comedy.
Inside Voices – "Demi Adejuyigbe Has a Nimble Voice"
In what is sadly the last (for now, at least) episode of Inside Voices, host Kevin T. Porter sits down with friend and former Gilmore Guys co-host Demi Adejuyigbe for a less formal, more personal conversation. In trying to nail down just what kind of voice he has, the two quickly agree that Adejuyigbe himself, much like his voice, isn't just one thing. While you may know him from one of the podcasts he has hosted, his "September" videos, his live performances (remember live performances?), or the incredible paintings he has posted on Instagram during quarantine, Adejuyigbe sees himself first and foremost as a writer. Pointing this out sparks an honest and thoughtful discussion about what it's like to be torn between being adequate at any number of things versus being a master of the one thing you care the most about and want to be great at. They're complicated feelings that are probably familiar to a lot of people. And they probably feel especially familiar now, when, on top of all that, it's easy to feel stuck. So whether you consider yourself a writer, comedian, painter, podcaster, or all of those things (or even none of those things), it's a deeply relatable conversation that a lot of people can probably find comfort in — and one that may help you feel, even just a little bit, unstuck. —Leigh Cesiro 
Listen: Spotify | Apple | Website
The Nateland Podcast – "The First Episode"
Podcasting has claimed another comedian. This week marks the launch of The Nateland Podcast, hosted by popular stand-up Nate Bargatze and wingmanned by fellow comedians Brian Bates and Aaron Weber. "COVID has forced me to do a podcast," Bargatze says at the top of the episode, because most comedy venues are still shuttered. These guys are doing it for real, not via Zoom but in a studio, and they've even gotten their temperatures checked on the way in. There's an anxious feeling at first, as if they're still a little unsure that they're actually safe. But Bargatze is soon leading the free-ranging conversation in a way that makes it clear this trio has hung out together a lot. They chat about discovering that they cry more now that they're getting a little older, how their grand plans for college didn't seem to get them very far, and that they use technology but don't really know how anything actually works. They cover a lot of topics over the course of the podcast, closing on how many Krispy Kreme donuts they could each slam down if they got serious about it. Something tells me Bargatze and his gang won't have any trouble filling the time in the episodes ahead. —Marc Hershon
Listen: Spotify | Apple | Website
Why Won't You Date Me? – "Dating With Disability" (w/Santina Muha)
Nicole Byer and Santina Muha have some important things in common: They aren't fans of Raya, they have a disdain for American food after returning from Italy, and they hope that the current rage is more than just a trend — and that it folds disability into the conversation. Actress and comedian Muha (One Day at a Time, Curb Your Enthusiasm) joins Byer to wake the damn world up to the challenges of dating, improv, and even eating at Little Dom's while having a disability. Muha holds nothing back; she's exhausted, and it's quickly clear why. Also clear is her sharp, sarcastic sense of humor ("It's hard to make a Jersey Sicilian feel invisible"). In laying out comedy theaters' enormous lack of accessibility, Muha introduces Byer's new favorite flex: "I'm on a TV show, so I'm not gonna do your upstairs improv show." As promised, Muha covers dating with a disability, from cringey dating-app messages to the worst questions to ask a person who uses a wheelchair. If you're invested in fighting for people's rights (or Byer's FaceTime dating life), you must listen to this. Added bonus: One of the most iconic, hilarious responses to Byer's evergreen question "Would you date me?" —Anna Marr
Listen: Spotify | Apple | Website
Other Podcasts We're Listening To:
Las Culturistas – "Dazzle Me" (w/Hunter Harris)
Listen: Spotify | Apple | Website
Best Friends With Nicole Byer and Sasheer Zamata – "Sasheer Was Bullied Into Roller-Skating"
Listen: Spotify | Apple | Website
Trailer Trashing – "We Gotta Get Out of This Place"
Listen: Spotify | Apple | Website
WTF – "John Legend"
Listen: Spotify | Apple | Website
Got a comedy podcast recommendation? Drop us a line at comedypodcasts@vulture.com.
If you like comedy and you like podcasts, we recommend you subscribe to Vulture's own Good One podcast, which releases new episodes every Tuesday on Apple Podcasts, Spotify, Stitcher, Overcast, or wherever you get your podcasts.