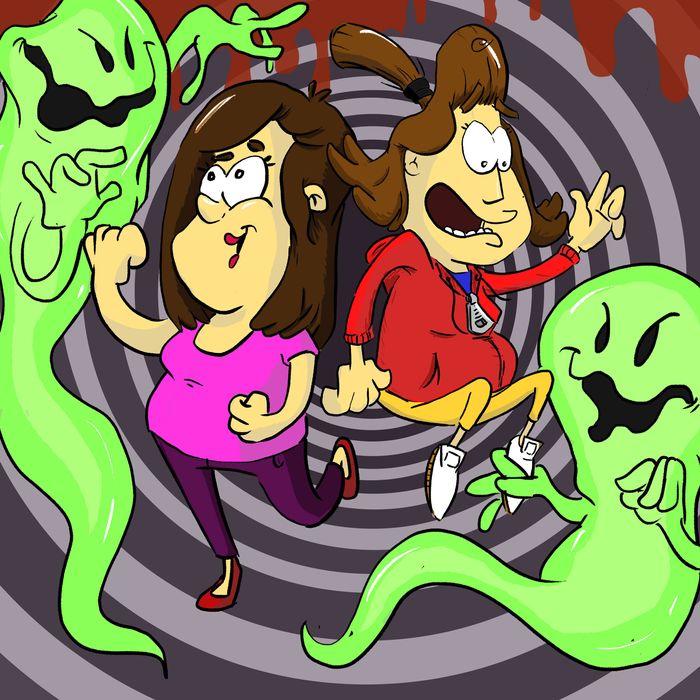 A Funny Feeling.
Photo: HeadGum
The comedy-podcast universe is ever-expanding, not unlike the universe universe. We're here to make it a bit smaller, a bit more manageable. There are a lot of great shows, and each one has a lot of great episodes, so we want to highlight the exceptional, the noteworthy. Each week, our crack team of podcast enthusiasts and specialists and especially enthusiastic people will pick their favorites. We hope to have your ears permanently plugged with the best in aural comedy.
A Funny Feeling — Red Shoes: Listener Stories 
Now that we're living through the end times, why not double down on spooky stuff and talk ghost stories! Once the quarantine hit, our friends over at A Funny Feeling immediately shifted format a bit. Instead of welcoming guests each week, hosts Betsy Sodaro and Marcy Jarreau have opted to read listener-submitted paranormal experiences that have taken place specifically during lockdown. Although many shows have successfully changed things up to reflect the times, A Funny Feeling hit a home run by highlighting their fans' terrifying tales. Although fear might not be the main emotion you're looking to vamp up right now, trust in Sodaro and Jarreau as they guide you through these creepy chronicles by injecting some lightheartedness and humor along the way. Since we can't go to movie theaters and share in the collective experience of getting scared with strangers, do the next best thing and get some bone-chilling content in podcast format. Without giving away too much, stories from this week include an essential worker whose manager is a ghost and a young girl who saw a spirit surfing on top of a car à la Teen Wolf. —Tom Rainey
Listen: Spotify | Apple | Website
Crushes! With Deanna Ortiz — Marshall Forte Crushes on Tom Holland
Hot or just tall? Some celebrities are actually attractive, and some are just tall or good at guitar or pull off hats better than everyone else. So who really passes the test? It's the signature game on Crushes hosted by comedian Deanna Ortiz. In this episode, the subjects in question include Harry Connick Jr., John Legend, and Jason Derulo, a contentious decision based on the host and guest's differing opinions (and the podcast's polls on Instagram stories). But more importantly, Ortiz talks with Marshall Forte about his crush on Tom Holland, a steamy conversation about everyone's favorite Avenger. It's the first episode back after months off during the pandemic, so the sexual tension is thick, starting with Ortiz coming in strong with a question about whether or not jugglers are hot: "If you see a man on the street and he suddenly pulls out a couple of oranges, do you talk to him?" Ortiz and Forte talk about quarantine dating, Shrek as an aphrodisiac, and the power of TikTok flirting. Ortiz's energetic nature is infectious enough to make you want to share your best and worst dating stories, evident by her guest's enthusiastic and giggle-filled responses to her most intimate crush and dating-related questions. —Brianna Wellen
Listen: Spotify | Apple | Website
SmartLess — Dax Shepard 
This week, Jason Bateman, Sean Hayes, and Will Arnett launched a podcast, because, as Bateman jokes, "There's not enough of them out there." True to form, SmartLess follows the template of many in the medium, with the hosts inviting a guest to join them for a candid conversation. A slight surprise is that one host chooses the guest and keeps it a secret from the other two until showtime. This episode, Hayes welcomes Dax Shepard, who Bateman guesses almost immediately despite Hayes trying to tease it out. With such affable personalities at the helm and the revered host of Armchair Expert for a guest, quick wit abounds. Take when Hayes posits a multi-pronged question and immediately and mercilessly gets called out. As Shepard tries to parse what Hayes asked, he concludes, "I think I heard, 'Why are you a comedian?' and 'Why are you an alcoholic?'" before getting in one more jab with, 'You guys are five-hour episodes?'" This energy continues as the men chat about the personal growth resulting from "memorable and highly unmemorable moments in life." While they don't reinvent the wheel, they do provide a podcast with endless potential for unfiltered access to their famous friends and fun times. —Becca James
Listen: Spotify | Apple | Website
Hoot & a Half — Natalie Mariduena
Matt King was a "Viner" back in the day when that video app was happening. Now he's on Instagram with almost a million and a half followers. Back in May, with COVID-19 making it hard for tastemakers to get out and about, he launched Hoot & a Half, where he talks to other fun people like this week's guest Natalie Mariduena (a.k.a. @Natalie_Noel13), made popular from her job keeping web mega-personality David Dobrick running on time. She and Matt get into how she got to where she is today, which is mainly because she and Dobrick were friends back in school in suburban Chicago. But she'd lost touch with the influencer when he moved to Los Angeles, and only by chance was she invited out for a party by someone else. The two became inseparable BFFs, meeting King and his co-host Mike Sheffer along the way. (Because influencers apparently have a gravitational pull for other influencers.) She regales King with behind-the-scenes stories about what a circus it's been to keep the Dobrick train on the tracks, including nightmare stories like cleaning sour milk and broken glass out of a U-Haul truck from a vlog shoot to the magically hilarious prank of her bossfriend's impromptu Vegas wedding to the 75-year-old mother of his best friend. —Marc Hershon
Listen: Spotify | Apple | Website
Other Podcasts We're Listening To:
Doughboys - Grocery Store Month: Costco w/ Griffin Newman
Listen: Spotify | Apple | Website
Esther Club with Esther Povitsky - The Post Special Come Down
Listen: Spotify | Apple | Website
An Oral History of The Office - Ordinary Looking Losers
Listen: Spotify (Currently exclusive to Spotify)
Nobody Asked - About Heirloom Tomatoes
Listen: Spotify | Apple | Website
Got a comedy podcast recommendation? Drop us a line at comedypodcasts@vulture.com.
If you like comedy and you like podcasts, we recommend you subscribe to Vulture's own Good One podcast, which releases new episodes every Tuesday on Apple Podcasts, Spotify, Stitcher, Overcast, or wherever you get your podcasts.