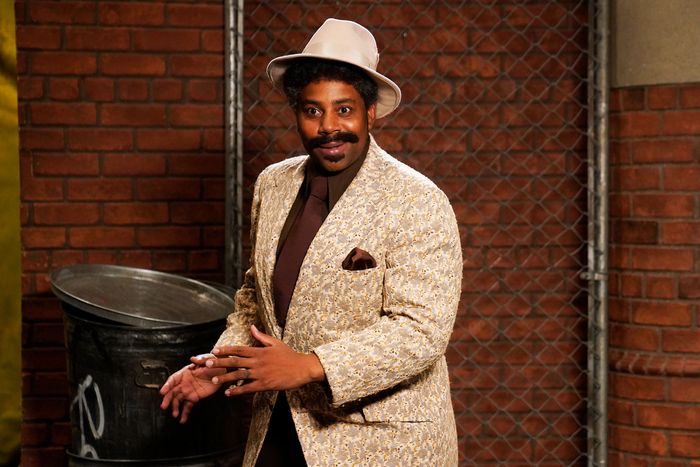 Simply the best.
Photo: Beth Sacca/NBC
The comedy-podcast universe is ever-expanding, not unlike the universe universe. We're here to make it a bit smaller, a bit more manageable. There are a lot of great shows, and each one has a lot of great episodes, so we want to highlight the exceptional, the noteworthy. Each week, our crack team of podcast enthusiasts and specialists and especially enthusiastic people will pick their favorites. We hope to have your ears permanently plugged with the best in aural comedy.
Gettin' Better with Ron Funches - Collaboration w/ Kenan Thompson 
This week on Gettin' Better, Ron Funches welcomes the legendary Kenan Thompson. Up top, Funches talks about how influential Thompson's early career was to him. He also points out that it's funny to say he "grew up watching Thompson" because they are roughly the same age. This led me to ask the question: Are we sure Kenan Thompson is not immortal? Like some type of comedy vampire or something? I feel like you could open up a textbook about the Renaissance and find an elaborate painting of Kenan performing for the masses. In any case, as someone who also grew up watching Thompson, it's quite enjoyable hearing the two talk about his days on All That, Kenan & Kel, and The Mighty Ducks. Nostalgic topics aside, Funches and Thompson get into an interesting conversation about the importance of representation onscreen and SNL's history with a lack of diversity. While SNL has shown some growth in terms of representation in recent years, Thompson wants people to remember that having a diverse room should go beyond just checking some boxes. If all those voices are recognized and celebrated, whatever product you're putting out will be much better. —Tom Rainey
Go Fact Yourself - John Roderick & Moujan Zolfaghari
Most comedy podcasts are a pure "listen to the people talk" experience. To mix things up in the COVID-19 world, how about a nice game show where you can play along? In Go Fact Yourself, moderator J. Keith van Straaten and host Helen Hong present a very specially focused game with quiz questions aimed squarely at the interests of their two competing contestants. This week, that's John Roderick from the Friendly Fire podcast and Moujan Zolfaghari from Mission to Zyxx. Roderick digs '60s muscle cars, while Moujan is a nut for the movie Gremlins, so that's their main field of play (with some detours into their side interests). J. Keith and Helen have a great rapport, even while pulling the show together on Zoom, and run the proceedings pretty true to a real live game show. (Normally this show is recorded with a live audience to give it the true energy of a game, but these guys keep the energy up and the jokes coming.) There are even special guests: For the highest-scoring questions, they call in the editor of Street Muscle Magazine and Gremlins director Joe Dante to put the contestants' feet to the fire. —Marc Hershon
Listen: Spotify | Apple | Website
Don't Get Me Started - Hosts Only Reunion Special
It's a good thing no one ever unsubscribes from podcasts. Even one that's been dormant since 2017 can drop a new episode into your feed at any time, as Don't Get Me Started did last week. After retiring the podcast three years ago "just because," hosts Anthony King and Will Hines resurrected their show about minor obsessions again, just because, for at least one episode. Life has changed in every way since 2017, and their new obsessions happen to be ways to cope with problems like solitude and despair. You can learn to play the piano, like Anthony, or play a new video game, like Will. You can really lean into drinking alcohol and make it educational by learning how to make obscure cocktails with rare liqueurs, like Anthony. Or you can get really into comparing the width in miles of the United States with the width in miles of the Atlantic Ocean for reasons that are opaque at best, like Will. Also, you could do none of those things and just listen to these two guys talk about stuff. —Kathryn Doyle 
Listen: Spotify | Apple | Website
Bananas - Grannies Gone Wild w/ Alison Rosen 
When Bananas debuted about a month into quarantine, it was a breath of fresh air. A lively respite, the podcast allows Kurt Braunohler and Scotty Landes to "discuss the strange, fascinating, and just plain bananas news from around the world." Months later and with no end in sight for the type of news that's absurd in a more humorous than horrifying way, the podcast continues to crush. This week Alison Rosen, host of the podcast Alison Rosen Is Your New Best Friend, joins Braunohler and Landes to riff on headlines including "William Shatner gets to keep 'all the horse semen,'" "Teens are dressing up as mask-wearing grandmas to try to score alcohol," and "Did Canuck the crow swoop off with a knife from a Vancouver crime scene?" As they crack jokes about the headlines, they also reveal a lot of their own quirks, leading to more ribbing. It's that sort of upbeat and nonstop nature that is sure to put a pep in your step. —Becca James
Listen: Spotify | Apple | Website
Other Podcasts We're Listening To:
SmartLess - Neil deGrasse Tyson
Listen: Spotify | Apple | Website
Hold My Bread - Be Humble
Listen: Spotify | Apple | Website
Got a comedy podcast recommendation? Drop us a line at comedypodcasts@vulture.com.
If you like comedy and you like podcasts, we recommend you subscribe to Vulture's own Good One podcast, which releases new episodes every Tuesday on Apple Podcasts, Spotify, Stitcher, Overcast, or wherever you get your podcasts.